Aga Khan III
Biography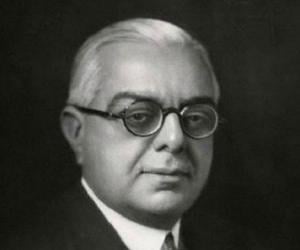 Quick Facts
Birthday: November 2, 1877
Nationality: Indian, Pakistani
Famous: Political Leaders Indian Men
Died At Age: 79
Sun Sign: Scorpio
Also Known As: Sir Sultan Mahomed Shah
Born Country: Pakistan
Born in: Karachi, Pakistan
Famous as: Political Leader
Family:
Spouse/Ex-: Begum Aga Khan III (1944), Andrée Joséphine Carron (1929–1943), Cleope Teresa Magliano (1908–1926)
father: Aga Khan II
mother: Nawab A'lia Shamsul-Muluk
children: Giuseppe Mahdi Shah, Prince Aly Khan, Prince Giuseppe Mahdi Aga Khan, Prince Sadruddin Aga Khan
place of death: Versoix, Switzerland
City: Karachi, Pakistan
More Facts
education: Eton College
awards: Knight Grand Cross of the Royal Victorian Order
Knight Grand Cross of the Order of St Michael and St George
Continue Reading Below
Aga Khan III was the only son of Aga Khan II, the 47th Imam of the Nizari Ismaili religion. He succeeded his father as the 48th Imam and also served as the first president of the political party All-India Muslim League (AIML). Throughout his career, he protected the rights of Muslims in India, especially during the British rule. Khan proposed the 'Two Nation Theory' and demanded a separate nation for Muslims within India. Born in Karachi (now Pakistan), he was brought up in a noble family. He received an education that combined both Islamic as well as western elements. Khan studied at the boarding school Eton and later attended the University of Cambridge. He succeeded his father as Imam at the mere age of eight. Eventually, he attained a leading position among Indian Muslims. He served as the president of League of Nations from 1937 to 1938. Khan was also popular as a breeder of thoroughbred racehorses. He died in 1957 and was succeeded by his grandson Aga Khan IV.
Recommended Lists:
Recommended Lists:
Career
Following the death of his father in 1885, Aga Khan III became the Imam of the Shi'a Isma'ili Muslims. He was just eight at that time. After reaching a suitable age, he began to work for the advancement of Indian Muslims. In 1897, Queen Victoria honored him with the title of Knight Commander of the Indian Empire. In 1902, he earned the title of Knight Grand Commander (GCIE).

In 1906, Khan became one of the founding members and the first president of the political party All India Muslim League. The party strived for creating a new independent Muslim nation under the British colonial rule and went on to establish Pakistan in 1947.

Also in 1906, Khan headed the Muslim deputation to Lord Minto, then-British viceroy, for promoting the Muslim minority's interests. This led to the declaration of Morley-Minto reforms in 1909 that provided for separate Muslim electorates. In 1912, he was conferred the title of Knight Grand Commander of the Order of the Star of India by then-Emperor of India George V.

As a head of Muslims, Aga Khan III initiated the funding for Aligarh's Muslim college to help garner it a university status. From 1930-32, he participated in the Round Table Conferences in London to help bring about constitutional changes. Then in 1932, he played a major role at the League of Nations Assembly and the World Disarmament Conference held in Geneva.

In 1934, Khan gained membership of the Privy Council and also joined the League of Nations. In 1937, he was elected the president of the League of Nations.

Recommended Lists:

Recommended Lists:

Continue Reading Below