L. K. Advani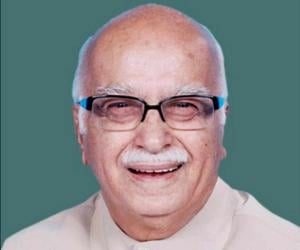 Quick Facts
Birthday: November 8, 1927
Nationality: Indian
Famous: Political Leaders Indian Men
Age: 91 Years, 91 Year Old Males
Sun Sign: Scorpio
Also Known As: Lal Krishna Advani
Born in: Karachi
Famous as: Politician
Family:
Spouse/Ex-: Kamla Advani
father: Kishanchand D. Advani
mother: Gyani Devi
siblings: Sheela Advani
children: Jayant, Pratibha
More Facts
education: University of Mumbai, St Patrick's High School, Karachi, Government Law College, Mumbai
Continue Reading Below
Lal Krishna Advani is an Indian politician and one of the founding members of the Bharatiya Janata Party (BJP). He has been the leader of the opposition twice in the Lok Sabha and has also served as the deputy Prime Minister of the country. Renowned for being a principled man with great intellectual capabilities, he is also called the "Iron Man" for embodying the ideals Sardar Vallabh Bhai Patel stood for. He is also credited with the rise of BJP, a party he served for several decades with relentless passion and dedication. A patriot to the core, he always envisioned an idea of a strong and prosperous India and held steadfastly to his ideals. He is known for his close association with the former Prime Minister, Atal Bihari Vajpayee, under whose administration he had served as Minister of Home Affairs. Advani's political journey started decades ago when he first joined the Rashtriya Swayamasevak Sangh (RSS) at the young age of 14 as a volunteer. It did not take him long to realize that politics was his calling and eventually dedicated his life to the service of the nation. Over the course of his career he has undertaken several Rath Yatras, including the one in 1990 to propagate the Ram Janmabhoomi-Babri Masjid issue and another one in 1997 to celebrate the Golden Jubilee of India's Independence.
Recommended Lists:
Recommended Lists:
Continue Reading Below
Childhood & Early Life
He was born in Karachi on 8 November 1927 in a Hindu Sindhi family. His parents were Kishanchand D. Advani and Gyani Devi.

He went to Saint Patrick's High School, Karachi from where he received his early education. Later on he studied at D G National College in Hyderabad (Pakistan), Sindh.

He was interested in politics from a young age and joined the Rashtriya Swayamasevak Sangh (RSS) when he was just 14 as a volunteer. Getting involved with the party strengthened his dedication towards politics, and he realized that it was his calling.

Recommended Lists:

Recommended Lists:

Career

He began working as a teacher in Model High School, Karachi in 1944. He also continued his work with the RSS during this time.

The partition of India in 1947 shattered his life. Along with millions of others, he was forced to leave behind his homeland and move to India amidst the terror and bloodshed that followed the partition.

Even though he was deeply saddened by the events during the partition, he did not become embittered. Instead he believed that it was his duty to work towards building a strong and secular nation and continued with his political work.

He became more active in politics in late 1947 and looked after RSS work in Alwar, Bharatpur, Kota, Bundi and Jhalawar as RSS Secretary.

He became acquainted with Atal Bihari Vajpayee and moved to Delhi to assist him in 1957. From 1958 till 1963 he held the position of Secretary of the Delhi State Jana Sangh.

He became the assistant editor in the 'Organiser', a political journal of the Jana Sangh in 1960 and served in this post till 1967.

In 1967, he became Chairman of the Delhi Metropolitan Council. Three years later he became a member of the parliament in 1970 and was elected president of the Bharatiya Jana Sangh in 1972.

Continue Reading Below

He was a Rajya Sabha member from Gujarat from 1976 to 1982. During the 1970s the Jana Sangh was dissolved and the Bharatiya Janata Party (BJP) was established. Along with his colleague Atal Bihari Vajpayee he joined the BJP.

Advani became a prominent leader of the newly-formed BJP and was made the General Secretary of the party in 1980. He held this post till 1986 when he was elected the president of the BJP.

Under his able guidance and direction, the BJP went from one strength to strength and the party emerged as a major force in the 1989 parliamentary elections, when it won 86 seats—a remarkable improvement over its previous performance of two seats.

A Hindu with a secular viewpoint, he led the Ram Janmabhoomi campaign in the early 1990s, undertaking the Ram Rath Yatra from Somnath to Ayodhya in 1990. The yatra was linked to the Mandir-Masjid dispute centered around the Ram Janmabhoomi-Babri Masjid site at Ayodhya.

In 1993, he led Four Yatras named Janadesh Yatra from four corners of country and began the Swarna Jayanti Rath Yatra to celebrate the Golden Jubilee of India's Independence in 1997.

In 1998, he assumed the position of Home Minister under the administration of Atal Bihari Vajpayee who had by now become the Prime Minister.

From 2002 to 2004 he served as the Deputy Prime Minister of India.

In 2004, when the BJP lost the elections, he became the Leader of Opposition.

His autobiography, 'My Country My Life' was released in 2008 by Dr. A.P.J.Abdul Kalam. The book went on to become a bestseller and was subsequently released in six other languages including Hindi, Marathi, Kannada, and Urdu.

He was projected as the party's prime ministerial candidate in the 2009 parliamentary elections but he could not lead the party to the victory.

Currently, he is a member of parliament from the Gandhi Nagar constituency and has assumed the role of mentor to the new crop of BJP leaders.

Personal Life & Legacy

He married Kamla Advani on 25 February 1965. The couple has two children: daughter Pratibha and son Jayant.

Translate Wiki

to Spanish, French, Hindi, Portuguese

Article Title

- L. K. Advani Biography

Author

- Editors, TheFamousPeople.com

Website

- TheFamousPeople.com

URL

-

https://www.thefamouspeople.com/profiles/l-k-advani-5506.php

Last Updated

- November 10, 2017

---

---

---