Mircea Eliade
Biography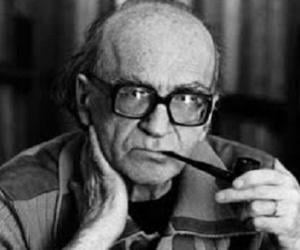 Quick Facts
Nationality: Romanian
Famous: Writers Romanian Men
Died At Age: 79
Sun Sign: Pisces
Born Country: Romania
Born in: Bucharest, Romania
Famous as: Historian of Religion
Family:
Spouse/Ex-: Christinel Cotescu (m. 1948), Nina Mareş (m. 1934–1944)
father: Gheorghe Eliade
mother: Jeana Vasilescu
siblings: Corina Eliade
children: Giza Eliade
place of death: Chicago
More Facts
education: University of Calcutta, 1928 - University of Bucharest
Continue Reading Below
Mircea Eliade was a Romanian philosopher, historian, and fiction writer. Known for his work on the history of religions, his paradigms in religious studies still hold significance in modern academia. He served as director of the 'History of Religions' department at the 'University of Chicago' for about three decades. He is highly regarded for his work on Shamanism, Alchemy, and Yoga. His four major scholarly works ('Traité d'histoire des religions,' 1949; 'Le Mythe de l'éternel retour,' 1949; 'Le Chamanisme et les techniques archaïques de l'extase,' 1951; and 'Le Yoga: Immortalité et liberté,' 1954) are in French. The most notable scholarly work of the prolific writer is 'Histoire des croyances et des idées religieuses' (1978–85). However, his 1955 novel, 'Forêt interdite,' is considered as Eliade's masterpiece. Most of his writings are from fantastic or autobiographical genres.
Recommended Lists:
Recommended Lists:
Childhood & Early Life
Eliade was born on March 9, 1907, in Bucharest, Romania, to Gheorghe Eliade and Jeana née Vasilescu. He had a sister, Corina (the mother of semiologist Sorin Alexandrescu).

His father had registered his birthdate on the 'Forty Martyrs of Sebaste day' (March 9 or March 10). As the Romans did not follow the Gregorian calendar until 1924, his birthdate is February28, according to the Julian calendar.

Growing up, Eliade became interested in entomology and botany. However, he eventually inclined toward world literature philology, philosophy, and comparative religion.

A voracious reader, he extensively read Romanian, French, and German literature. He learned Italian and English to read the original works of Raffaele Pettazzoni and James George Frazer.

He attended a school on Mântuleasa Street and then graduated from the 'Spiru Haret National College.' He was also a member of the 'Romanian Boy Scouts.'

From 1925 to 1928, he attended the 'Faculty of Philosophy' of the 'University of Bucharest' to study the early modern Italian philosopher Tommaso Campanella.

Around the time, Eliade was heavily influenced by the logic and metaphysics professor Nae Ionescu.

The subject of Eliade's thesis for his master's degree was 'Italian Renaissance Philosophers.' Influenced by Renaissance Humanism, he traveled to India to test his learnings in philosophy.

Continue Reading Below

You May Like

Travel to India

After studying for a long period in British India, he began his scholarly works at the 'University of Calcutta.' The Maharaja of Kassimbazar sponsored his studies in India by granting an allowance for four years.

In 1928, he started studying Sanskrit, Pali, Bengali, and Indian philosophy in Calcutta under the tutelage of Professor Surendranath Dasgupta.

In India, he also briefly stayed at a Himalayan ashram and practiced Yoga at Rishikesh for six months, under the direction of Swami Shivananda (1930–31).

Eliade also took keen interest in knowing Mahatma Gandhi. He met him in person and learned more about the' Satyagraha.' He eventually adopted Gandhian ideas.

Bucharest

Eliade returned to Bucharest in 1932 and submitted his doctoral thesis on Yoga at the Philosophy department to receive his Ph.D. in 1933. The thesis was later published in French titled 'Yoga: Essai sur les origines de la mystique Indienne.'

A revised version of the thesis was later published as 'Yoga, Immortality, and Freedom.' These publications helped him become an influential literary figure in Romania in the 1930s.

Ionescu appointed him as his assistant, and he joined the faculty of the 'University of Bucharest' to teach philosophy, religion, Hinduism, and Buddhism.

From 1933 to 1939, he actively worked with the 'Criterion' literary society. In 1933, he published the Romanian novel 'Maitreyi' ('Bengal Nights'), a fictionalized account of his relationship with one of Tagore's protégés.

In 1933, he was one of the signers of a manifesto opposing Nazi Germany's state-enforced racism.

Continue Reading Below

His polemical pieces for the university magazines caught the attention of journalist Pamfil Șeicaru, who offered to collaborate on the nationalist paper 'Cuvântul.'

In 1936, he condemned the dismissal of Jewish servants from Romania.

Eliade was a cultural attaché at the 'Royal Legation of Romania' in London (1940) and also at Lisbon (1941–45).

His novellas,) 'Domnișoara Christina' (1936) and 'Isabel și apele diavolului,' were heavily criticized for their sensual content. However, 'Romanian Writers' Society' honored him with an award.

In 1937, despite students' protests, Eliade was officially removed from his position in the University. He sued the Ministry of Education and succeeded in regaining his position of Ionescu's assistant at the University.

His papers titled 'Sfarmă Piatră' and 'Buna Vestire' for the 'Iron Guard,' a fascist and anti-Semitic political party, were heavily praised.

He contributed to the 1937 electoral campaign in Prahova County for the 'Iron Guard' by joining 'Totul pentru Țară' ("Everything for the Fatherland" Party).

Literary Works

King Carol II, who wanted to build up his personality cult against the 'Iron Guard,' ordered Eliade's arrest on July 14, 1938.

He refused to sign a "declaration of dissociation" with the 'Iron Guard' for which he was imprisoned and kept at the Siguranţa Statului (secret police) headquarters. Without any more torture, he was released on November 12. He then began writing his play 'Iphigenia' or 'Ifigenia.' In the 1940s, during WWII, he became the Cultural Attaché to the United Kingdom and Portugal.

Continue Reading Below

In February 1941, 'National Theater Bucharest' staged his play 'Iphigenia.' It was criticized for being heavily influenced by the 'Iron Guard's ideology.

In 1943, he traveled to occupied-France and met Roman philosopher and essayist Emil Cioran and several other scholars and writers. He applied for a lecturer job at the 'University of Bucharest,' but later withdrew his application.

He suffered clinical depression after his wife, Nina Mareş, died of uterine cancer in late-1944. His depression was also aggravated due to the defeat of Romania and 'Axis allies' on the Eastern Front.

He thought of becoming a soldier or a monk and return to the newly communist Romania. He was self-medicating his depression.

However, his association with the right-wing Ionescu spoiled his plans of returning to Romania.

In 1945, along with his adopted daughter, Giza, he moved to Paris, where scholar George DumÈzil recommended a part-time post for him at the 'École Pratique des Hautes Études.'

All of his scholarly works produced at that time were in French.

In 1947, Sri Lankan Tamil metaphysician, historian, and philosopher of Indian art Ananda Coomaraswamy recommended him as a French-language teacher in a school in Arizona. Unfortunately, he had to leave the job after Coomaraswamy's death.

In 1948, he began writing for the journal 'Critique,' and the following year, he started his novel 'Noaptea de Sânziene.'

Continue Reading Below

In 1954, he started working on the first edition of his volume on the idea of 'Eternal Return.' It was a huge commercial success, and the book was eventually published under different titles.

In 1956, he moved to Chicago, where German religious scholar Joachim Wach invited him to deliver lectures at the 'University of Chicago.' He was later promoted as a professor and chairman of the university's 'History of Religions Department' and taught until his retirement in 1983.

In 1958, he became chairperson of the 'History of Religions Department in Chicago.' Since then (until his death), he extensively published and wrote unpublished fiction.

Eliade launched the journals 'History of Religions' and 'The Journal of Religion.'

He was also briefly involved in published a Romanian-language magazine titled 'Luceafărul' ("The Morning Star").

Eliade and Wach are regarded as the founders of the "Chicago school" that defined the religious studies in the latter half of the 20th century.

He replaced Wach after his death and in 1964, became the 'Sewell Avery Distinguished Service Professor of the History of Religions.'

In 1966, he received the membership of the 'American Academy of Arts and Sciences' and served as editor-in-chief of 'Encyclopedia of Religion' by 'Macmillan Publishers.'

In 1968, Eliade completed his 'History of Religious Ideas.'

In 1977, along with other exiled Romanian intellectuals, he signed a telegram in protest of the newly formed Ceauşescu regime.

Later Years

In his final years, Eliade's earlier beliefs as a staunch fascist were exposed publicly. The stress took a toll on his health.

His writing career, too, was hindered due to severe arthritis.

He was honoured with the 'Bordin Prize' by the 'French Academy' (1977) and he received the title of 'Doctor Honoris Causa' by 'George Washington University' (1985).