Baruch Spinoza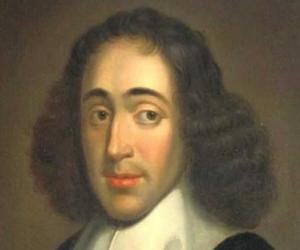 Quick Facts
Birthday: November 24, 1632
Nationality: Dutch
Famous: Philosophers Dutch Men
Died At Age: 44
Sun Sign: Sagittarius
Born in: Amsterdam, Dutch Republic
Famous as: Dutch philosopher
Family:
Spouse/Ex-: Jane de Lartigue (m. 1715)
father: Miguel (Michael)
mother: Ana Débora
Died on: February 21, 1677
place of death: The Hague
City: Amsterdam, Netherlands
Personality: INFJ
More Facts
education: Académie française (1728), College of Juilly
Continue Reading Below
Baruch Spinoza was one of the frontrunners of radical thinking who coined a new school of belief called Spinozism. Since an early age, he despised the traditional teachings and believed in conventional philosophies due to which he became one amongst the greatest rationalists of the 17th century. His posthumous publication, 'The Ethics', which is regarded as his magnum opus, earned him recognition as one of Western philosophy's most important thinkers. The book entailed his criticism of the traditional beliefs and philosophical conceptions of God, human beings, nature and universe as a whole. It also outrageously criticized the religions, theological and moral beliefs. Throughout his lifetime, his ideologies and beliefs made him a controversial figure. Neither were they accepted in Jewish religious circles nor were they appraised by the Christian communities. It was only in 18th and later 19th century that his works were being recognised as important literary masterpieces. Apart from being a philosopher, Spinoza was also a lens grinder and made his living out of grinding lenses.
Recommended Lists:
Recommended Lists:
Continue Reading Below
Childhood & Early Life
Baruch de Spinoza was the second son born to the couple, Miguel de Espinoza and Ana D�bora in Amsterdam. His father was a successful Portuguese Sephardic Jewish merchant. His mother passed away when he was six years of age.

Young Spinoza was proficient in many languages namely, Portuguese, Hebrew, Spanish, Dutch, French and Latin. Raised in a traditional Jewish household, he attained his preliminary education from Keter Torah yeshiva.

Taught by both conventional and progressive-minded teachers, he achieved the best of both the line of thoughts. He was a brilliant student, with the capabilities of becoming a rabbi. However, the ill-timed and unfortunate death of his elder brother led him to give up education and instead get involved in family business in 1650.

Continue Reading Below

Recommended Lists:

Recommended Lists:

Career

In 1653, he began studying Latin with Frances van den Enden. Frances was a free-thinker, who introduced the former to a new line of thought, opening up windows of scholastic and modern philosophy for him.

Upon the death of his father in 1654, he dedicated eleven months in reciting Kaddish or the Jewish prayer of mourning. He refused the inheritance and instead passed on everything to his sister Rebekah.

For a short time, he ran the family importing business which faced immense financial crisis during the First Anglo Dutch War. In order to free himself from the creditors, he declared himself an orphan and relinquished from the duties of the business.

He then inherited his mother's estate and switched to devoting himself completely to philosophy and optics.

He adopted the Latin name, Benedictus de Spinoza and started working as a teacher. This was an important phase in his life as he was exposed to rationalism by the anti-clerical sect of Remonstrants.

He also witnessed anti-Church groups who rebelled against the traditional dogmas. The exposure to the new line of thinking helped him form his own ideologies due to which he faced clashes with the authorities and those belonging to traditionalism.

He often raised a voice against the traditionalist due to which in 1656, he was banned by the Talmud Torah congregation for his radical theological views that he expressed in public and the danger of persecution or expulsion that the Amsterdam Jewish community faced due to their association with him.

Continue Reading Below

The writ of prohibition did not come as a shock to him but instead as a message of sweet relief, as he himself wanted to separate from the Talmud Torah congregation due to his radical thoughts.

He stopped attending the synagogue and subsequently, vocally expressed his feelings of resentment and antagonism towards Judaism. Though some claimed that he addressed an 'apology' to the elderly at the synagogue, clearly defending his views against orthodoxy, others said that no apology was presented.

Much against the popular speculation of his conversion to Christianity upon Jewish expulsion, he instead kept his Latin name. Though he kept a close alliance with the Christian sect and even moved to reside in the Collegiant area, he never accepted baptism, thus becoming the first secular Jew of modern Europe.

Post the ban and his expulsion from Amsterdam, he stayed in the village in Ouderkerk aan de Amstel briefly, returning shortly afterwards to Amsterdam. During his stay in the city, he took private philosophy lessons and grinding lenses.

Between 1660 and 1661, he left Amsterdam for good taking up residence at Rinjnsburg, Leiden. It was there that he came up with most of his well-renowned works.

It was in 1663, that he came up with his one of the initial works titled, 'Short Treatise on God, Man and His Well-Being'. The essay was written in an effort to bring out his metaphysical, epistemological and moral views out in public.

Simultaneously, he had started working on Descartes' 'Principles of Philosophy', which too completed in 1663. A critical exposition, it was the only work published in his name in the lifetime. Same year, he moved to Voorburg.

Continue Reading Below

While in Voorburg, he started collaborating with various scientists, philosophers, and theologians for his upcoming work, 'The Ethics'. To earn a living, he worked as lens-grinder and instrument maker.

Meanwhile, he also started working on his next work, 'Theological Political Treatise' in defense of secular and constitutional government which was published anonymously in 1670. This scandalous work instantly drew lot of criticism from the public and was legally banned in 1674.

In 1670, he relocated to The Hague. While at Hague, he worked on his Political Treatise and other additional subjects including two scientific essays, 'On the Rainbow' and 'On the Calculation of Chances'. Additionally, he started writing an unfinished Hebrew work and also started penning a Dutch translation of the Bible, which he eventually destroyed.

It was in 1676 that he completed his masterpiece 'The Ethics'. The work impudently criticised the traditional beliefs and philosophical conceptions of God, human beings, nature and universe as a whole. It also outrageously criticized the religions, theological and moral beliefs. Contradictorily, it professed his view of God or nature as everything.

Personal Life & Legacy

It was after he had adopted his Latin name and started teaching at a school that he first felt romantically towards a fellow teacher's daughter, Clara. However, the love was one-sided as she rejected him for someone who was richer and affluent

His health started deteriorating in 1676 and by the following year, it worsened. On February 20, 1677, he breathed his last due to lung illness which resulted from breathing dust from lens grinding. He was laid to rest in the churchyard of the Christian Nieuwe Kerk in The Hague

As stated in his will, 'The Ethics' was published posthumously in 1677, along with his other works. It was mainly divided into five parts, Concerning God, The Nature and Origin of the Human Mind, The Nature and Origin of the Emotions, Human Bondage, or the Strength of the Emotions and The Power of the Understanding, or Human Freedom.

Trivia

This Dutch philosopher was a radical thinker, whose posthumously published work, 'The Ethics' made him one of the greatest revolutionary and rational thinkers of the 17th century philosophy.

Translate Wiki

to Spanish, French, Hindi, Portuguese

Article Title

- Baruch Spinoza Biography

Author

- Editors, TheFamousPeople.com

Website

- TheFamousPeople.com

URL

-

https://www.thefamouspeople.com/profiles/baruch-spinoza-4656.php

Last Updated

- September 29, 2017

---

---

---