Leo Strauss
Biography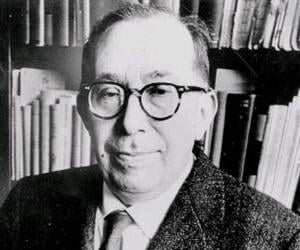 Quick Facts
Birthday: September 20, 1899
Famous: Philosophers American Men
Died At Age: 74
Sun Sign: Virgo
Born Country: Germany
Born in: Kirchhain, Germany
Famous as: Philosopher
Family:
Spouse/Ex-: Marie Bernsohn (m. 1933)
father: Hugo Strauss
mother: Jennie Strauss
children: Jenny Strauss Clay
Died on: October 18, 1973
place of death: Annapolis
Cause of Death: Pneumonia
More Facts
education: University of Hamburg, University of Marburg, Gymnasium Philippinum
awards: Commander's Cross of the Order of Merit of the Federal Republic of Germany
Continue Reading Below
Leo Strauss was a German–American philosopher and classicist, who is remembered for his works in the domain of classical political philosophy. He was a German Jew who later migrated to the United States and never went back to his homeland due to the rise of the 'Nazis.' Most of his career was spent as a professor of political science at the 'University of Chicago.' He was initially trained in neo-Kantian philosophy and worked with renowned German philosopher Ernst Cassirer. Strauss also studied the works of Edmund Husserl and Martin Heidegger. Later, he focused on the Greek writings of Plato and Aristotle. He aimed at researching the medieval Islamic and Jewish philosophy of their works and tried applying them to contemporary political theory. He died of pneumonia at the age of 74 but still lives through his works, especially his attempt at distinguishing between exoteric and esoteric writing; his critique of historicism, moral relativism, and nihilism; and his study of the relationship between reason and revelation.
Recommended Lists:
Recommended Lists:
Childhood & Early Years
Leo Strauss, was born on September 20, 1899, in Kirchhain, Hesse-Nassau, Kingdom of Prussia (German Empire), to Hugo and Jennie Strauss (née David).

His was a strict Jewish family. His father owned a livestock business. His grandfather was a prominent member of the local Jewish community.

He initially attended the 'Kirchhain Volksschule' and the 'Protestant Rektoratsschule.' Strauss then joined the 'Gymnasium Philippinum' (affiliated to the 'University of Marburg') in 1912. He graduated in 1917. He then worked with Marburg's cantor, along with several followers of neo-Kantian philosopher Hermann Cohen.

Strauss was part of the German army during World War I and served from July 1917 to December 1918.

Strauss then joined the 'University of Hamburg,' from where he obtained his doctorate degree in 1921. German philosopher Ernst Cassirer was his supervisor, and his thesis was titled 'On the Problem of Knowledge in the Philosophical Doctrine of F. H. Jacobi.'

He then attended several courses at the universities of Freiburg and Marburg, and was even taught by Martin Heidegger and Edmund Husserl.

Thereafter he worked for the German Zionist movement and came in touch with German luminaries such as Norbert Elias, Hannah Arendt, Leo Löwenthal, and Walter Benjamin.

He became close to Jacob Klein and also came in touch with Karl Löwith, Hans-Georg Gadamer, Julius Guttman, Alexander Altmann, Franz Rosenzweig, and Gershom Scholem.

His discourses with such intellectuals were later published in the 'Gesammelte Schriften' ('Collected Writings'). Strauss also worked with Carl Schmitt. However, after Strauss's departure from Germany, their relationship phased out.

Continue Reading Below

You May Like

Recommended Lists:

Recommended Lists:

Career

He worked as a research assistant at the 'Academy for Jewish Research' in Berlin from 1925 to 1932. In 1931, Strauss wished to start his post-doctoral work with theologian Paul Tillich but was rejected.

In 1932, he received the 'Rockefeller Fellowship' and subsequently quit his position in Berlin to go to Paris. The following year, Strauss moved to England with his family, after securing a 'Rockefeller Fellowship' again.

In 1935, he secured a temporary job at the 'University of Cambridge,' through his in-law, David Daube, who was associated with 'Gonville and Caius College.' In England, Strauss got acquainted with R. H. Tawney and Isaiah Berlin.

In 1937, he immigrated to the United States. The same year, he joined 'Columbia University' as a research fellow. He worked as a professor, teaching political science at the 'New School for Social Research' (presently 'The New School'), in New York City from 1938 to 1949. He became a naturalized citizen of the country in 1944.

He taught at the 'University of Chicago' from 1949 to 1969, at 'Claremont (California) Men's College' in 1969, and at 'St. John's College' in Annapolis from 1970 to 1973. At the 'University of Chicago,' he was made the 'Robert Maynard Hutchins Distinguished Service Professor.' At 'St. John's,' he was made the 'Scott Buchanan Distinguished Scholar in Residence.'

In 1953, he coined the phrase "reductio ad Hitlerum," which meant the act of invalidating someone's opinion just because Hitler believed in the same thing.

He returned to Germany for a few days, much later, but did not live there due to the rise of the 'Nazis.'

Strauss was also acquainted with Alexandre Kojève, Raymond Aron, Étienne Gilson, and Alexandre Koyré.

Beliefs & Major Works

Strauss was a staunch follower of Zionism since the age of 17. In the early 1920s, Strauss started writing on Hermann Cohen's treatment of Spinoza.

Continue Reading Below

He later wrote on Spinoza, Hobbes, and the Enlightenment analyses of religion. In 1930, he published 'Spinoza's Critique of Religion.'

In Cambridge, Strauss resumed his research on Hobbes and completed 'The Political Philosophy of Hobbes: Its Basis and Genesis' in 1936.

Strauss then published 'Philosophy and Law: Contributions to the Understanding of Maimonides and His Predecessors' (1935), his full-fledged study on Jewish philosopher Maimonides.

In the United States, he published 'On German Nihilism' (1941). His study of exoteric writing was elaborated in the essays 'The Spirit of Sparta and the Taste of Xenophon' (1939) and 'On Tyranny' (1948).

In his 1941-published 'Persecution and the Art of Writing,' Strauss stated that serious writers usually write esoterically, with layered meanings. His first detailed studies of Machiavelli and Plato were published in the mid-1940s.

His 1953-published 'Natural Right and History' was a source of a lot of controversy. Strauss criticized the relativistic nature of social science, terming it a hindrance to true scientific knowledge and describing it as indistinguishable from nihilism. Quite like Heidegger, he relied on the roots of classical Greek philosophy but also tried finding out alternatives to Heideggerian existentialism.

Some of his most prominent works were 'Thoughts on Machiavelli' (1958), 'The City and Man' (1964), 'Socrates and Aristophanes' (1966), and 'Liberalism Ancient and Modern' (1968).

The list of his loyal followers and students include Allan Bloom, Harry Jaffa, Seth Benardete, Stanley Rosen, Walter Berns, Harvey Mansfield, and Martin Diamond.

Family, Personal Life & Death

While in Paris, Strauss married Marie (Miriam) Bernsohn. Marie was a widow and already had a son, Thomas. Strauss had known her since his days in Germany. He adopted Marie's son.

Jewish Arabist Paul Kraus, one of Strauss's closest friends, married his sister, Bettina. Strauss and Marie adopted Kraus and Bettina's daughter, Jenny Strauss Clay, after their death in the Middle East. Strauss and Marie did not have any biological child of their own.

Strauss died of pneumonia on October 18, 1973, in Annapolis, Maryland, United States. He was 74 at the time of his death. He was survived by his stepson, Thomas; his adopted daughter, Jenny; and three grandchildren. Jenny is currently a professor at the 'University of Virginia.'

"Straussianism" is a popular term that denotes any research and pedagogy related to the ideas of Strauss.

Translate Wiki

to Spanish, French, Hindi, Portuguese

Article Title

- Leo Strauss Biography

Author

- Editors, TheFamousPeople.com

Website

- TheFamousPeople.com

URL

-

https://www.thefamouspeople.com/profiles/leo-strauss-9444.php