Jacques Chirac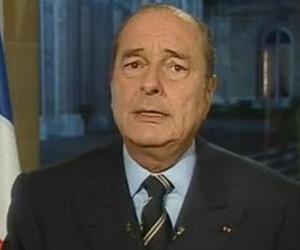 Quick Facts
Birthday: November 29, 1932
Nationality: French
Famous: Quotes By Jacques Chirac Presidents
Age: 86 Years, 86 Year Old Males
Sun Sign: Sagittarius
Also Known As: Jacques René Chirac
Born in: Paris
Famous as: Politician, Ex-President of France, Ex-Prime Minister of France and Ex-Mayor of Paris
Height: 6'2" (188 cm), 6'2" Males
political ideology: Union pour un Mouvement Populaire
Family:
Spouse/Ex-: Bernadette Chirac (m. 1956)
father: Abel François Chirac
mother: Marie-Louise Valette
children: Claude Chirac, Laurence Chirac
City: Paris
More Facts
education: Lycée Carnot, Lycée Louis-le-Grand, Paris Institute of Political Studies, Harvard University, Grande école National School of Administration
Continue Reading Below
Jacques Chirac is a renowned French politician who rose to prominence for his impeccable contribution in French politics. During his active years, he held important offices in the French administration, including that of Prime Minister from 1974 to 1976 and 1986 to 1988, Mayor of Paris from 1977 to 1995 and President of France from 1995 until 2007. This ENA graduate since a young age aimed for a career as a high-profile civil servant and soon paved his way to earn himself a significant place in politics. At the outset of his political career, he served various senior positions including Minister of Agriculture and Minister of the Interior. No sooner his knack for getting things done made him a favourite with Georges Pompidou who mentored him to gain national prominence in French political circle. And rest as they say is history! Chirac labored to bring forth changes in the economic, social and political arena of the country. For the same, he had been bestowed with highest decoration from the world over including French Légion d'honneur, National Order of Merit, Cross for Military Valor, Aeronautical Medal, Order of Agricultural Merit and Order of Arts and Letters. Take a sneak peek into the article to further equip yourself with details about his life and profile.
Recommended Lists:
Recommended Lists:
Continue Reading Below
Childhood & Early Life
Jacques Chirac was born in a Roman Catholic family to Abel Fran�ois Chirac and Marie-Louise Valette. While his father was employed with an aircraft company, his mother was a homemaker.

He acquired his basic education in Paris from Lyc�e Carnot and Lyc�e Louis-le-Grand. In the 1950s, he took to pursue a career in civil services. For the same, he continued his academic career graduating from Paris Institute of Political Science in 1953.

After a short stint at Harvard University's summer school, he enrolled at the Grande �cole National School of Administration (ENA) in 1957. Two years of rigorous training to rank amongst France's best civil servants paid off as he was appointed as a civil servant in the Court of Auditors

Recommended Lists:

Recommended Lists:

Career

Year 1962 marked his foray into politics as he gained himself the position of the head of the personal staff of Prime Minister Georges Pompidou. His knack for getting things done made him Pompidou favourite and earned him the nickname, 'Le Bulldozer'.

Five years later, in 1967, he contested as a Gaullist for a seat in National Assembly on the recommendation of Pompidou. Emerging victorious, he was elected deputy for his home Corr�ze department.

During the end of 1960s, he took up various roles, serving as he state secretary of economy from 1968 until 1971, and Minister for Relations with the Parliament from 1971 until 1972. Pompidou, by then, had become the President of France.

His first major appointment came in 1972 as Minister of Agriculture and Rural Development. In the new capacity, he attained immense recognition, which reached its peak when he openly lambasted agricultural policies of other nations as they conflicted with French interests.

In February 1974, he was given the office of Minister of Interior. Same year, he started to make preparation for the upcoming presidential elections in 1976 but a tragic untimely death of Pompidou in April 1974 thwarted all efforts.

He then extended his support for the non-Gaullist Giscard d'Estaing, who was eventually chosen as Pompidou's successor. While Estaing became the President of France, he was chosen as the Prime Minister. However, personal and professional differences with Estaing led to his resignation in 1976.

Post quitting the Prime Ministership, he set out to reconstitute the Gaullist Union of Democracy into a neo-Gaullist group by the name, Rally of the Republic (RPR).

Continue Reading Below

As the leader of RPR, he gained utmost control over the party and by the following year, he ascended to chair the position of the Mayor of Paris in 1977. He held the post until 1995. It was during his tenure as the mayor that his political influence grew by heaps and bounds.

His first attempt for presidential elections was in 1981. The right wing had two leaders in Estaing and himself while the socialist was being led by Francois Mitterrand. Due to split of votes between Estaing and himself, Mitterrand benefitted and was chosen as the President.

Eventually, he emerged in the National Assembly as the leader of the right wing opposition against Mitterrand administration. In 1986, he was appointed Prime Minister by Mitterrand.

His second term as the Prime Minister was a remarkable one. Responsible for domestic affairs, he carried out various reforms including privatization of major corporations, reduction of taxes and payroll which directly led to more job openings.

In the 1988, he made his second attempt for the office of the President by challenging Mitterrand. However, the move paid unfruitful results as he lost to the latter. The loss propelled him to resign from the cabinet.

In 1995, he contested the presidential elections for a third time. Defeating socialist candidate, Lionel Jospin, he finally attained the chair of the President. In his first term at the office, he made severe budgetary cutbacks which gained him wrath from the people.

Another controversial move was the permission for recommencement of French nuclear test in the South Pacific. The news caused great disruption and violent demonstration in Tahiti which caused him to take back the grant.

Continue Reading Below

Overconfident about his popularity, he called for early elections in 1997 with an aim to gain support for his conservative economic program. The move backfired, as Jospin-led socialist party won the majority, thus weakening his presidency.

In 2002, he contested in the presidential elections for a fourth time against controversial far right politicianJean-Marie LePen of National Front. With every other party against LePen, he won the majority in a landslide victory with 82% votes.

The second term of his Presidency started on a happy and positive note as it ended the cohabitation of Socialist prime minister. Capitalizing on the situation, he appointed fellow centre-right politician Jean-Pierre Raffarin to the post.

He emerged as the leading voice against Bush administration which wanted to overthrow Saddam Hussein led government in Iraq. He threatened to use veto any new Security Resolution that authorized the use of force. However, his efforts turned in vain as US commissioned war with Iraq.

In 2004, he made yet another controversial law that prohibited the wearing of hijab and other religious and symbolic representations by people in French state schools and public corporations. He condemned it as a mark of hostility and believed that the ban would help in augmenting integration in French society.

The high unemployment rate caused unrest in the country which led to him declaring a state of emergency. People violently protested against the legislation which made it easier to fire employees, thus causing an abandonment of the legislature.

His popularity declined speedily and on March 11, 2007, he announced his decision not to contest in the presidential elections. Following his stepping down as the President, Nicolas Sarkozy succeeded him.

Continue Reading Below

Post presidency, he initiated the Foundation Chirac, which aims to strive for peace with its five advocacy programs. He even became a lifetime member of Constitutional Council of France.

Post presidency, he was forced to face trials on numerous charges of corruption as Mayor of Paris. He was convicted in 2011 for misusing public funds and abusing public trust. He has received a two-year suspended sentence.

Recommended Lists:

Recommended Lists:

Awards & Achievements

For his outstanding contribution in the field of politics, he has been the proud recipient of honorary awards and highest decorations from countries across the globe, few of which including France, Quebec, Lithunian, Austria, Romania, Czech Republic, United Kingdom, Latvia, Poland, Italy, Russia, South Africa, Portugal, Norway, and others.

Recommended Lists:

Recommended Lists:

Personal Life & Legacy

He went into the wedlock with Bernadette Chodron de Courcel, who bore him two daughters, Laurence and Claude. He also has a foster daughter, Anh Dao Traxel.

Post presidency, he initiated the organization Foundation Chirac, which aims to strive for peace with its five advocacy programs. He even became a lifetime member of Constitutional Council of France.

Trivia

This second longest serving President of France received the nickname 'Le Bulldozer' or 'My Bulldozer' by former Prime Minister and Preside Georges Pompidou, for his knack for getting things done.

Translate Wiki

to Spanish, French, Hindi, Portuguese

Article Title

- Jacques Chirac Biography

Author

- Editors, TheFamousPeople.com

Website

- TheFamousPeople.com

URL

-

https://www.thefamouspeople.com/profiles/jacques-chirac-112.php

Last Updated

- October 18, 2017

---

---

---