Emmanuel Macron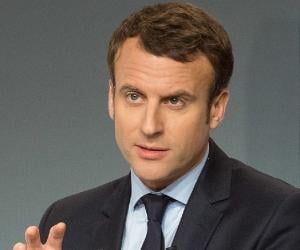 Quick Facts
Birthday: December 21, 1977
Nationality: French
Famous: Presidents Political Leaders
Age: 41 Years, 41 Year Old Males
Sun Sign: Sagittarius
Also Known As: Emmanuel Jean-Michel Frédéric Macron
Born in: Amiens, France
Famous as: Current President of France
Height: 5'9" (175 cm), 5'9" Males
Family:
Spouse/Ex-: Brigitte Trogneux (m. 2007)
father: Jean-Michel Macron
mother: Françoise Macron-Nogues
Ideology: Socialists
More Facts
education: École nationale d'administration, Sciences Po, Lycée Henri-IV, Paris West University Nanterre La Défense
Continue Reading Below
Emmanuel Macron is the current President of France, in office since 14 May 2017. Prior to running for the presidency, he had served as the Minister of Economy, Industry and Digital Affairs under Prime Minister Manuel Valls from 2014 to 2016. Formerly an investment banker, he joined politics in 2006 as a member of the Socialist Party (PS). A charismatic and astute personality, he rose rapidly in his political career and served as deputy secretary-general under François Hollande's first government in 2012 before proceeding to hold other significant positions in the Valls government. Born into a well-educated middle-class family, Macron studied Philosophy at the University of Paris-Ouest Nanterre La Défense before training for a senior civil service career at the École nationale d'administration (ENA). Following a stint as an Inspector of Finances in the French Ministry of Economy, he worked as an investment banker at Rothschild & Cie Banque. Entering politics in 2006, he soon caught the attention of Francois Hollande who took the young man as his protégé and groomed him for political greatness. In 2016 Macron founded En Marche!, an independent political party, and declared his candidacy for the French presidential election 2017. He won the presidential election on 7 May 2017 and assumed office as the President of France on 14 May 2017. Aged 39, Macron is the youngest person to ever be elected as President of France. Macron's somewhat unconventional personal life has also attracted much media attention; he is married to Brigitte Trogneux, a lady 24 years his senior, who was his drama teacher in high school.
Recommended Lists:
Recommended Lists:
Childhood & Early Life
Emmanuel Macron was born on 21 December 1977 in Amiens, France, to Françoise (Noguès), a physician, and Jean-Michel Macron, professor of neurology at the University of Picardy. Even though his parents were not religious, Macron was baptized a Roman Catholic at his own request when he was 12.

He was smart and determined from a young age and performed well as a student at the Jésuites de la Providence lycée. As a teenager he became infatuated with one of his teachers at the school, and in order to distract his mind, his parents sent him to the élite high school Lycée Henri-IV in Paris for his final year.

Following his high school graduation he studied Philosophy at the University of Paris-Ouest Nanterre La Défense, obtaining a DEA degree. He then proceeded to earn his master's degree in public affairs from the Paris Institute of Political Studies.

Interested in a civil service career, Macron trained for the same at the École nationale d'administration (ENA) and graduated in 2004.

Recommended Lists:

Recommended Lists:

Career

Emmanuel Macron landed a job as an Inspector of Finances in the French Ministry of Economy shortly after completing his studies in 2004. In this position, he served as deputy rapporteur for the Commission to improve French economic growth headed by Jacques Attali in 2007.

In 2008, the ambitious young man received an offer to work as an investment banker at a highly-paid position at Rothschild & Cie Banque. Since he was already working in a government job, he had to pay €50,000 to buy himself out of his government contract.

Meanwhile, Macron had also ventured into politics as a member of the Socialist Party (PS) in 2006. He left the party in 2009 and became an independent politician.

In the French political circles, Emmanuel Macron was considered a protégé of the senior Socialist politician François Hollande who is believed to have played a role in shaping the younger man's career. In 2012, Macron was selected for a senior position in President Hollande's staff—as deputy secretary-general of the Élysée.

Macron's political career continued to flourish and he was appointed as the Minister of Economy and Finance on 26 August 2014, replacing Arnaud Montebourg, in the government under Prime Minister Manuel Valls.

As the Minister of the Economy, Macron played a major role in promoting business-friendly reforms. He was in favor of the free market and reducing the public-finances deficit. A vocal supporter of the El Khomri law, he called for the economic overhaul of the country.

In this position, he also supported the Comprehensive Economic and Trade Agreement (CETA) between Canada and the European Union.

His stance on foreign policy proved to be a bit controversial. His popularity saw a dip after he described France's colonization of Algeria as a "crime against humanity."

Emmanuel Macron initially said that France needed a more "balanced" policy toward Syria and was willing to consider talks with Bashar Assad. However, following the chemical attack in Khan Shaykhun, Macron called for possible military intervention against Assad regime.

Continue Reading Below

As far as his views on Israel are concerned, he proposed that Hollande's policies be continued. He opposed the Boycott, Divestment and Sanctions Movement (also known as the BDS Movement) coordinated by the Palestinian BDS National Committee.

His views on immigration differed from those of many other French Socialists, including former Prime Minister Manuel Valls. Inspired by the open-door policy toward immigrants and refugees pursued by Angela Merkel in Germany, he stated that he was confident that France has the ability to absorb more immigrants. He also promotes tolerance towards people belonging to diverse religions.

Emmanuel Macron founded an independent political party, En Marche! in Amiens on 6 April 2016. He then resigned from his governmental position and formally declared his intention to run for the 2017 French presidential election in November 2016.

He promised to "unblock France" in his announcement speech and called for a "democratic revolution." His bid was supported by many prominent political figures, including François Bayrou, Daniel Cohn-Bendit, François de Rugy, and Richard Ferrand.

After qualifying for the runoff after the first round of the election on 23 April 2017, Emmanuel Macron won the second round of the presidential election on 7 May, conveniently beating Marine Le Pen of the National Front. He formally assumed office as the President of France on 14 May 2017.

After qualifying for the runoff after the first round of the election on 23 April 2017, Emmanuel Macron won the second round of the presidential election on 7 May, conveniently beating Marine Le Pen of the National Front. He formally assumed office as the President of France on 14 May 2017.

Recommended Lists:

Recommended Lists:

Major Works

After functioning as an independent politician for a few years, Emmanuel Macron launched his own political party, En Marche!, on 6 April 2016. A social-liberal party, En Marche! is considered to be a progressive movement, uniting both the left and the right. Academics often compare the party to the Spanish liberal political party, Citizens, and Macron to its leader Albert Rivera.

Personal Life & Legacy

Emmanuel Macron was just a teenager when he fell in love with his drama teacher, Brigitte Trogneux, 24 years his senior. Despite their age gap—and the fact that Brigitte was a married mother of three—the boy pursued her. Disturbed by the growing closeness of their son with his teacher, Emmanuel's parents sent him to another city to complete his high school.

However, being the determined young man that he was, Emmanuel promised to his teacher that one day he would return and marry her. He kept his promise. After completing his studies he resumed his relations with her. Brigitte eventually divorced her first husband and married Macron in 2007.

Translate Wiki

to Spanish, French, Hindi, Portuguese

Article Title

- Emmanuel Macron Biography

Author

- Editors, TheFamousPeople.com

Website

- TheFamousPeople.com

URL

-

https://www.thefamouspeople.com/profiles/emmanuel-macron-32523.php

Last Updated

- May 15, 2017

---

---

---