George W. Bush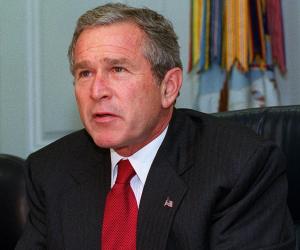 Quick Facts
Nick Name: Junior, Shrub, Bush II, 43, Bush 2.0, Dubya, W, Bush Jr.
Nationality: American
Famous: Quotes By George W. Bush Presidents
Age: 73 Years, 73 Year Old Males
Sun Sign: Cancer
Also Known As: George Walker Bush
Born in: New Haven
Famous as: 43rd U.S. President
Height: 6'0" (183 cm), 6'0" Males
political ideology: Political party - Republican
Family:
U.S. State: Connecticut
Ideology: Republicans
Founder/Co-Founder: Arbusto Energy, Energy Task Force, Transportation Security Administration, New Freedom Commission on Mental Health, United States Department of Homeland Security, Clinton Bush Haiti Fund, George W. Bush Foundation
More Facts
education: The Kinkaid School, Phillips Academy, 1968 - Yale University, 1975 - Harvard Business School, Yale College
awards: NME Award for Villain of the Year
Continue Reading Below
George Walker Bush was the 43rd President of the United States, who served in the office for two consecutive terms, i.e., from 2001 to 2009. He is the son of George Herbert Walker Bush, the 41st President of the United States. The political association of HIS family doesn't end here; his grandfather, Prescott Bush, was the U. S. Senator from Connecticut. After completing of his schooling in Massachusetts, George W. Bush graduated with a B. A. degree in history from Yale University and then went on to Harvard Business School to do his M.B.A. In 1968, he was commissioned into the Texas Air National Guard and he was honorably discharged after six years of service. He married Laura Lane Welch and the couple shifted to Midland, where George W. Bush founded a series of small, independent oil exploration companies. He helped his father, George H. W. Bush in both of his Presidential campaigns before becoming the Governor of Texas himself. He was the Republican candidate for 2000 Presidential elections and won the election by defeating Democrat nominee Al Gore. Four years later, he was re-elected when he defeated the Democrat John Kerry.
Recommended Lists:
Recommended Lists:
Continue Reading Below
Childhood & Early Life
George W. Bush was born on July 6, 1946 in New Haven, Connecticut as the first child of George Herbert Walker Bush and Barbara Pierce. He had five younger siblings – Jeb, Neil, Marvin, Dorothy and Robin (who passed away at the age of three due to leukemia).

His grandfather, Prescott Bush, was a US Senator from Connecticut and his father, Bush Sr., held the US Vice-President's office for two terms in the 1980s and then became the 41st US President in 1989.

He received his schooling from Kinkaid School in Houston and Phillips Academy in Massachusetts. He graduated from Yale University in 1968 with B.A. degree in history and enlisted in the Texas Air National Guard from where he was honorably discharged in 1974.

While on his guard duty he started attending Harvard Business School in 1973 and graduated in 1975 with a Masters of Business Administration degree.

Continue Reading Below

Recommended Lists:

Recommended Lists:

Career

After completing his MBA, George W. Bush returned to Midland and entered the oil business. In 1979, he created Arbusto Energy and sold the company in 1986.

In 1988 he shifted to Washington D.C. to help his father in his campaign for presidency, which turned out to be successful. Bush Sr. again called out for his eldest son to manage his 1992 Presidential re-election, but this time their luck ran out and Bush Sr. lost.

In 1994, George W. Bush ran for the office of Governor of Texas and he won the election by defeating the incumbent Governor and the Democrat candidate, Ann Richards. His election campaign focused on welfare, reforms, crime reduction and improvement of education.

As Governor he raised the salaries of the teachers, implemented policies that reduced domestic violence and allocated funds to organizations that educated people about the (side) effects of drug usage.

In 1998, he won the re-election with a big mandate and became the first Governor in Texas history to hold two consecutive four-year terms. In 1999 with the implementation of a new law, Texas became the leading producer of wind powered electricity in US.

He announced his candidacy for the U.S presidency in 1999 and became the Republican Party's nomination, with Dick Cheney as his running mate. The Democratic Party's nominee was Al Gore, the incumbent Vice-President.

The 2000 presidential elections results were close and controversial and after a month of inconclusiveness, the Supreme Court intervened and declared Bush the winner on the basis of electoral votes.

Continue Reading Below

His first administrative success was the passing of the No Child Left Behind Act in 2001. The Act was brought in to bridge the gap between rich and poor student performance and also to raise the standard of schooling being imparted.

On September 11, 2001, Al Qaeda terrorists crashed four hijacked planes in New York and Washington DC, killing around 3,000 American citizens. The attacks were linked to Osama Bin Laden, the leader of Al Qaeda, and George W. Bush declared a War on Terror.

In October 2001, U.S forces entered Afghanistan as the then Taliban regime, which was at the helm in Afghanistan, was training the Al Qaeda terrorists and had given shelter to Osama bin Laden, the mastermind behind the 9/11 attack.

To make sure that America never witnesses another terrorist attack, he created the Homeland Security Department and passed the Patriot Act.

In March 2003, George W. Bush ordered the U.S forces to invade Iraq and he believed that the Iraqi ruler Saddam Hussein was developing weapons of mass destruction. Saddam Hussein was deposed and in 2005, free democratic elections were held in Iraq.

In the 2004 Presidential election, he won 286 electoral votes and defeated Democrat John Kerry.

His second term started on the worst possible note as Hurricane Katrina devastated the Gulf Coast of the United States and took around 1,800 lives and damaged property worth billions. He received severe criticism for the slow handling of the disaster by the Democratic Party and the citizens alike.

Continue Reading Below

In 2008, in the final year of his presidency, the U.S. was hit with a severe credit crisis that sent the stock market into free fall and led to massive layoffs..Bush administration responded to the crisis by enacting a controversial $700 billion Emergency Economic Stabilization Act to bail out the housing and banking industries.

He left office in 2009 and settled in Dallas, Texas with his wife. He was succeeded by Barack Obama.

Recommended Lists:

Recommended Lists:

Major Works

Before the completion of George W. Bush's first year as President at the White House, America was devastated by the September 11, 2001 attacks. Bush promised the people that justice would be done to the approximately 3000 innocent people who had lost their lives. He launched a scathing attack called the War on Terror to dismantle the Taliban and capture/kill Osama Bin Laden (then presumably in Afghanistan), under which the US military invaded Afghanistan in 2001.

In 2003, he ordered the U.S military forces to invade Iraq and the U.S. believed that the then Iraqi ruler Saddam Hussein was developing weapons of mass destruction. U.S forces deposed Saddam Hussein and in 2005, free democratic elections were held in Iraq for the first time in 50 years.

Awards & Achievements

George W. Bush was named the Person of the Year by 'Time' magazine in 2000 and 2004.

In 2005, Latvian President Vaira Vīķe-Freiberga awarded him the Order of the Three Stars and in 2012 Estonian President Toomas Hendrik Ilves bestowed him with the Order of the Cross of Terra Mariana.

Personal Life & Legacy

George W. Bush married Laura Welch, a school teacher and librarian, in 1977, and four years later Laura gave birth to fraternal twin daughters, Barbara Pierce Bush and Jenna Welch Bush.

Translate Wiki

to Spanish, French, Hindi, Portuguese

Article Title

- George W. Bush Biography

Author

- Editors, TheFamousPeople.com

Website

- TheFamousPeople.com

URL

-

https://www.thefamouspeople.com/profiles/george-w-bush-3817.php

Last Updated

- July 20, 2017

---

---

---