Barack Obama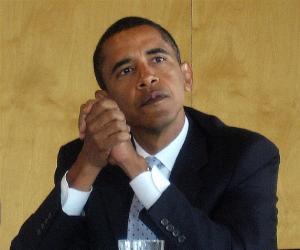 Quick Facts
Nationality: American
Famous: African American Men Nobel Peace Prize
Age: 57 Years, 57 Year Old Males
Sun Sign: Leo
Also Known As: Barack Hussein Obama II
Born in: Honolulu, Hawai, USA
Famous as: 44th U.S. President
Height: 1.85 m
political ideology: Political party - Democratic
Ideology: Democrats
U.S. State: Hawaii
Founder/Co-Founder: Major Economies Forum on Energy and Climate Change, National Commission on Fiscal Responsibility and Reform, Developing Communities Project, President's Council on Jobs and Competitiveness, White House Task Force to Protect Students from Sexual Assault
More Facts
education: 1979 - Punahou School, 1981 - Occidental College, 1983 - Columbia University, 1991 - Harvard Law School, 1967 - Noelani Elementary School, 1970 - St. Francis of Assisi Catholic School, 1971 - State Elementary School Menteng 01
Hobbies: Basketball , Golf, and Reading.
awards: 2009 - Nobel Peace Prize
2012; 2008 - Time's Person of the Year
2008; 2006 - Grammy Award for Best Spoken Word Album - The Audacity of Hope

Dreams from My Father
2007 - NAACP Image Award for Outstanding Literary Work
Nonfiction - The Audacity of Hope
2005 - NAACP Image Award – Chairman's Award
2013 - NME Award for Hero of the Year

Continue Reading Below
Barack Obama was the 44th President of the United States. Born to a white American mother and a black Kenyan father, he is the first African-American to hold the office. Prior to becoming the president, he served three terms representing the 13th District in the Illinois Senate and received national attention during his campaign to represent Illinois in the United States Senate. A graduate of Columbia University and Harvard Law School, he was a successful civil rights attorney before he ventured into politics. Elected to the U.S. Senate in 2004, he began his presidential campaign in 2007. After winning sufficient delegates in the Democratic Party primaries to receive the presidential nomination, he went on to defeat Republican nominee John McCain in the general election. He assumed office as the President of the United States in January 2009, a time when the country was reeling under the global economic recession. Expectations were high from the new president and the responsibilities on his shoulders, tremendous. Within the first few months he implemented several reforms in order to stabilize the economy and to boost its growth. He also completely overhauled America's foreign policy. Obama was re-elected to a second term as president in November 2012.
Recommended Lists:
Recommended Lists:
Continue Reading Below
Childhood & Early Life
He was born as Barack Hussein Obama II on August 4, 1961, in Honolulu, Hawaii, to Barack Obama, Sr. and his wife, Stanley Ann Dunham. His mother was a white American, of mostly English ancestry while his father was a black Kenyan. His parents separated when Barack was just an infant.

His mother was still a student when she gave birth to Barack Obama and Obama lived with his maternal grandparents for a few years while his mother completed her education.

Barack Obama graduated from high school in 1979 and moved to Los Angeles to attend Occidental College. In 1981, he transferred to Columbia College, Columbia University in New York City, where he majored in political science with a specialty in international relations. He graduated with a Bachelor of Arts in 1983.

From June 1985 to May 1988, he worked as a community organizer for low-income residents in the Roseland and the Altgeld Gardens communities.

He entered Harvard Law School in the fall of 1988 and graduated with a J.D. magna cum laude in 1991. As a student, he served as the president of the Harvard Law Review, and his election as the first black president of the Harvard Law Review gained national media attention.

Continue Reading Below

Recommended Lists:

Recommended Lists:

Career

He took up a part-time teaching position at the University of Chicago Law School in 1992 as a lecturer, eventually becoming a Senior Lecturer in 1996.

He joined the firm of Miner, Barnhill & Galland to practice as a civil rights lawyer. He served as an associate for three years from 1993 to 1996, then as counsel from 1996 to 2004.

He ventured into politics and successfully ran as a Democrat for a seat in the Illinois State Senate in 1996. He sponsored a law that increased tax credits for low-income workers, negotiated welfare reform, and promoted increased subsidies for childcare. He was reelected in 1998 and then again in 2002.

He decided to run for the U.S. Senate in 2004 and won in an unexpected landslide in the primary election in March. He delivered the keynote address at the 2004 Democratic National Convention following which he became very popular. He was sworn in as a senator on January 3, 2005

As the Senator, he cosponsored the Secure America and Orderly Immigration Act and introduced the Federal Funding Accountability and Transparency Act of 2006. He also sponsored the Iran Sanctions Enabling Act and an amendment to the Defense Authorization Act to add safeguards for personality-disorder military discharges.

An ambitious man and a successful political figure in the U.S., Barack Obama decided to run for the presidency and announced his candidacy for President of United States, in 2007. He was chosen as Democratic Party's presidential candidate

He defeated Republican presidential nominee John McCain in the United States presidential election on November 4, 2008. Obama received 365 electoral votes as compared to 173 electoral votes received by McCain. His running mate, Delaware Senator Joe Biden, became vice president.

Continue Reading Below

Barack Obama was sworn in as the president on January 20, 2009. He assumed the position at a time when the American economy was in a chaos, in the midst of a severe global recession.

He set to work immediately and started implementing financial reforms to bring down the national debt while also focusing on the education and health care system in the country. His top most priority was to stabilize the American economy which had taken a beating during the global recession.

In order to help the economy recover from the recession, he signed the American Recovery and Reinvestment Act of 2009, a $787 billion economic stimulus package that included increased federal spending for health care, infrastructure, education, various tax breaks and incentives.

He stressed on the importance of innovation economics to make the United States more competitive globally in his 2011 State of the Union Address. The same year, he signed the Budget Control Act in an effort to control government spending and prevent the government from defaulting on its financial obligations.

Obama became the president at a politically turbulent time and handled a number of military and security issues during his presidency. He authorized a raid on what was believed to be the location of Osama bin Laden, the founder of al-Qaeda, in Pakistan. The operation, conducted by United States Navy SEALs on 1 May 2011 resulted in the death of bin Laden and the seizure of papers, computer drives and disks from the compound where he was hiding.

In his first term as the president, he supported same-sex marriages and fought for a woman's right to make her own health decisions. He also made college education more affordable for millions of students. All these moves, along with the pivotal role he played in helping the American economy recover from the recession and in controlling terrorism made him an extremely respected and popular president.

Barack Obama faced Republican opponent Mitt Romney in the 2012 presidential election. He won the election and was sworn in for a second term on 20 January, 2013. In his second term, he has called for full equality for LGBT Americans and has sought to normalize U.S. relations with Cuba.

Continue Reading Below

Barack Obama's term came to an end on January 20, 2017, immediately after the inauguration of his successor, Donald Trump, and he left office with a 60% approval rating. Obama currently resides in Washington, D.C.

Recommended Lists:

Recommended Lists:

Major Works

In 2009 he signed the $787 billion American Recovery and Reinvestment Act in order to promote economic growth in the midst of the major global recession. Within months there was a surge in the number of jobs being created and unemployment claims began to subside. Over the period of one year, a total of nearly 3.7 million new private-sector jobs were created.

Obama doubled renewable power generation during his first term. In 2009, he issued orders to all federal agencies to cut down on their environmental impacts by 2020. A 30 percent reduction in fleet gasoline use, and 26 percent boost in water efficiency are some of the goals envisioned to achieve lower environmental impacts over the next few years.

As the president, his major focus was on revitalizing the American economy after the recession and he signed the Dodd-Frank Wall Street Reform and Consumer Protection Act (2010) in order to re-regulate the financial sector after its decline during the recession.

He authorized the operation, code-named Operation Neptune Spear, to go ahead with the raid on Osama bin Laden's compound in Abbottabad, Pakistan, in May 2011. The operation resulted in the death of the infamous terrorist who had managed to evade capture so far.

He is also well known for his stance on same-sex marriages and LGBT rights. He called for full equality for gays during his second inaugural address on January 21, 2013—this was the first time that a president mentioned gay rights or the word gay in an inaugural address. He supports same sex couples adopting children.

Awards & Achievements

He is the recipient of two Best Spoken Word Album Grammy Awards. He won the awards for the abridged audiobook versions of 'Dreams from My Father' (2006) and for 'The Audacity of Hope' (2008).

In 2009, the Nobel Peace Prize was awarded to Barack Obama "for his extraordinary efforts to strengthen international diplomacy and cooperation between peoples".

The 'Time' magazine named Obama as its Person of the Year twice, in 2008 and in 2012.

Personal Life & Legacy

Barack Obama met Michelle Robinson in 1989 while employed as a summer associate at the Chicago law firm of Sidley Austin. The couple started dating and eventually married in 1992. They are blessed with two daughters, Malia and Natasha.

Net Worth

Barack Obama has an estimated net worth of $12.2 million.

Top 10 Facts You Did Not Know About Barack Obama

Obama was just a young boy when his mother recognized his potential and told a friend she believed he could be president of the United States when he grew up.

Continue Reading Below

He used to write poetry when he was a young man in love.

The name Barack means "one who is blessed" in Swahili.

As a young boy growing up in Indonesia, he had a pet ape named Tata.

Obama admits he took drugs including marijuana and cocaine as a teenager.

His basketball-playing skills earned him the nickname "O'Bomber" in high school.

He loves comics! He has read every Harry Potter book and collects Spider-Man and Conan the Barbarian comics.

He has tried some very peculiar dishes like dog meat, snake meat, and roasted grasshopper while living in Indonesia.

His childhood nickname was "Barry" and it was only during his university years that he came to be addressed by his full name.

He owns four identical pairs of black size 11 shoes.

Translate Wiki

to Spanish, French, Hindi, Portuguese

Article Title

- Barack Obama Biography

Author

- Editors, TheFamousPeople.com

Website

- TheFamousPeople.com

URL

-

https://www.thefamouspeople.com/profiles/barack-hussein-obama-ii-790.php

Last Updated

- December 02, 2018

---

---

---