Laura Bush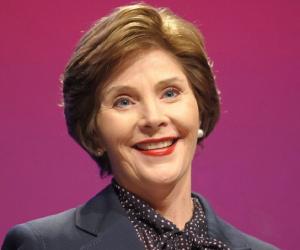 Quick Facts
Birthday: November 4, 1946
Nationality: American
Famous: Humanitarian Philanthropists
Age: 72 Years, 72 Year Old Females
Sun Sign: Scorpio
Also Known As: Laura Lane Welch Bush
Born in: Midland, Texas
Famous as: Former First Lady
Height: 1.64 m
political ideology: Republican
Family:
Spouse/Ex-: George Bush (m. 1977)
father: Harold Bruce Welch
mother: Jenna Louise Hawkins
Ideology: Republicans
U.S. State: Texas
More Facts
education: University of Texas at Austin, Southern Methodist University, Robert E. Lee High School
awards: 2008 - Christian Freedom International Freedom Award
Continue Reading Below
Laura Lane Welch Bush, popularly known as Laura Bush, is the wife of the 43rd U. S. President George W. Bush and was the First Lady of the country from 2001-2009. She grew up in a religious and educated business-class family, in a household that placed more than usual importance on reading and education. She graduated from the University of Texas and worked as a teacher and librarian for many years. But getting married to George W. Bush in the late '70s changed her life forever as she was suddenly brought into the public limelight and expected to make a difference to the country in the role of the First Lady. Laura was reluctant about making her life public in the beginning but steadily started using her powerful status in working towards the concerns that were close to her heart, like, development of children, spreading literacy, spreading awareness about the matters that concerned women's health like breast cancer, etc. She did not only raise these matters in America but took these concerns to other countries as well, like, Middle East, Africa, etc. She started many literacy programmes, help built libraries and founded educational institutes. Bush's stabilizing effect on her husband's private life is quite openly known - she helped him in consolidating his public image by working hand in hand with him.
Recommended Lists:
Recommended Lists:
Continue Reading Below
Childhood & Early Life
Laura Bush was born in Midlands, Texas, to Harold Welch and Jenna Louise Hawkins Welch. Her father was a real estate developer and her mother was a bookkeeper for her husband's business.

She went to the James Brownie Elementary School, San Jacinto Junior High School and Robert E. Lee High School in Midland. She later on attended the Southern Methodist University, Dallas, and graduated with a Bachelor of Science degree.

After graduating from the university, Laura started her career as a second grade school teacher at Longfellow Elementary School in the Dallas Independent School District and later on taught at the John F. Kennedy Elementary School in Houston.

In 1973, Laura earned a Masters degree in Library Science from the University of Texas, after which she started working at the Houston Public Library. In the following year, she went to work at the Austin Independent School District.

Continue Reading Below

Recommended Lists:

Recommended Lists:

Career

Bush became the First Lady of Texas after George Bush was elected as the Governor of Texas in 1995. She used her position to work for causes that she truly believed in—state funding for literacy, breast cancer awareness, etc.

In 2000, her husband started campaigning for the U.S. presidency and she supported him wholeheartedly. She made her first national speech at the Republican National Convention in Philadelphia.

George bush went on to win the presidential elections in 2000 and Laura decided to keep a low profile as the First Lady but the 9/11 terrorist attacks compelled her to join her husband in reassuring the nation.

After the attacks, Laura worked on addressing the various aftermath issues, especially the parent's trepidation over how the violence of the attacks had affected their children. She talked about the ways family members can comfort each other.

Her first term as the First Lady was involved in working towards issues like, child development, higher teachers' salaries, better training for Head Start programs. She started a national scheme—'Ready to Read Ready to Learn'.

During the 2004 campaign, Bush was more public and verbal and delivered a major policy speech at the Republic National Convention; spoke of accomplishments and goals of Bush Administration. These speeches were normally delivered by office holders and political supporters.

As soon as George Bush was elected the president again, Laura started working towards pushing forward the national concerns for health, literacy and gender equality. She also travelled to Afghanistan to endorse a new teacher-training institute for Afghan Women.

Continue Reading Below

In 2005, she attended the World Economic Forum and spoke about the connection between educating the nation and promoting the true essence of democracy. Throughout this time, she continued supporting women's health issues.

Laura W. Bush Institute for Women's Health was founded in 2007 at Texas Tech University and in the same year, she travelled around Middle East to promote breast cancer awareness.

After George Bush's second term ended in 2008, the Bush family moved back to Dallas, Texas, and she worked on the George W. Bush Presidential Library along with her husband.

In 2010, Laura released her memoir titled, 'Spoken from the Heart'. She continued to work for the causes she truly believes in like women's health issues, literacy, child development, etc. even after she left the White House.

Recommended Lists:

Recommended Lists:

Major Works

Laura's most prominent work is considered to be the causes she worked for in the position of the First Lady. She promoted issues related to children, women's health, gender equality and endorsed literacy throughout the nation.

Awards & Achievements

During her First Lady days, she was honored with The Nichols-Chancellor's Medal, Elie Wiesel Foundation for Humanity honor, American Library Association honor, Christian Freedom International Freedom Award, etc.

Continue Reading Below

Personal Life & Legacy

Bush met George W. Bush in 1977 at a mutual friend's backyard barbecue party. They started dating each other and in the same year the couple got married in the First United Methodist Church in Midland, Texas.

She tried to conceive for many years before her twin daughters Barbara and Jenna were born in 1981. Laura Bush is the only First Lady in the American History who gave birth to twins.

Trivia

When Laura married George W. Bush she took a promise from him that she will never have to make a campaign speech since she did not have a passion for politics and public life but she had to make her first speech in 1978.

Her twins have graduated from Yale University and University of Texas.

She inspired her husband to quit drinking and attend church regularly.

The Bush family has a family estate in Kennebunkport, Maine.

The couple honeymooned in Mexico after their marriage in 1977.

She made five goodwill trips to Africa to promote awareness about HIV/AIDS and malaria.

She set-up the Laura Bush Foundation for America's Libraries and grants awards worth more than $1,000,000 to US schools every year.

Four learning facilities have been named after her - the Laura Welch Bush Elementary School in Houston, Texas, the Laura W. Bush Elementary School in the Leander ISD just outside Austin, Texas, the Laura Bush Education Center at Camp Bondsteel, a U.S. military base in Kosovo, and the Laura Bush Middle School in Lubbock, Texas.

As a teenager, Laura jumped a traffic signal and hit another car in 1963. It resulted in the death of its driver; he was her close friend. Although she was not charged for murder as it was an accident but it affected her psychology very deeply for years.

Translate Wiki

to Spanish, French, Hindi, Portuguese

Article Title

- Laura Bush Biography

Author

- Editors, TheFamousPeople.com

Website

- TheFamousPeople.com

URL

-

https://www.thefamouspeople.com/profiles/laura-bush-4934.php

Last Updated

- October 08, 2017

---

---

---