Camillo Golgi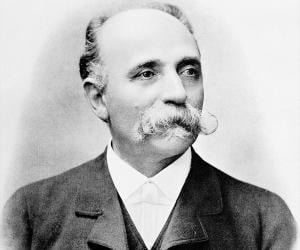 Quick Facts
Nationality: Italian
Famous: Biologists Pathologists
Died At Age: 82
Sun Sign: Cancer
Also Known As: Dr. Camillo Golgi
Born in: Corteno, Kingdom of Lombardy–Venetia, Italy
Famous as: Physician, Pathologist, Biologist
Family:
Spouse/Ex-: Lina Aletti
Died on: January 21, 1926
place of death: Pavia, Italy
More Facts
education: 1865 - University of Pavia
awards: Nobel Prize in Physiology or Medicine (1906)
Continue Reading Below
Camillo Golgi was an Italian physician, biologist and pathologist who won the Nobel Prize for Physiology or Medicine in 1906 along with the Spanish histologist Santiago Ramón y Cajal. Several anatomical and physiological phenomena are named after this man who is considered to be the greatest neuroscientist of the nineteenth century. Golgi—with the aid of basic facilities—developed the silver nitrate method of studying nerve tissues. This helped in the discovery of a nerve cell that has many dendrites or nerve extensions. This is now called 'Golgi cell', after the name of its discoverer, Camillo Golgi. This discovery supported the experiments of German anatomist Wilhelm von Waldeyer-Hartz and Ramón y Cajal who went on to establish the nerve cells as the rudimentary structural unit of the entire nervous system. This turned out to be a crucial point in the advancement of modern neuroscience. Later, his experiments led to the discovery of the 'Golgi tendon spindle' or 'Golgi tendon organ' and the 'Golgi complex' or 'Golgi apparatus'. Camillo Golgi also studied the causes of malaria and found out that the tertian and quartan malarial fevers happen due to the presence of a protozoan parasite named 'Plasmodium'. He was a famous teacher and the door of his laboratory was open for every young researchers.
Recommended Lists:
Recommended Lists:
Continue Reading Below
Childhood & Early Life
Camillo Golgi was born on 7 July 1843 in the village of Corteno, in the province of Brescia (Lombardy) in northern Italy. The village is now called Corteno Golgi after his name. His father was a doctor and district medical officer in Brescia.

He studied medicine at the University of Pavia. He was an intern at the Institute of Psychiatry directed by Cesare Lombroso.

While working in the laboratory of experimental pathology under Giulio Bizzozero, a professor of histology and pathology, Golgi got interested in experimental research and histological techniques.

In 1865, he graduated from the University of Pavia. He was a student when the fight for independence was going on in Italy.

Recommended Lists:

Recommended Lists:

Career

After graduating, he continued to research in Pavia at the Hospital of St. Matteo. During this time, his research was mostly concentrated on the nervous system.

In 1872, he had to stop his academic research and joined the Hospital of Chronically Ill (Pio Luogo degli lncurabili) in Abbiategrasso as a chief medical officer. In a small kitchen cum laboratory, Golgi started his experiments of staining nervous tissue using mainly silver.

In 1873, he published a short note describing his observation of the elements of the nervous tissue. The note was named 'On the structure of the brain grey matter' and was published in the 'Gazzetta Medica Italiana'.

In 1875, Golgi published the first drawings of neural structures as revealed by the 'Golgi stain' in an article on the olfactory bulbs.

In 1878 Golgi discovered the tendinous sensory corpuscles that are later named Golgi tendon organs.

In 1885, an illustrated monograph on the precise anatomy of the central nervous organs came out. In the same year, he returned to Pavia. He joined his alma mater in 1876 as Professor of Histology.

In 1881, he was appointed to the chair of General Pathology at the University of Pavia.

Continue Reading Below

From 1886 to 1892, Golgi provided important contributions to the study of by elaborating the life-cycle of Plasmodium and the chronological coincidence between the repeated fever and the discharge of the parasite in the red cells.

In 1897, Golgi discovered the intracellular structure in neutrons, which was named after him as Golgi apparatus.

In 1900, Camillo Golgi was named senator by King Umberto I.

In 1913, he became foreign member of the Royal Netherlands Academy of Arts and Sciences.

He retired in 1918 but held the position of professor emeritus at the University of Pavia.

Recommended Lists:

Recommended Lists:

Major Works

Camillo Golgi's most important work was the discovery of 'black reaction' or 'reazione nera' (later known as 'Golgi's stain') which is a method of staining nervous cells with the use of silver nitrate. The subsequent reaction allowed him to see the paths of nerve cells in the brain for the first time. In addition, his discovery of Golgi apparatus was a real advancement in cell biology and makes him the most frequently cited scientist in cytology. Its existence confirmed in the mid-1950s by the use of the electron microscope. The Golgi apparatus plays an important role in the intracellular sorting, trafficking and targeting of proteins.

Awards & Achievements

In 1906, Golgi jointly won the Nobel Prize for Physiology with Santiago Ramón y Cajal for their studies on the structure of the nervous system.

Personal Life & Legacy

In 1877, he married Lina Aletti, the niece of Giulio Bizzozero. The couple had no children, and adopted Golgi's niece Carolina (now Mrs. Carolina Golgi-Papini).

His publications are anthologised in Opera Omnia that appeared in four volumes (first three in 1903, fourth volume in 1929).

Camillo Golgi died in Pavia, Italy, on 21 January 1926 and was buried in the Monumental Cemetery of Pavia (viale San Giovannino).

A marble statue has been erected in his honour, in a yard of the old buildings of the University of Pavia.

The Historical Museum at the University of Pavia devoted a hall to Golgi where one can find his certificates of honorary degrees, diplomas and awards.

Trivia

Adelchi Negri discovered the Negri bodies and Emilio Veratti put forward the idea of sarcoplasmic reticulum in skeletal muscle fibers for the first time in Golgi's laboratory.

Translate Wiki

to Spanish, French, Hindi, Portuguese

Article Title

- Camillo Golgi Biography

Author

- Editors, TheFamousPeople.com

Website

- TheFamousPeople.com

URL

-

https://www.thefamouspeople.com/profiles/camillo-golgi-7304.php

Last Updated

- November 09, 2017

---

---

---