Alfred de Musset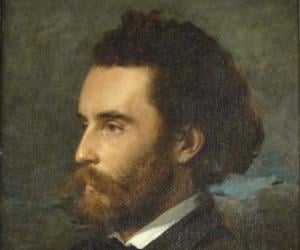 Quick Facts
Birthday: December 11, 1810
Nationality: French
Died At Age: 46
Sun Sign: Sagittarius
Also Known As: Alfred Louis Charles de Musset-Pathay
Born in: Paris
Famous as: Dramatist, Poet, Novelist
Family:
father: Victor de Musset
siblings: Paul de Musset
place of death: Paris
Diseases & Disabilities: Depression
City: Paris
More Facts
education: Lycée Henri-IV
Continue Reading Below
Alfred de Musset was a French dramatist and poet, regarded as one of the first Romantic writers. He was also a prolific novelist of the romantic period and wrote some of the most memorable literary masterpieces of all times. His love for literature began at an early age when he used to perform unrehearsed mini-acts in front of his family, based upon episodes from old romance stories he had read. He dabbled in various career options before pursuing writing as a career. His early poems and plays were much appreciated in the French society earning him the reputation of being a dandy. He had a talented and groovy personality until he fell in love with a French writer that changed his life forever. After a brief period of romance and intimacy, they parted ways which left him broken and unwanted. He wrote some of his marvelous works in this grief of separation and these works were highly praised by his contemporaries and admirers. After the end of his love affair, he was also plagued by constant illnesses which remained with him till his last breath. He was an extraordinary writer, who had utmost faith in the immortality of love and it can be experienced in many of his literary works.
Recommended Lists:
Recommended Lists:
Continue Reading Below
Childhood & Early Life
He was born on December 11, 1810 in the heart of old Paris to a noble but poor family. His father, Victor de Musset, held various key government positions and is chiefly remembered as the editor and biographer of Rousseau.

His mother was a social woman and often gathered friends over drawing-room parties, luncheons, and dinners which she held in the Musset residence. He had an older brother, Paul de Musset, who encouraged his talent of writing and helped him throughout his life.

At the age of nine, he entered Lyc�e Henri-IV and graduated with honors in 1827. Same year, he won the Latin essay prize in the Concours g�n�ral. He decided to pursue a career in medicine but dropped the idea later on due to his distaste for dissections.

After opting for various career options such as law, drawing, English, and piano, he finally decided to become a writer.

Continue Reading Below

Recommended Lists:

Recommended Lists:

Career

He wrote his first collection of poems, 'Contes d'Espagne et d'Italie' in 1829, which was a phenomenal success.

His wrote his first play, 'La Nuit v�nitienne', in 1830. It did not receive a positive response from the audience and due to this failure thereafter his plays were only published and not performed on stage until 1847.

He wrote another play called 'Les Caprices de Marianne' in 1833 which later became the basis of the 1939 French movie called 'The Rules of the Game'.

He became the librarian of the French Ministry of the Interior under the July Monarchy. He also took part in argumentation related to Rhine crisis of 1840, caused by the French Prime Minister, Adolphe Thiers.

After the revolution of 1848, he was dismissed from his previous post of the librarian by the new minister, Ledru-Rollin. In 1853, he was appointed as the librarian of the Ministry of Public Instruction.

His other works in playwriting include 'On ne badine pas avec l'amour'(1834), 'Le Chandelier' (1835), 'Il faut qu'une porte soit ouverte ou ferm�e' (1845), 'Carmosine'(1850) and many other such masterpieces.

He also wrote novels and other short stories such as 'Emmeline' (1837), 'Fr�d�ric et Bernerette' (1838), 'Croisilles' (1839), 'Histoire d'un merle blanc' (1842), 'Mimi Pinson' (1843) and 'Pierre et Camille' (1844).

Continue Reading Below

His other poetry collections are 'Un Spectacle dans un fauteuil' (1832), 'Po�sies compl�tes'(1840) and 'Œuvres posthumes'(1860).

Recommended Lists:

Recommended Lists:

Major Works

His finest poetry was published in his collection titled 'Po�sies nouvelles'(1850). It contains his famous poems inspired by his love for George Sand such as 'La Nuit de mai', 'La Nuit de d�cembre', 'La Nuit d'ao�t' and 'La Nuit d'octobre'.

In 1834, he wrote a powerful drama 'Lorenzaccio' which is considered as one of the finest French plays of the 19th century. The play is set in 16th-century Florence and depicts the tale of conspiracy, adultery and deceit in an empire.

Recommended Lists:

Recommended Lists:

Awards & Achievements

On April 24, 1845, he was honored with National Order of the Legion of Honor, the highest decoration in France.

He became a member of the French Academy in 1852.

Personal Life & Legacy

In 1833, he fell in love with a French writer, Amantine-Lucile-Aurore Dupin, known by her pseudonym George Sand. Their passionate love affair was one of the most famous ones of that era.

They spent a winter together in Italy but infidelity on both sides broke their relationship and they separated upon their return to Paris. This love affair left him in despair and wrecked his remaining life. Although he wrote some of his finest works after this incident, he never fully recovered from his emotional turmoil.

He died in his sleep on May 2, 1857 due to heart failure. It was later described as the combined effect of alcoholism and a longstanding aortic insufficiency. He was buried in P�re Lachaise Cemetery in Paris.

Trivia

De Musset's sign, a condition in which there is rhythmic nodding or bobbing of the head in synchrony with the beating of the heart, is named after this great French writer.

Translate Wiki

to Spanish, French, Hindi, Portuguese

Article Title

- Alfred de Musset Biography

Author

- Editors, TheFamousPeople.com

Website

- TheFamousPeople.com

URL

-

https://www.thefamouspeople.com/profiles/alfred-louis-charles-de-musset-pathay-661.php

Last Updated

- November 09, 2017

---

---

---