Alben W. Barkley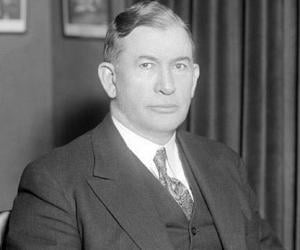 Quick Facts
Birthday: November 24, 1877
Nationality: American
Famous: Political Leaders American Men
Died At Age: 78
Sun Sign: Sagittarius
Also Known As: Alben Barkley
Born in: Lowes, Kentucky
Famous as: 35th Vice President of the U.S
Family:
Spouse/Ex-: Dorothy Brower Barkley, Jane Hadley Barkley
place of death: Lexington city
Ideology: Democrats
U.S. State: Kentucky
More Facts
education: University of Virginia, Emory University, University of Virginia School of Law, Oxford College of Emory University
Continue Reading Below
Alben Barkley was an American statesman and lawyer who served as the 35th Vice President of the United States, from 1949 to 1953, in the administration of Harry S. Truman. Barkley served as a member of Congress for almost 40 years and was one of the chief architects of the New Deal program. A native of Kentucky, Alben Barkley, after attending public schools and graduating from Marvin College, Barkley studied law and was later admitted to the bar in 1901. Soon, he started his legal practice and also continued his law studies at the University of Virginia. Then, Barkley served as the prosecuting attorney for McCracken County and was subsequently elected the judge of the county court. Thereafter, Barkley was elected as a Democrat to the House of Representatives, where he served seven straight terms, from 1913 to 1927, before his election to the Senate. He was re-elected as the U.S. Senator from Kentucky four times successively, serving until he resigned in 1949. Next, he was elected the Vice President of the United States on the Democratic ticket with President Harry S. Truman, a capacity in which he served until 1953. After completing his term, Barkley sought the 1952 presidential nomination but his party members refused to consider his standing due to his old age. In 1955, he was again elected to the United States Senate and served for just over a year, until his demise due to a heart attack while delivering a speech.
Recommended Lists:
Recommended Lists:
Childhood & Early Life
Alben William Barkley was born as Willie Alben Barkley, on November 24, 1877, near Lowes, Kentucky, U.S., to John Wilson Barkley, and his wife, Electra Eliza Smith. He was the eldest of the eight children of his parents, both of whom were tobacco farmers.

Barkley studied at the local public schools in Lowes, Kentucky, and soon changed his name to 'Alben William'. Later, he attended the Marvin College, a Methodist school where he received scholarship in return of his work as a janitor.

In 1897, he completed his graduation with a Bachelor of Arts degree and then got enrolled at the Emory College, in Georgia. Later, he studied law and was admitted to the bar in 1901.

Subsequently, he commenced his practice in Paducah, Kentucky, while continuing his law studies alongside at the University of Virginia Law School. From 1905 to 1909, he was the prosecuting attorney for McCracken County, and then served as the judge of McCracken County Court, between 1909 and 1913.

Recommended Lists:

Recommended Lists:

Career

In 1912, Barkley was elected to the U.S. House of Representatives from Kentucky's 1st district and went on to serve seven successive terms from 1913 to 1927.

Barkley faced a defeat in his 1923 gubernatorial campaign in Kentucky and thus, in 1926, he did not seek re-nomination as a Congressman, having earned a nomination to the U.S. Senate.

In 1926, Barkley became a United States Senator from Kentucky, and was re-elected in 1932, 1938, and 1944 to the post, serving until 1949. He also served as the keynote speaker at the 1932, 1936, and 1948 Democratic National Conventions.

A talented congressional strategist, Barkley served as the Senate Majority Leader in the cabinet from 1937 to 1947. Thereafter, he was the Senate Minority Leader in the administration, until he resigned from the senate in 1949.

In the meantime, Barkley chaired the Joint Committee on the Investigation of the Pearl Harbor Attack and also served as member of the Congressional Nazi War Crimes Committee.

In the 1948 Democratic Convention, Barkley was nominated for vice presidency on the ticket with President Harry S. Truman. In January 1949, he was inaugurated at the office and became the oldest Vice President of United States, at the age of 71.

After completing his term, Barkley made an attempt for the Democratic presidential nomination in 1952 but was turned down by labour leaders who considered him too old for the position. Subsequently, he was re-elected to the United States Senate, where he served from January 1955 until his death the following year.

Major Works

While serving in the U.S. House of Representatives, Barkley served as a prominent figure in the passing the Volstead Act.

In the Senate, during the 1930s, he supported and played a significant role in passing much of the New Deal legislation, such as the Securities and Exchange Act, National Labor Relations Act, and the Social Security Act.

Barkley also exerted considerable amount of influence on the committees on foreign affairs and finance, and also supported the formation of Israel as a nation-state. He served as a chief spokesperson on the domestic and international policies during the administration of President Roosevelt.

Awards & Achievements

In 1949, Barkley was conferred the Congressional Gold Medal.

Personal Life & Legacy

In June 1903, Barkley married Dorothy Brower and the couple had three children together: David Murrell Barkley, Marion Frances Barkley, and Laura Louise Barkley. Later, Dorothy suffered from a heart condition and unfortunately died in March 1947.

In July 1949, Barkley met Jane (Rucker) Hadley, a St. Louis widow who was almost half his age, and subsequently tied the knot with her. The couple had no children.

Barkley collapsed on stage and died on April 30, 1956, while delivering a keynote address at the Washington & Lee University, Lexington, Virginia. He was interred in Mount Kenton Cemetery, near Paducah, in Kentucky.

Lake Barkley, a man-made lake on the Cumberland River, and the Barkley Dam at the same lake are named after him.

Translate Wiki

to Spanish, French, Hindi, Portuguese

Article Title

- Alben W. Barkley Biography

Author

- Editors, TheFamousPeople.com

Website

- TheFamousPeople.com

URL

-

https://www.thefamouspeople.com/profiles/alben-w-barkley-4547.php

Last Updated

- November 02, 2017

---

---

---