Andrew Cuomo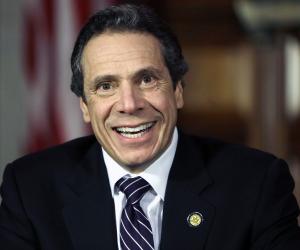 Quick Facts
Birthday: December 6, 1957
Nationality: American
Famous: Political Leaders American Men
Age: 61 Years, 61 Year Old Males
Sun Sign: Sagittarius
Also Known As: Andrew Mark Cuomo
Born in: New York City, New York
Famous as: Governor of New York
Height: 1.80 m
Family:
Spouse/Ex-: Kerry Kennedy (m. 1990–2005)
father: Mario Cuomo
mother: Raffa Matilda
Partner: Sandra Lee (2005–)
Notable Alumni: Albany Law School
City: New York City
U.S. State: New Yorkers
More Facts
education: Albany Law School (1982), Fordham University (1979), Archbishop Molloy High School (1975)
Continue Reading Below
Andrew Cuomo is the current governor of New York. Apart from being a politician, Andrew is also a lawyer and an author. He started his political career as the campaign manager for his father, Mario Cuomo, in 1982. He also worked as his father's top policy advisor before turning toward law. He then worked as an assistant attorney in New York. His efforts in providing help to the less privileged led to his appointment as the chairperson of the 'New York City Homeless Commission' in 1990. He also worked as the assistant secretary for 'Community Planning and Development' in 1993, during Bill Clinton's tenure. In 1997, he was elected as the 'US Secretary of Housing and Urban Development,' a post he retained till 2001. In 2006, he became the attorney general of New York, winning against 'Republican' nominee Jeanine Pirro, with 58% votes. In 2010, he announced he was contesting the election for the governor and won it with 63% votes in his favor. During his first term, he legalized same-sex marriage and controlled gun laws. He was elected for a second term in 2014. He is again contesting the election in 2018. He is the 56th governor of New York.
Recommended Lists:
Recommended Lists:
Continue Reading Below
Childhood & Early Life
Andrew Mark Cuomo was born on December 6, 1957 in Queens borough of New York City. He is the eldest son of attorney and later governor of New York, Mario Cuomo, and his wife, Matilda.

His parents are Italian. His paternal grandparents were from Nocera Inferiore and Tramonti in South Italy, and his maternal grandparents were from Sicily. He has a younger brother, Chris, who works as a journalist with 'CNN.'

Andrew attended 'St. Gerard Majella's School,' from where he graduated in 1971. In 1975, he graduated from 'Archbishop Molloy High School.' Soon, he joined 'Fordham University.' He graduated with a BA degree from 'the university in 1979. He then went to 'Albany Law School' of 'Union University,' New York, to receive a JD.

His interest in politics developed when, as a teenager, he participated in his father's campaign to run for the state office. He put up posters during the campaign to support his father.

Recommended Lists:

Recommended Lists:

Early Career

After graduating from law school in 1982, Andrew's first job was to work as the campaign manager for his father, who was running for the post of governor. 'Democrat' Mario Cuomo won the position and remained the governor from 1983 to 1994.

Andrew worked as the senior advisor in his father's office for the next two years. He only earned $1 per year but worked relentlessly and gave his best to the job.

Career

In 1984, Andrew moved to New York and started working as an assistant district attorney. He also partnered with a law firm named 'Blutriche, Falcone and Miller' for a brief period of time.

Although he moved away from his father's office, that did not stop him from helping his father. He continued giving quality advice to his father's administration.

During this time, Andrew started paying attention to the adversities suffered by the under-privileged classes of society. Andrew started 'Housing Enterprises for the Less Privileged' (HELP) for the homeless in New York.

The organization was established in 1986, and by 1988, Andrew left his job at the law firm to focus completely on 'HELP.' His dedication toward the upliftment of the homeless also made him the chairperson of the 'New York City Homeless Commission' in 1990, under the administration of New York City mayor David Dinkins. He remained the chairperson until 1993 and was responsible for taking care of the issues of the homeless people in the city and for developing policies for their benefit.

Another opportunity came knocking on his door after Bill Clinton was elected as the new president of the US in 1992. Andrew was appointed as the assistant secretary for 'Community Planning and Development' under the 'US Department of Housing and Urban Development' (HUD) in 1993.

Continue Reading Below

After Clinton's election, Andrew traveled to Washington DC to help with the transition to the new administration. It was later confirmed that he would himself play a role in the administration.

He worked closely with the erstwhile vice president of the US, Al Gore, to formulate policies that provided permanent homes to the poor and the homeless. In 1997, an announcement stated that Andrew would be the new secretary of 'HUD.'

He remained in that role until the end of Clinton's administration in 2001. During his time as the secretary of 'HUD,' Andrew worked toward the control of gun use by negotiating with 'Smith & Wesson,' the largest handgun manufacturer, and urged them to change the design and distribution strategy of their guns.

Apart from working on policies to bring the homeless closer to permanent housing, he also focused on generating employment and improving the economy. Many were convinced that Andrew was obsessed with completely changing the image of 'HUD,' while many were of the opinion that he was only a contributor, a cheerleader who could not be blamed for everything.

In 2002, Andrew ran for governor as a 'Democratic' candidate in the gubernatorial election, but his comment about George Pataki being a great assistant but not a leader turned the tables. From being the favorite nominee, he went downhill, and he himself removed his name from consideration, on the eve of the state convention. Herman Carl McCall, the 'Democratic' candidate who contested the election eventually, lost it to Pataki.

However, in 2006, he was elected as the attorney general of New York, after defeating 'Republican' nominee Jeanine Pirro, a former district attorney. He was called "New York's own Comeback Kid" by the 'Democratic' chairwoman of St. Lawrence County, June O'Neill.

In 2010, he finally ran for the office of the governor of New York. He was elected for the same position that was held by his father years ago.

Continue Reading Below

He defeated his 'Republican' opponent, businessman Carl Paladino, to win his term. Although Paladino was supported by the 'Tea Party' movement, Andrew scored a landslide victory over him, with 62.6% votes in his favor.

In 2014, Cuomo was re-elected for one more term. During his time as the governor of New York, Cuomo legalized same-sex marriage through a 2011 legislation, spent time on cutting down taxes, restructured the whole tax system of New York, and enacted legislation for controlled use of guns.

In 2014, he made medical marijuana available in 20 designated hospitals, assisting the treatment of cancer and other diseases. New York became the 23rd US state to legalize the medical use of marijuana after Andrew signed the 'Compassionate Care Act.'

He got into a controversy in 2014, after he closed a commission that he had created to root out corruption from its foundation. It was claimed that his office had interfered with the panel. This resulted in an investigation by federal authorities. The investigations proved that there was no sufficient evidence to criminally charge Cuomo. He will again be running for the 2018 election for the governor.

In 2015, he signed a number of women's equality bills. In 2016, a report released by the 'Empire State Development Corporation' stated that the business tax incentive program 'START-UP NY' had generated more than 400 jobs since 2014.

In 2017, his administration awarded grants worth more than $7 million to New York colleges, to help them offer courses to New York prisoners. This was done with the intention to provide the prisoners with good jobs soon after their release from prisons.

In April 2018, he announced that he would restore the voting rights of parolees through an executive order.

Personal Life & Legacy

Andrew Cuomo married Kerry Kennedy, the seventh of the eleven children of Robert F Kennedy and Ethel Skakel Kennedy, on June 9, 1990. The couple have three daughters, namely, Cara Ethel Kennedy-Cuomo, Mariah Matilda Kennedy-Cuomo, and Michaela Andrea Kennedy-Cuomo. Twins Cara and Mariah were born on January 11, 1995. Michaela was born on August 26, 1997.

The couple separated in 2003, as Andrew's full-time commitment toward his campaigns and office did not leave him with much time for his family. Kerry was apparently burdened with parenting, and that eventually tore them apart. They divorced legally in 2005.

In 2011, Andrew began dating 'Food Network' host Sandra Lee. The couple moved in together and currently live in Westchester County, New York.

Andrew and singer Billy Joel are close friends. Andrew presided over Billy's fourth wedding, in 2015.

Andrew released his autobiography, 'All Things Possible: Setbacks and Success in Politics and Life,' in 2014.

Translate Wiki

to Spanish, French, Hindi, Portuguese

Article Title

- Andrew Cuomo Biography

Author

- Editors, TheFamousPeople.com

Website

- TheFamousPeople.com

URL

-

https://www.thefamouspeople.com/profiles/andrew-cuomo-30081.php

Last Updated

- July 11, 2018

---

---

---