Pablo Picasso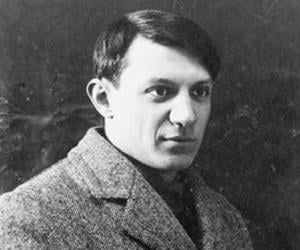 Quick Facts
Birthday: October 25, 1881
Nationality: Spanish
Famous: Quotes By Pablo Picasso Hispanic Men
Died At Age: 91
Sun Sign: Scorpio
Born in: Málaga
Famous as: Painter
Family:
Spouse/Ex-: Jacqueline Roque (1961–73), Olga Khokhlova (1918–55)
father: Don José Ruiz y Blasco
mother: María Picasso y López
children: Claude Pierre Pablo Picasso, Maya Widmaier-Picasso, Paloma Picasso, Paul Joseph Picasso
place of death: Mougins
Diseases & Disabilities: Dyslexia
More Facts
awards: 1950 - Stalin Peace Prize
1962 - Lenin Peace Prize
Continue Reading Below
Talk of 20th century greatest artists and one cannot go on the list without mentioning the name of Pablo Picasso! The indomitable artist of the era, he was a born genius whose prodigious work took the world of art by storm. Amazingly, when children of his age were busy rote learning or playing, Picasso dedicated his time to drawing. At the tender age of eight he started painting and by the time he crossed thirteen, his talent and skilfulness had surpassed that of his father. His first two major paintings include, 'The First Communion' and 'Science and Charity'. With time, he diversified to sculpting, ceramic designing and stage designing. Picasso was responsible for coming up with Cubism, which was the first step towards modern art. Unlike his predecessors, such as impressionists, fauvists and Cezanne who still employed a model to come up with a work of art, he broke all bars and reached a level of abstraction that was a radical enough to break with the classical dominance of content over form, a hierarchy which was reversed in his ground-breaking work, 'Les Demoiselles d'Avignon', thus giving birth to modern art of the 20th century. To know more about his childhood, life and profile, browse through the following lines.
Recommended Lists:
Recommended Lists:
Continue Reading Below
Childhood & Early Life
Pablo Picasso was born to Don Jose Ruiz Blasco and Dona Maria Picasso y Lopez. His father was a painter and arts teacher by profession.

A prodigious painter, his brilliance at drawing somewhat concealed his poor academic records. Mentored by his father, he, by the age of 13, surpassed senior Picasso in terms of skill and talent.

In 1895, his family relocated to Barcelona, Spain. The move turned fruitful for him as he got an opportunity to enrol at the prestigious School of Fine Arts. But the strict rules of the school frustrated him and he began skipping classes to wander on streets of Barcelona and sketching whatever he observed.

In 1897, he moved to Madrid to attend the Royal Academy of San Fernando. However, here too the strict rules and formal instructions irked him to the extent that he stopped attending classes.

He moved around the lanes of Madrid, observing and painting what appealed his vision. He visited the Prado museum to see paintings by famous Spanish painters.

Returning to Barcelona in 1899, he found himself to be a part of a group of artists and intellectuals who made their headquarters at a cafe called, El Quatre Gats. It was during this time that he moved away from his classical methods to indulge avant-garde art.

Continue Reading Below

Recommended Lists:

Recommended Lists:

Career

With Paris deemed as the world center for avant-garde art, it was only natural for him to relocate to the city. As such, at the turn of the century, he moved to Paris to be at the epicentre of the world of art.

He opened an art studio in Montmarte, Paris. Despite being a teenager, he had the technique to appropriate any style, and the insight to know which styles were important.

Historians have separated his works in different periods. As such, from 1901 until 1904, was the Blue period. Just as the name depicts most of his works were marked by sombre paintings in shades of blue and blue-green, only intermittently having shades of other colors.

He applied various techniques during his period, starting from the blurred technique to divisionism and expressionism. The subject he chose ranged from poverty and isolation to anguish and melancholy. Some of his famous paintings of this period include, 'Blue Nude', 'La Vie' and 'The Old Guitarist'.

Succeeding the Blue period was the Rose period from 1904 until 1906, during which the color pink dominated much of his works. Most of his paintings were of circus people, acrobats and harlequins. Additionally, his works showcased the warm relationship that he shared with Fernande Olivier.

Much in contrast with the Blue period, painting which came during the Rose period were of a happy and upbeat nature with optimism and spirit of buoyancy in them that was seen in his early works of 1899 and 1900.

In 1907, he along with his friend George Braque came up with a remarkable work that none until then had ever painted. Including sharp geometric shapes, 'Les Demoiselles d'Avignon', showcased five nude prostitutes, abstracted and distorted with glaring blotches of blues, greens and grays. The work became the precursor and inspiration of Cubism, an artistic style that the two invented.

Continue Reading Below

The main technique behind Cubist works was breaking up and reassembling of objects in abstracted form, highlighting their composite geometric shapes and depicting them from multiple, viewpoints simultaneously in order to create physics-defying, collage-like effect.

The Cubist style employed by him in his works became a revolutionary movement in the art world. Some of his memorable paintings of this era include 'Three Women', 'Bread and Fruit Dish on a Table', 'Girl with Mandolin', 'Still Life with Chair Caning' and 'Card Player'.

The changing panorama of the world, which was at the juncture of World War I, brought about the next change in his art form. From the abstract and the distorted form, he moved to depicting the sombre reality of the world in his works.

Some of his neoclassical works that depict his return to realism in the period from 1918 to 1927 include 'Three Women at the Spring', 'Two Women Running on the Beach/ The Race' and 'The Pipes of Pan'.

An avid believer of experimentation and innovation, he did not remain stuck with classicalism for long and caught up with a new philosophical and cultural craze which was known as Surrealism.

The harlequin was replaced by minotaur, as the common motif in his work and the works of other Surrealist painters. His most outstanding and notable work of this time was the 'Guernica'.

'Guernica' stands as a testament for the brutality, inhumanity and vicious nature of war. Painted in 1937 after the devastating aerial attack on the Basque town of Guernica, it is till date, the greatest anti-war painting of all times. it has shades of black, white and gray and illustrates several human-like figures in various states of anguish and terror

Continue Reading Below

At the end of World War II, he turned to politics. He joined the French Communist Party and attended the International Peace Conference in Poland. However, critical comments for his Stalin painting lessened his interest in politics though he remained a loyal member of the Communist Party

Recommended Lists:

Recommended Lists:

Awards & Achievements

He was twice conferred with the International Lenin Peace Prize, first in 1950 and next in 1961.

Recommended Lists:

Recommended Lists:

Personal Life & Legacy

An ardent womanizer, he had a number of relationships with girlfriends, mistress, muses and prostitutes.

In his lifetime, he married twice, first to a ballerina, Olga KhoKhlova in 1918. The two separated ways in 1927 but not before being blessed with a son. However they were not legally divorced and the marriage ended only in 1955 after Khokhlova's death.

Post Khokhlova's death, he was into a romantic relationship with Marie-Therese Walter. He fathered a daughter from the relationship.

He then married Jacqueline Roque in 1961, at the age of 69. With her, he had two children.

He breathed his last on April 8, 1973 in Mougins, France. He was later interred at the Chateau of Vauvenargues near Aix-en-Provence.

Trivia

This iconic artist of the 20th century uttered his first words 'piz, piz' his childish attempt at saying 'lapiz', which was the Spanish word for pencil.

Translate Wiki

to Spanish, French, Hindi, Portuguese

Article Title

- Pablo Picasso Biography

Author

- Editors, TheFamousPeople.com

Website

- TheFamousPeople.com

URL

-

https://www.thefamouspeople.com/profiles/pablo-picasso-2501.php

Last Updated

- October 25, 2017

---

---

---