Jordan Peterson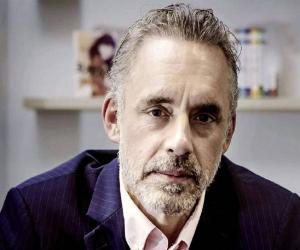 Quick Facts
Nationality: Canadian
Famous: Psychologists Canadian Men
Age: 56 Years, 56 Year Old Males
Sun Sign: Gemini
Also Known As: Jordan Bernt Peterson
Born in: Edmonton, Alberta
Famous as: Clinical Psychologist
Family:
Spouse/Ex-: Tammy Roberts (m. 1989)
father: Walter Peterson
children: Julian Peterson, Mikhaila Peterson
More Facts
education: University of Alberta (1984), University of Alberta (1982), McGill University
Continue Reading Below
Jordan Bernt Peterson is a Canadian clinical psychologist, professor of psychology at the University of Toronto, author and cultural critic. A double B.A. from University of Alberta, Peterson obtained his Ph.D. in clinical psychology from McGill University. After remaining at McGill for couple of years as post-doctoral fellow he served psychology department of Harvard University as assistant and then associate professor. He then returned to Canada to serve as full professor at University of Toronto. Primary areas of his studies include social, personality and abnormal psychology. He gives special heed to psychology of religious and ideological belief and evaluation and betterment of personality and performance. His work received support from agencies like Canadian Institute for Health Research and the Natural Sciences and Engineering Research Councils of Canada. An author and co-author of over hundred academic papers, Peterson published two books 'Maps of Meaning: The Architecture of Belief' and '12 Rules for Life: An Antidote to Chaos'. He appears frequently as essayist and guest panellist in the popular TVOntario current affairs program 'The Agenda' and has garnered decent presence online. He attracted international media attention after censuring political correctness and the Canadian government's Bill C-16 through a series of videos posted on his YouTube channel.
Recommended Lists:
Recommended Lists:
Continue Reading Below
Childhood & Early Life
He was born on June 12, 1962 in Edmonton, Alberta, Canada to Walter Peterson and Beverley as the eldest of three children and was raised in Fairview, Alberta. His father was a schoolteacher and his mother a librarian at the Fairview campus of Grande Prairie Regional College.

The librarian of his school Sandy Notley (mother of Canadian politician and Alberta New Democratic Party leader Rachel Notley, the 17th and present Premier of Alberta) introduced Peterson to literary works of Aleksandr Solzhenitsyn, Aldous Huxley, Ayn Rand and George Orwell.

In 1979 he graduated from Fairview High School and started attending Grande Prairie Regional College to study English literature and political science. All through his teens Peterson worked for the New Democratic Party (NDP) but later got disenchanted and quit the party at age 18.

He left Grande Prairie Regional College in-between and took transfer to the University of Alberta, from where he obtained his B.A. in Political science in 1982. He then visited Europe and became interested in psychological origins of the Cold War, especially on European totalitarianism of the 20th century.

The ability and scope of mankind for doing evil and destruction gradually started bothering him leading him to go through works of Fyodor Dostoyevsky, Aleksandr Solzhenitsyn, Friedrich Nietzsche and Carl Jung. He went back to the University of Alberta and studied psychology eventually earning a B.A. degree on the subject in 1984.

He relocated to Montreal in 1985 and furthered his studies at the McGill University from where he obtained Ph.D. in clinical psychology in 1991 under supervision of Robert O. Pihl. His thesis was titled 'Potential psychological markers for the predisposition to alcoholism'. Thereafter he worked with Pihl and Maurice Dongier till June 1993 as a post-doctoral researcher at McGill's Douglas Hospital.

Recommended Lists:

Recommended Lists:

Career

He conducted research as also taught in the psychology department at the Harvard University in the capacity of an assistant and an associate professor from July 1993 till June 1998. He examined aggression spurted from substance abuse and overlooked several unconventional thesis proposals. There he received nomination for the Levenson Teaching Prize in 1998.

He went back to Canada in July 1998 where he started working as a full professor at the University of Toronto, a post he holds till present.

The fields of his study and research includes creativity, political, religious, ideological, industrial and organizational, social, clinical, neuro, abnormal, and personality psychology and psychopharmacology. Over the years he wrote and co-wrote over hundred academic papers.

In 1999 he came up with a book titled 'Maps of Meaning: The Architecture of Belief' published by Routledge. He penned down the book in an attempt to "explain the meaning of history". The book where he briefly reflected on his childhood and upbringing in a Christian family took him more than 13 years to complete.

In 'Maps of Meaning: The Architecture of Belief' Peterson elucidates an extensive theory on the way meanings and beliefs are constructed by people and on how they make narratives applying concepts from different fields like psychology , religion, mythology, philosophy and literature that are in conformity with the modern scientific understanding of the way the brain works.

The classroom lectures of Peterson on psychology and mythology based on his book 'Maps of Meaning: The Architecture of Belief' were made into a 13-part TV series that was aired on TVOntario in 2004. His other pursuits with the network includes appearing frequently as guest panellist and essayist on the popular current affairs program 'The Agenda' starting from 2008 as also featuring on the series 'Big Ideas' that showcases public intellectual culture.

He has also thrived in garnering decent recognition online. His YouTube channel 'JordanPetersonVideos' that he created on March 29, 2013, and features his university and public lectures and interviews with people among other things have already amassed over 1 million subscribers and more than 52 million views. His clips YouTube channel for shorter videos 'Jordan B Peterson Clips' that he created on June 14, 2017, has also accumulated over 66 K subscribers and more than 3.3 million views.

Continue Reading Below

He along with his colleagues came up with two online assessment programs, 'Self Authoring Suite' and 'UnderstandMyself', that aid one to analyse and understand his/her personality and better one's life.

Since September 2016, he posted a number of videos on his YouTube channel criticising political correctness and the Canadian government's Bill C-16. Such move of Peterson was censured by many including transgender activists, critics, faculty and labour unions leading to protests including some violent ones thereby creating controversy and attracting worldwide media attention. He also received two warning letters from academic administrators at the University of Toronto.

For the first time in his entire career, Peterson was refused a grant from Social Sciences and Humanities Research Council in April 2017, which he considers retribution against his statement on Bill C-16.

He began his own podcast 'The Jordan B. Peterson Podcast' in December 2016 and started a series of live theatre lectures 'The psychological significance of the Biblical stories' in May 2017. He has also featured in several online shows and podcasts like 'The Rubin Report', 'Waking Up' and 'The Joe Rogan Experience'.

He has more than two decades of experience in clinical practice attending 20 people weekly. However he resolved to keep such endeavour on hold in 2017 so as to give more time to new projects.

He came up with his second book, '12 Rules for Life: An Antidote to Chaos' published by Penguin Random House in January 2018. This self-help book penned down in a more accessible style than his first book encompasses abstract ethical principles on life.

Peterson went on a world tour to promote '12 Rules for Life: An Antidote to Chaos' and also had an interview with Cathy Newman on Channel 4 News as part of it. The interview went viral on YouTube garnering him considerable attention with over 9 million views. The book became best-seller topping bestselling lists in the US, Canada and the UK including emerging as #1 best-seller book on Amazon in Canada and the US.

Personal Life

In 1989 he tied knot with Tammy Roberts with whom he has two children, a daughter and a son. In August 2017, he became a grandfather.

A philosophical pragmatist, Peterson elucidates himself as a classic British liberal politically. He called himself a Christian in a 2017 interview but did not identify himself as one in 2018. Responding to his belief on God, he mentioned "I think the proper response to that is No, but I'm afraid He might exist".

Translate Wiki

to Spanish, French, Hindi, Portuguese

Article Title

- Jordan Peterson Biography

Author

- Editors, TheFamousPeople.com

Website

- TheFamousPeople.com

URL

-

https://www.thefamouspeople.com/profiles/jordan-peterson-40654.php

Last Updated

- April 30, 2018

---

---

---