Auguste Comte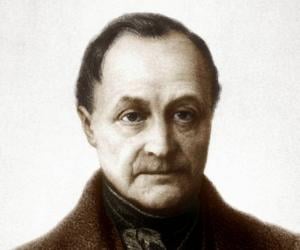 Quick Facts
Birthday: January 19, 1798
Nationality: French
Famous: Quotes By Auguste Comte Economists
Died At Age: 59
Sun Sign: Capricorn
Born in: Montpellier, France
Family:
Spouse/Ex-: Caroline Massin (m. 1825–1842)
father: Louis Comte
mother: Rosalie Boyer
Died on: September 5, 1857
place of death: Paris, France
discoveries/inventions: Discipline Of Sociology And Of The Doctrine Of Positivism
More Facts
education: École Polytechnique
Continue Reading Below
Auguste Comte or Isidore Auguste Marie François Xavier Comte was a prominent French philosopher. He introduced a new discipline namely Sociology and divided this subject in two categories - "social statics", which denotes the forces holding society together and "social dynamics", which indicates the forces responsible for social change. He, for the first time, proposed the idea of positivism, a philosophy of science that gained wide recognition in the second half of the nineteenth century. Most of his works reflect the influence of the utopian socialist Henri Saint-Simon with whom he worked as a secretary. He endeavoured to cure the social maladies of the French Revolution with the help of his newly developed positive philosophy. His law of three stages is an attempt to describe the historical sequence of human mind in three steps - theological, metaphysical and positive. Due to his development of specific philosophy for each discipline of science like mathematics, physics, chemistry and biology, he is regarded as the first philosopher of science in the modern sense. In an article written for "Le Censeur Europeen", a journal of the liberal opposition of that era, he put his view against equal access to jobs in government sector. Apart from enriching the field of Sociology, his social theories provided the basis for the formation of "Religion of Humanity".
Recommended Lists:
Recommended Lists:
Continue Reading Below
Childhood & Early Life
Born in Montpellier, Herault, in southern France, Auguste Comte was the son of Louis and Rosalie Comte. He studied at the Lycee Joffre and later attended the University of Montpellier.

With the rise of the French Revolution, the idea of republicanism deeply influenced him. He took admission at the Ecole Polytechnique in 1814. When the Ecole closed for reorganization in 1816, he pursued his study at the medical school at Montpellier.

Without finishing his graduation study, he settled in Paris. There, he used to earn money by teaching mathematics and journalism. Simultaneously, he remained busy in the study of economics, history and philosophy. In 1817, he met Henri de Saint-Simon, a social theorist, and became his secretary and collaborator. Owing to a dispute of the authorship of their writings, this partnership ended in 1824.

Continue Reading Below

Recommended Lists:

Recommended Lists:

Career

In April 1826, he started delivering lectures as a part of a course of positive philosophy and his audience included well known scientists like Fourier and Poinsot. On account of his poor health, this course was interrupted and he could resume this only in 1829. Later, he published six volumes of this course titled, "Course of Positive Philosophy", from 1830 to 1842.

Starting 1832, he taught analysis and mechanics at the Ecole Polytechnique but he lost this job in 1842 due to a clash with administrators of the institute. In the following year, his book on mathematics titled "Elementary Treatise on Analytic Geometry" appeared.

Besides finishing work on his books "Philosophical Treatise on Popular Astronomy" and "Discourse on the Positive Spirit" in 1844, he remained busy in writing the "System of Positive Polity".

Taking inspiration from the Club of the Jacobians, Comte set up the Positive Society. His book "General View of Positivism" too appeared almost at the same time.

From 1851 to 1854, he was occupied with work on four volumes of "System of Positive Polity". For a few months in 1852, he remained busy with "Catechism of Positive Religion".

After publishing "Appeal to Conservatives" in 1855, he published the first volume of "Subjective Synthesis" or "Universal System of the Conceptions Adapted to the Normal State of Humanity", which is his book on the philosophy of mathematics.

Continue Reading Below

Recommended Lists:

Recommended Lists:

Major Works

He published six volumes of "Course in Positive Philosophy" between 1830 and 1842. In this series, he presented an interesting review of mathematics, astronomy, physics, chemistry and biology. He also showed the historical and theoretical link among them.

From 1851 to 1854, he published four volumes of "System of Positive Polity - A Treatise of Sociology, Instituting the Religion of Humanity". Through this work he expressed his unique view on democracy.

Personal Life & Legacy

He married his live-in partner Caroline Massin in 1824. They did not lead a happy married life on account of financial problems and he divorced his wife in 1842. From 1844, he developed a platonic relationship with Clotilde de Vaux.

He passed away due to stomach cancer. He was buried in the Pere Lachaise Cemetry, Paris. His apartment, where he lived from 1841 to 1857, has been preserved as the Maison d'Auguste Comte which is a private museum.

His works had great influence on renowned social thinkers like Karl Marx, John Stuart Mill and George Eliot to a great extent. His concept of social evolutionism acted as a great inspiration for the development of modern academic sociology.

Trivia

This widely acknowledged philosopher was admitted to a mental health hospital in 1826, but left without being cured. He attempted suicide the following year.

Translate Wiki

to Spanish, French, Hindi, Portuguese

Article Title

- Auguste Comte Biography

Author

- Editors, TheFamousPeople.com

Website

- TheFamousPeople.com

URL

-

https://www.thefamouspeople.com/profiles/auguste-comte-3319.php

Last Updated

- October 17, 2017

---

---

---