Johann Wolfgang von Goethe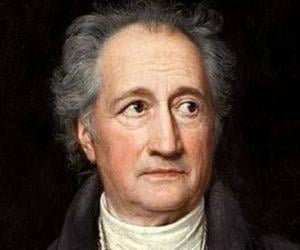 Quick Facts
Birthday: August 28, 1749
Nationality: German
Famous: Illuminati Members Poets
Died At Age: 82
Sun Sign: Virgo
Born in: Frankfurt
Famous as: Poet
Family:
Spouse/Ex-: Christiane Vulpuis
father: Johann Kaspar Goethe
mother: Katharina Elisabeth Textor
siblings: Cornelia
children: August
place of death: Weimar
Diseases & Disabilities: Depression
City: Frankfurt, Germany
More Facts
education: University of Strasbourg (1770–1771), University of Leipzig (1765–1768)
Continue Reading Below
Johann Wolfgang von Goethe was a key personality in the list of German writers and polymaths. He is regarded as the supreme genius of modern German literature. His literary works include epic as well as lyric poetry which he wrote in different styles, dramas of diverse kinds as well as his autobiography. He also contributed to botany and anatomy. Though he was quite conservative, as well as a devout Christian, he firmly opposed many teachings of the Christian churches and said that there were a lot of differences between Christian theology and the teachings of Jesus Christ. Goethe was also deeply involved in politics. During the French Revolution, he felt that the enthusiasm of the people was nothing more than a perversion of their energy and refused to accept that the people had the ability to govern themselves. He never wrote nationalistic poems though he was requested to do so several times. He felt that doing so would only incite hate between the German and the French, and he never hated the French. Many well-known philosophers such as Friedrich Hegel, Carl Jung and Ludwig Wittgenstein were inspired by the works of Goethe.
Recommended Lists:
Recommended Lists:
Continue Reading Below
Childhood & Early Life
Johann Wolfgang von Goethe was born on 28 August 1749 to Johann Caspar Goethe and Catharina Elisabeth Goethe in the city of Frankfurt. Although he had several siblings, all of them except his sister Cornelia Frederica Christiana died at a very early age.

He was given lessons by his father and private tutors in all important subjects of that time. He was taught Latin, Greek, French, Italian, English and Hebrew, and his training also included dancing, riding, as well as fencing. From an early age, he had a strong liking for drawing and literature. After he was fascinated by puppet shows, he developed an interest in theatre too. He got acquainted with several Frankfurt actors as well.

In 1765, he started studying law at Leipzig University. Even though he spent three years there, he developed an intense dislike for age-old judicial rules.

Goethe returned to Frankfurt in 1768, where he fell severely ill. Because of some reasons, his relationship with his father also became bitter during this time. He was nursed back to health by his mother and sister. After his recovery, he left Frankfurt with the intent of finishing his studies in the University of Strasbourg.

Along with his legal studies, he also attended lectures in history, political science, anatomy, surgery, and chemistry. He got acquainted with Johann Gottfried Herder, a renowned philosopher and poet. They became close friends and used to meet quite often for discussions.

Continue Reading Below

Recommended Lists:

Recommended Lists:

Career

In 1770, Johann Wolfgang von Goethe released his first collection of poems 'Annette.' However, he chose to remain anonymous. In the following years, he wrote a lot of literary works. However, he threw away almost all of them except for 'Die Mitschuldigen', a comedy.

He was impressed by 'Auerlachs Keller', one of the oldest restaurants in Germany. Its legends of Faust's 1525 barrel ride interested him so much that in his closet drama 'Faust Part One', this restaurant was the only real place mentioned.

He acquired his academic degree by the end of August 1771, and started a small legal practice of his own. He also had a goal in mind, and that was to make the legal system more humane. However, because of his inexperience he could not win his cases, which eventually ended his career as a lawyer after just a few months.

Goethe, however, was also pursuing his literary plans during this time and wrote 'Goethe von Berlichingen.' It represented his dislike for the established order as well as his hope for a world with more intellectual freedom.

After the success of his previous work, he wrote 'The Sorrows of Young Werther' a novel based on his unrequited love for Charlotte Buff, who was the fiancée of one of his friends. This work not only gave him a huge success, but also brought him worldwide fame, at just the age of 25.

In 1775, because of his success and fame, Johann Wolfgang von Goethe was invited to the court of Carl August, Duke of Saxe-Weimar-Eisenach He was also granted Weimar citizenship the following year. Weimar became the place where he spent most of his life. He was also a great friend of the Duke, and assisted him in court matters.

Later in 1786, he left for Italy on a two-year long tour. This journey, which for him was like a pilgrimage, contributed much to his philosophical development. He also met as well as befriended renowned artists like Angelica Kauffman and Johann Heinrich. He then wrote the non-fiction 'Italian Journey', which covers the first year of his visit. This work, in the next few decades, became an inspiration for a lot of other German youths to follow Goethe's example.

Continue Reading Below

In 1792, the Battle of Valmy took place, where Goethe assisted the Duke against the failed French invasion. After 1793, he decided to devote the rest of his life only to literature.

His play 'Faust', a tragic play divided into two parts, published in 1808 and 1832 respectively, is usually considered to be the greatest piece of work in German literature.

Recommended Lists:

Recommended Lists:

Major Works

Johann Wolfgang von Goethe's play 'Faust', which is regarded by many as one of the finest pieces of work in German literature, can be considered the most significant among all of his works. Divided into two parts, the first one focuses on the soul of Faust, which has been sold to the devil, and the second one focuses on social issues like psychology, history and politics.

'Gotz von Berlichingen', one of Goethe's early works, was based on the life of a historical adventurer named Gotz von Berlichingen. It was a success, but because of its large cast size and frequent scene changes, the play was rearranged and cut many times, including two versions by Goethe himself.

'The Sorrows of Young Werther', which is loosely based on his own life, is another significant work of Johann Wolfgang von Goethe. The story is about a young artist, and his unrequited love for a girl who is engaged to be married to another man. This novel, which became an instant success, put Goethe among the top international celebrities.

Personal Life & Legacy

Johann Wolfgang von Goethe had a relationship with Christiane Vulpius for many years. Though not married, the couple had several children including a son named Julius August Walter von Goethe. After living together for several years, the couple finally married in 1806.

After his wife's death in 1816, he fell in love with another woman named Ulrike von Levetzow. However he never proposed to her.

Translate Wiki

to Spanish, French, Hindi, Portuguese

Article Title

- Johann Wolfgang von Goethe Biography

Author

- Editors, TheFamousPeople.com

Website

- TheFamousPeople.com

URL

-

https://www.thefamouspeople.com/profiles/johann-wolfgang-von-goethe-225.php

Last Updated

- January 11, 2017

---

---

---