Jean Genet
Biography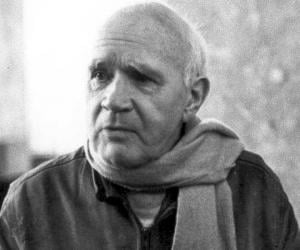 Quick Facts
Birthday: December 19, 1910
Nationality: French
Famous: Quotes By Jean Genet Poets
Died At Age: 75
Sun Sign: Sagittarius
Born Country: France
Born in: Paris, France
Famous as: Novelist
Family:
father: Frédéric Blanc
mother: Camille Gabrielle Genet
place of death: Paris
Cause of Death: Cancer
City: Paris
More Facts
awards: 1961 · The Blacks: A Clown Show - Obie Award for Best New Play
1960 · The Balcony - Obie Award for Best Foreign Play
Continue Reading Below
Jean Genet was a French playwright, novelist, essayist, poet, and political activist. Born to a prostitute, Genet started his life as a vagabond and a petty thief. However, his writings in prison revealed his true forté. He was patronized by writers such as Jean Cocteau and Jean-Paul Sartre. Some of his most prominent works were the novels 'Our Lady of the Flowers' and 'The Thief's Journal' and the plays 'The Balcony,' 'The Screens,' and 'The Maids.' In his later life, Genet turned into a political activist, championing the cause of Palestinian refugees. He suffered from throat cancer toward the end. He was found dead in a hotel room in Paris and was suspected of having fallen and fatally hit his head. He is still remembered as a prominent figure of the Theater of the Absurd and the Theater of Cruelty movements.
Recommended Lists:
Recommended Lists:
Childhood & Early Life
Jean Genet was born on December 19, 1910, in Paris France. It is believed that he was an illegitimate child of a prostitute named Gabrielle Genet. His mother had given him up for adoption after 7 months of his birth.

Thus, Genet was then raised in Alligny-en-Morvan, located in the Nièvre department of France. His foster father was a carpenter, though some sources say he was a peasant.

While Genet was a good student in school, he was also part of a series of thefts and had tried to run away on multiple occasions.

Following his foster mother's death, Genet was fostered by an elderly couple. He was with them for less than 2 years. He was once entrusted with the responsibility of handing over some money to a person, but he spent it all in a local fair instead.

Recommended Lists:

Recommended Lists:

Detention & Military Service

At 15, he was sent to a strict reform school named the 'Mettray Penal Colony.' He was detained there from September 2, 1926, to March 1, 1929. In his work 'Miracle of the Rose' (1946), Genet provided a detailed description of his detention.

At 18, he joined the 'Foreign Legion' of the military. However, he received a dishonorable discharge due to indecency, after he was caught engaging in a homosexual act.

Following this, he spent some time as a vagabond, a thief, and a male prostitute in European cities such as Barcelona and Antwerp. His 1949 work 'The Thief's Journal' offered a detailed account of the same.

Recommended Lists:

Recommended Lists:

Writing in Prison

In 1937, Genet returned to Paris, France, and was continuously getting in and out of prison due to various offenses, such as theft, fraud, and obscenity. While in prison, he wrote his first poem, 'Le condamné à mort.' Around the same time, he wrote the novel 'Our Lady of the Flowers' (1943) in 'Fresnes Prison.' Soon, Genet got acquainted with writer and filmmaker Jean Cocteau, who loved Genet's writing. Through Cocteau's contacts, Genet got his novel published.

He wrote 'The Miracle of the Rose' (1943) in 'Santé Prison.' It was an autobiographical work that mingled depictions of prison life with religious imagery. He continued with the same theme in 'Funeral Rites' (1945) and 'Quarrel of Brest' (1946).

In 1949, when Genet faced a life sentence after 10 convictions, Cocteau and other luminaries, such as Jean-Paul Sartre and Pablo Picasso, requested the French president to pardon his sentence. Genet was forgiven and never returned to prison.

Recommended Lists:

Recommended Lists:

Further Writing & Political Activism

'The Thief's Journal' (1949), was published soon after and narrated Genet's experiences in the European crime scene of the 1930s.

Genet also wrote the drama 'The Maids' (1948), which explored the relationship of good and evil through the actions of two maids. His drama 'Deathwatch' (1949) narrated the relationship of three prisoners.

Continue Reading Below

In 1950, Genet directed the movie 'Un Chant d'Amour.' It was a 26-minute film shot in black and white and showcased the homosexual fantasies of a gay male prisoner and his warden.

This was followed by the dramas 'The Balcony' (1957), 'The Blacks' (1959), and 'The Screens' (1961).

Sartre wrote on Genet's miraculous transformation from a vagrant to a writer, titled 'Saint Genet' (1952), published anonymously as part of the first volume of Genet's complete writings. Genet was so massively affected by Sartre's analysis that he stopped writing for the next 5 years.

Between 1955 and 1961, Genet wrote an essay titled 'What Remains of a Rembrandt Torn into Four Equal Pieces and Flushed Down the Toilet.'

In the late 1960s, he wrote a homage to Daniel Cohn-Bendit, student leader of the French unrest of May 1968. Following this, Genet started participating in politics. He took part in protests against the poor condition of immigrants in France.

In 1968, Genet was censored in the U.S. They later refused to grant him a visa. In 1970, he was invited to the U.S. by the 'Black Panther Party.' He stayed there for 3 months. During this time, he delivered lectures, attended the trial of 'Black Panther' leader Huey Newton, and wrote for their party's journals.

Later, he stayed in Palestinian refugee camps for 6 months and even met Yasser Arafat secretly, near Amman. Based on his experiences, Genet wrote a memoir named 'Prisoner of Love.' The book was published posthumously.

Genet supported Angela Davis and George Jackson. He was also a supporter of Daniel Defert and Michel Foucault's 'Prison Information Group.' He joined hands with Foucault and Sartre to draw attention to police brutality against Algerians in Paris.

In his 1977 article 'Violence et brutalité,' published in 'Le Monde,' Genet showcased his support for the 'Red Army Faction' (RAF) of Ulrike Meinhof and Andreas Baader.

Genet visited the Palestinian refugee camps in Shatila, located near Beirut, on September 19, 1982. Israel's Lebanese allies had massacred the Palestinians stationed there, just 2 days earlier. He published his own eye-witness account of the horror in 'Quatre heures à Chatila' ('Four Hours in Shatila').

At a 1983 exhibition on the same massacre, arranged by 'International Progress Organization' in Vienna, Austria, Genet read from this work, after Austrian philosopher Hans Köchler requested him to do so.

Recommended Lists:

Recommended Lists:

Family, Personal Life & Death

It is believed Genet was emotionally attached to a tightrope walker named Abdallah Bentaga. However, after Abdallah's suicide in 1964, Genet sank into depression and even attempted suicide once.

Later in his life, Genet suffered from throat cancer. On April 15, 1986, he was found dead in his hotel room in Paris. It is assumed Genet had fallen on the floor and had hit his head. He remains buried in the 'Larache Christian Cemetery,' Larache, Morocco.

Legacy

Genet remains to be one of the greatest contributors of the Theater of the Absurd and the Theater of Cruelty movements. His works, with dominant themes of homosexuality, crime, and sadomasochism, have been adapted for the screen too.

Rainer Werner Fassbinder's final film, the 1982-released 'Querelle,' was based on Genet's 'Querelle of Brest.' Tony Richardson's 'Mademoiselle' was based on one of Genet's short stories. Genet's plays 'The Balcony' and 'The Maids' were also made into movies.

In 1972, David Bowie released the single "The Jean Genie," named after Genet. A promo video of the song, released later, showed the song set to a portion of Genet's movie 'Un Chant d'Amour.'

Translate Wiki

to Spanish, French, Hindi, Portuguese

Article Title

- Jean Genet Biography

Author

- Editors, TheFamousPeople.com

Website

- TheFamousPeople.com

URL

-

https://www.thefamouspeople.com/profiles/jean-genet-4308.php

Last Updated

- January 20, 2020

---

---

---