Romain Gary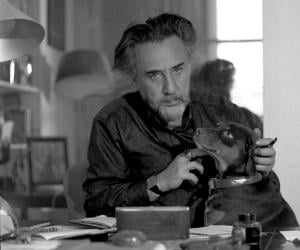 Quick Facts
Nationality: French
Died At Age: 66
Sun Sign: Taurus
Also Known As: Roman Kacew
Born in: Vilnius
Famous as: Diplomat
Family:
Spouse/Ex-: Jean Seberg, Lesley Blanch
father: Arieh-Leib Kacew
mother: Mina Owczyńska
children: Alexandre Diego Gary, Nina Hart Gary
Died on: December 2, 1980
place of death: Paris
Diseases & Disabilities: Depression
Cause of Death: Suicide
More Facts
Continue Reading Below
Romain Gary was one of France's most original writers, known for authoring novels under various nom de plumes. After training as an aviator, he served in the French Air Force, but fled to England during World War II. His stint of 25 successful sorties while working for Free French Forces won him a number of bravery honors and medals. It was during this time that he started writing, alongside working as a French diplomat in Bulgaria and Switzerland, before moving to the US. Here, he took up writing full-time and went on to become an excellent storyteller through his much-acclaimed novels and essays. During his entire 35-year literary career, he is said to have written over 30 novels, essays and memoirs, in English and French, under four different pseudonyms, though he is believed to have used a couple more, like Rene Deville and John Markham Beach. This prolific novelist authored some highly popular novels, including 'Le Grand Vestiaire', 'La Promesse de l'aube', 'La Danse de Gengis Cohn', 'Clair de femme', and 'Pseudo'. He is credited for being the only person to be awarded the French literary prize Prix Goncourt twice, for 'Les racines du ciel' under his original name and 'La vie devant soi' under his pseudonym Emile Ajar.
Continue Reading Below
Childhood & Early Life
Romain Gary was born as Roman Kacew on May 21st, 1914, in Russian Vilna (now Vilnius, Lithuania), into a Jewish family, to businessman Arieh-Leib Kacew and Litvak actress Mina Owczynska.

He got fluent in Russian, Yiddish, Polish, and German as a child. After his father abandoned his family, her mother took him to places across Europe before finally settling in Nice, France, in 1928, where he learnt French at school.

He changed his name to Romain and became a French citizen in 1935. Later in 1940, he adopted the full name 'Romain Gary'.

He studied law at Aix-en-Provence and later in Paris, graduating in 1938. He then took up pilot training with the French Air Force at Salon-de-Provence and Avord Air Base.

Continue Reading Below

Recommended Lists:

Recommended Lists:

Career

When France was occupied by the Germans during World War II, he escaped to Casablanca, via Algiers, in a two-seater plane and further sailed by sea to England via Gibraltar.

He joined the Free French Forces as a flying officer, serving in Africa, Egypt, Syria and Europe. In 1943, he participated in 25 sorties to drop high explosives on targets, during which he was badly injured.

He completed his first novel and published it in English. It was titled 'Forest of Anger', which was later translated in French and released as 'L'Education europeenne' in 1945.

He authored novels that combined humor with tragedy and faith with suspicion, such as 'Tulipe' (1946), 'Les Couleurs du jour' (1952, The Colors of the Day), and 'La Danse de Gengis Cohn' (1967, The Dance of Genghis Cohn).

After the war ended, he took up French diplomatic service in Bulgaria in 1947, from where he was transferred to Switzerland.

His novel 'Le Grand Vestiaire' (The Company of Men) released in 1949 and became a best-seller in the United States, but it went unnoticed in France.

He served as the secretary of the French delegation at the United Nations from 1952-56, after which he moved to Los Angeles as Consul General.

Continue Reading Below

Some of his popular novels include 'Lady L' (1958), 'La Promesse de l'aube' (1960, Promise at Dawn), 'Clair de femme' (1977, The Light of a Woman), and 'Les Cerf-volants' (1980, The Kites).

He created a fictional younger man to move with the modern times in the 1970s to kill his wrinkled and worn-out identity, thereby inventing Emile Ajar, a pseudonym under which he helmed a few books, like 'Gros calin' (1974) and 'Pseudo' (1976).

He took up two more pennames, Fosco Sinibaldi and Shatan Bogat, under which he authored two novels, namely, 'L'homme a la colombe' (1958) and 'Les tetes de Stephanie' (1974), respectively.

Apart from writing novels, he forayed into filmmaking as well, directing two movies 'Les oiseaux vont mourir au Perou' (1968) and 'Kill! Kill! Kill! Kill!' (1971). His second wife Jean Seberg played the lead role in the latter.

He is credited for writing the screenplay for two motion pictures - 'The Roots of Heaven' (1958), based on his award-winning novel 'Les Racines du ciel', and 'The Longest Day' (1962).

Recommended Lists:

Recommended Lists:

Major Works

In 1956, he published his award-winning novel 'Les racines du ciel' (The Roots of Heaven), which was honored with Prix Goncourt by the Academie Goncourt.

Continue Reading Below

He became the only person to win a second Prix Goncourt for his 1975 novel 'La Vie devant soi' (The Life Beyond Us), under the penname Emile Ajar, even though an author is allowed to receive the award only once.

Recommended Lists:

Recommended Lists:

Awards & Achievements

He was awarded with the Compagnon de la Liberation and Croix de Guerre for his brave services during World War II. He was honored as the commander of the Legion d'honneur as well.

He served as a jury member at the 15th Cannes Film Festival, in 1962, and at the 29th Berlin International Film Festival, in 1979.

Recommended Lists:

Recommended Lists:

Personal Life & Legacy

He married Lesley Blanch, an English writer, journalist and editor of Vogue magazine, in 1944. The couple divorced in 1961.

In 1962, he married Jean Seberg, an American actress known for 'Bonjour Tristesse' and 'Breathless'. The couple had a son, Alexandre Diego Gary. The two divorced in 1970.

He shot himself and committed suicide on December 2, 1980, at his Paris apartment, leaving a letter which disclosed that he was Emile Ajar.

His last rites were performed at Pere Lachaise Cemetery, after which his ashes were drowned in the Mediterranean Sea close to Roquebrune-Cap-Martin

Translate Wiki

to Spanish, French, Hindi, Portuguese

Article Title

- Romain Gary Biography

Author

- Editors, TheFamousPeople.com

Website

- TheFamousPeople.com

URL

-

https://www.thefamouspeople.com/profiles/romain-gary-6149.php

Last Updated

- November 06, 2017

---

---

---