Jair Bolsonaro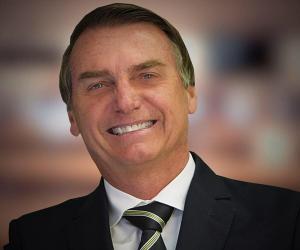 Quick Facts
Nationality: Brazilian
Famous: Political Leaders Brazilian Men
Age: 64 Years, 64 Year Old Males
Sun Sign: Aries
Also Known As: Jair Messias Bolsonaro
Born in: Campinas, São Paulo
Famous as: Political Leader
Height: 6'1" (185 cm), 6'1" Males
Family:
Spouse/Ex-: Michelle Bolsonaro (m. 2013), Ana Cristina Valle (div.), Rogéria Nantes Braga (div.)
father: Geraldo Bolsonaro
mother: Olinda Bolsonaro
children: Carlos Bolsonaro, Eduardo Bolsonaro, Flávio Bolsonaro, Laura Bolsonaro, Renan Bolsonaro
City: Sao Paulo, Brazil
More Facts
education: Agulhas Negras Military Academy
Continue Reading Below
Jair Bolsonaro is a Brazilian politician who has served six consecutive terms as the Federal Deputy for Rio de Janeiro and represented the state at the Chamber of Deputies for 27 years. He recently decided to run for presidency during the 2018 elections as a member of the Social Liberal Party (PSL), following which he attracted international media attention as the 'Tropical Trump' for his far-right political stand and strong opposition to left-wing policies. Throughout his tenure as a congressman, he has time and again made controversial comments about same-sex marriage, equal wages for women, abortion, drug liberalization, land reforms, affirmative action, and secularism. After Workers' Party (PT) candidate Luiz Inácio Lula da Silva was disqualified by the court to run for presidency, he emerged as the frontrunner in the general elections and has secured first place in the first round with 46% votes. He is all set to face PT candidate, Fernando Haddad, who got 29% votes in the first round, on October 28, 2018.
Recommended Lists:
Recommended Lists:
Childhood & Early Life
Jair Messias Bolsonaro was born on March 21, 1955 in Campinas, São Paulo, a town in the southeast region of Brazil, to Perci Geraldo Bolsonaro and Olinda Bonturi. He is the third of his parents' six children, and has two brothers and three sisters.

His father, a dentist without a college degree, had settled in Eldorado after the kids were born as there were not many dentists there. However, after trained dentists appeared, he was taken to the Forum and ended up working in the prosthetics.

Jair Bolsonaro got into the Preparatory School of Brazilian Army during his final years in school and later was sent to the Academia Militar das Agulhas Negras. He graduated from there in 1977 and served with the army's parachutist units for a while.

Bolsonaro, who served in the military for 17 years and reached the rank of Captain, first gained public attention in 1986 after he complained to 'Veja' magazine about low salaries and firing of officers. He was reprimanded by his superiors for his action, but had become sort of a hero to fellow officers, wives of military personnel and far-right activists.

Recommended Lists:

Recommended Lists:

Political Career

In 1988, after joining the military reserve, Jair Bolsonaro launched his political career under the ticket of the Christian Democratic Party (PDC) and was elected city councilor in Rio de Janeiro. He remained on that post till February 1st, 1991, when he assumed office as the Federal Deputy of the second largest economic state of Brazil.

He was the Chamber of Deputies Vice Leader for PDC and fought for the party in the 1990 elections. Upon being elected as a federal congressman, he served first term in office from February 1991 to February 1995 and was re-elected for six consecutive terms.

In 1993, he switched support to the newly founded Progressive Party (PP), which later merged with the Reform Progressive Party (RPP) in 1995 to form the Brazilian Progressive Party (PPB). That year, he was re-elected for the post under the flag of RPP and assumed office for his second term on February 1st, 1995.

He was re-elected twice more in the same post under the banner of PPB, in 1999 and 2003, but was affiliated with the Brazilian Labour Party (PTB) from 2003 to 2005.

In 2005, he briefly joined the Liberal Front Party (PFL), the primary right-wing party in Brazilian politics.

He returned to Brazilian Progressive Party (PPB) in 2005 after it reverted back to its previous name Progressive Party (PP) in 2003. He was elected twice more as federal congressman in 2007 and 2011, and remained with the party till 2016.

He became a member of the Social Christian Party (PSC) in 2016 and announced his intention to run for presidency in March that year. However, he eventually moved to the Social Liberal Party in August 2018 and launched his presidential campaign for the party, taking retired general Hamilton Mourão as his running mate.

During the first round of the general election on October 7, 2018, he secured 46.03% votes to become the top candidate with clear lead over opponent Fernando Haddad, who came second with 29.28% votes. He will face the former São Paulo mayor Haddad in the run-off elections on October 28, 2018.

Recommended Lists:

Recommended Lists:

Political Views

A far-right politician with nationalist and populist views, Jair Bolsonaro has been criticized throughout his career for his strong opposition to left-wing policies. Described as a traditional right-wing conservationist by his supporters, he is vehemently opposed to same-sex marriage, abortion, immigration, affirmative action, drug liberalization, land reforms, and secularism.

Continue Reading Below

He believes that women should receive less salary because of the possibility of getting pregnant, and wants to introduce law mandating that paid maternity leave harms work productivity. For his remark that politician Maria do Rosário was "not worthy of being raped", he was fined in court for potentially inciting rape and defaming the honor of his fellow Deputy.

In an interview with the 'Playboy' magazine, he had said that he would not be able to love a gay son and would rather prefer that his son dies in an accident. At different times, he has promised to fight the distribution of gay kits proposed by UNESCO, linked homosexuality to pedophilia, publicly defended beating gay children, and was fined for televised homophobic comments.

He has publicly glorified the Brazilian military dictatorship from 1964 to 1985 several times during his career. He even went on to state on TV that he himself would instigate a military coup if he ever became President.

He feels that the poor lack the education to do proper family planning and should be sterilized.

Achievements

Since being elected to the lower chamber of Congress, Jair Bolsonaro has been re-elected to office six consecutive times and has been a congressman for 27 years. He had secured 464,000 votes in Rio de Janeiro in 2014, which made him the congressman with most votes.

Personal Life & Legacy

Jair Bolsonaro's first marriage was to Rogéria Nantes Braga, with whom he has three sons named Flávio, Carlos and Eduardo. Both Flávio and Eduardo are lawyers and politicians.

After getting divorced from his first wife, he again married a woman named Ana Cristina, who is the mother of his fourth son, Renan.

In 2013, he married Michelle de Paula Firmo Reinaldo Bolsonaro, who gave birth to his only daughter Laura who, according to Bolsonaro, was produced out of "a moment of weakness".

He had hired his current wife as his secretary during his tenure as a congressman, following which she climbed up the ladder very quickly and gained several promotions, as well as pay raise. However, a couple years later, he had to fire her after a Supreme Federal Court ruling that declared nepotism to be illegal in the public administration.

Trivia

While interacting with supporters during the presidential election campaign on September 6, 2015, Jair Bolsonaro was stabbed in the stomach by Adelio Bispo de Oliveira, later identified as a former Socialism and Liberty Party member. He was treated at the Albert Einstein Israelite Hospital for a month and was unable to campaign personally before the end of the first round.

Translate Wiki

to Spanish, French, Hindi, Portuguese

Article Title

- Jair Bolsonaro Biography

Author

- Editors, TheFamousPeople.com

Website

- TheFamousPeople.com

URL

-

https://www.thefamouspeople.com/profiles/jair-bolsonaro-42465.php

Last Updated

- October 10, 2018

---

---

---