Helmut Kohl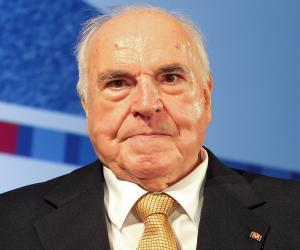 Quick Facts
Nationality: German
Famous: Quotes By Helmut Kohl Presidents
Died At Age: 87
Sun Sign: Aries
Also Known As: Helmut Josef Michael Kohl
Born in: Ludwigshafen
Famous as: Former Chancellor of Germany
Height: 6'4" (193 cm), 6'4" Males
political ideology: Centre Party (Before 1946), Christian Democratic Union (1946–present)
Family:
Spouse/Ex-: Maike Richter (m. 2008), Hannelore Kohl (m. 1960–2001)
father: Hans Kohl
mother: Cäcilie Kohl
children: Peter Kohl, Walter Kohl
place of death: Ludwigshafen, Germany
Founder/Co-Founder: Junge Union, University of Trier-Kaiserslautern
More Facts
education: Ruprecht Karl University of Heidelberg, (1958), Ruprecht Karl University of Heidelberg, (1951 – 1956)
awards: 1996 - Prince of Asturias Award
1998 - Grand Cross in Special Design of the Order of Merit of the Federal Republic of Germany
1999 - Presidential Medal of Freedom

2007 - Gold Medal of the Jean Monnet Foundation for his contribution to the unity of Europe
2011 - Henry A. Kissinger Prize for his singularly extraordinary role in German reunification and laying the foundation for a lasting democratic peace in the new millennium

Continue Reading Below
Helmut Kohl was one of the most prominent German leaders, who was single-handedly responsible for the integration of East and West Germany to a unified country. Born in a modest family, he made his way to politics since a young age. He was elected as the chairman of the Christian Democratic Union (CDU) in 1973, a position he retained for more than two decades until 1998. It was during his term as the chairman that CDU formed an alliance with Free Democratic Party (FDP) that went onto form a coalition government. Kohl benefited the most from the move as he was made the Chancellor of West Germany. In his 16 years of tenure, he contributed greatly for the development of the country. He foresaw developing friendly relations with France. However, the turning point came when he anchored the process of reunification of Germany. Kohl is regarded as the main architect of German reunification. He is considered as "the greatest European leader of the second half of the 20th century".
Recommended Lists:
Recommended Lists:
Continue Reading Below
Childhood & Early Life
Helmut Kohl was born in a Roman Catholic family to Hans Kohl and Cacilie in Ludwigshafen am Rhein, Germany. He was the third child of the couple.

Academically, he attained his preliminary education from Ruprecht Elmentary School, after which he enrolled at the Max-Planck Gymnasium. Meanwhile, he joined the Christian Democratic Union in 1946 and was one of the co-founders of the Junge Union-branch in Ludwigshafen in 1947.

Upon completing his graduation in 1950, he began studying law in Frankfurt am Main. Following year, he shifted to the University of Heidelberg, majoring in History and Political Science. It was during his years at the university that he joined the board of the Rhineland-Palatinate branch of CDU.

Finishing his studies, he became a fellow at the Alfred Weber Institute of the University of Heidelberg and was an active member of the AIESEC student society. He completed his doctoral studies in 1958.

His first job was as an assistant to the director of a foundry in Ludwigshafen. A year later, he served as the manager for the Industrial Union for Chemistry in Ludwigshafen.

Continue Reading Below

Recommended Lists:

Recommended Lists:

Career

His political career kick started when he was elected as the leader of the CDU party in the municipal council of Ludwigshafen in 1960, a position he retained until 1969. Meanwhile, he was also elected as the Landtag and served as leader of the CDU party in that legislature.

From 1966 until 1973, he took up the chair of the CDU's state branch. Over time, he developed a reputation as a capable administrator and soon was deemed as a successor to Peter Altmeier, then minister-president of Rhineland-Palatinate.

He succeeded Altmeier in 1969. Same year, he became the vice chairman of the federal CDU party. During his term as the minister-president, he brought about territorial reform and founded the University of Trier Kaiserslautern.

By 1973, he succeeded Rainer Barzel as the chairman of the federal CDU and retained this position until 1998.

In the 1976 federal elections, Kohl was the chancellor candidate of the CDU and the the Christian Social Union (CSU) alliance but lost to Social Democratic Party (SDP).

In the 1980 federal elections, Franz Josef Strauß became the CDU/CSU's candidate for chancellor. The CDU/CSU alliance was unable to defeat the SPD/FDP alliance. Since Strauß did not want to continue as the leader of the CDU/CSU, Kohl was chosen for the position. He served as the Leader of the Opposition.

Conflicting thoughts and policies between the governing coalition partners SPD/FDP led to talks between FDP and CDU/CSU to form a new government. A vote of no confidence against the ruling government was passed on October 1, 1982 and a new alliance was formed with FDP and CDU/CSU. Kohl emerged as the chosen candidate for the chair of the chancellor.

Continue Reading Below

In the 1983 elections, the CDU/CSU-FDP coalition won a staggering 58-seat majority, which further solidified Kohl's position as the Chacellor of West Germany.

During his tenure as the Chancellor, he followed centrist policies that supported West Germany's commitment to NATO against major opposition from the peace movement. He curtailed governmental expenditure and spending.

The historic France-Germany reconciliation happened during his term as the Chancellor. He and French president, Francois Mitterrand shook hands, commemorating the dead in both the World Wars. The two nations developed close political relationship which proved vital for economic development.

He also reconciled the strained relationship with United States of America by inviting then President Ronald Reagan at a German military cemetery. In response, Reagan became a part of the G6 conference and together with Kohl, visited German military cemetery at Bitburg.

In the 1987 federal elections, the CDU/CSU and FDP coalition again won by a majority of 45 seats, which helped him, retain his position as a Chancellor. Same year, he invited East German leader Erich Honecker, which was the first sign of reunification. The move, however, earned him flak by his own party members.

Following the Soviet Union's abandonment of control over Eastern Europe and breach of the Berlin Wall in 1989, he fastened the reunification process of the West and East Germany, which became the turning point in his tenure of chancellorship.

Making the most of the political changes, he presented a ten-point plan for 'Overcoming of the division of Germany and Europe'. He further gained a vote of confidence from Mikhail Gorbachev for peaceful reunification of Germany

Continue Reading Below

In 1990, when East Germany held its first democratic elections, he campaigned vigorously for CDU's sister parties which successfully formed a government. He then formed a treaty that unified the two countries' economic and social welfare system. He also promised the East German currency to be of the same value as that of West Germany.

A reunification treaty was signed on August 31, 1990 and was overwhelmingly approved by both the parliaments. October 3, 1990 was a historic day as East Germany officially ceased to exist and both the parts came under unified Germany.

The first free election in reunified Germany was held in December 1990. The CDU/CSU-FDP coalition won a staggering 134-seats majority in Bundestag. He retained his position and became the first Chancellor of reunified Germany.

With a vast region to look into, governance became a problem as he had to employ new tax and cut down governmental spending to finance the country as a whole. This increasing tax burden discontented the people as severe recession hit the country in 1992-93.

The country's dwindling financial status coupled with escalating unemployment problem directly affected his popularity which was visible in the 1994 elections as he narrowly defeated Minister-President of Rhineland-Palatinate Rudolf Scharping.

Further financial, economic and social problems turned disastrous for him as faced his first defeat in years in the parliamentary elections held on September 27, 1998. Following year, he was involved in a scandal arising from the collection of illegal campaign contributions.

In 2000, he resigned from his party offices. He was charged with serious accusations of misusing funds. All through, he suffered from legal problems and charges for which he was assessed a fine in February 2001.

Continue Reading Below

Recommended Lists:

Recommended Lists:

Major Works

He served as the Chancellor of West Germany from 1982 to 1990. Furthermore, he played an extraordinary role in in German reunification and laying the foundation for a lasting democratic peace between the two parts. He also served as the first Chancellor of unified Germany and served in the position from 1990 to 1998

Awards & Achievements

For his outstanding achievements as the Chancellor of West Germany, he was conferred with various prestigious honors including Prince of Asturias Award, Grand Cross in Special Design of the Order of Merit of the Federal Republic of Germany, Presidential Medal of Freedom, Gold Medal of the Jean Monnet Foundation, Henry A. Kissinger Prize at the American Academy.

He was bestowed with honorary degrees from various institutions such as Catholic University of Louvain, the Ateneo de Manila University and Brandeis University. Furthermore, he was awarded with the title Honorary Citizen of Europe by the European Council. He even was conferred as the honorary citizen of Frankfurt am Main and Berlin

Personal Life & Legacy

In 1960, he tied the nuptial knot with long-time friend Hannelore Renner. The couple was blessed with two sons. Hannelore committed suicide in 2001 after suffering from photodermatitis for many years.

In February 2008, he had a stroke and a fall and since then he was bound to a wheelchair due to partial paralysis.

He married his partner Maike Richter on 8 May 2008.

Helmut Kohl died on 16 June 2017 in the Oggersheim district of Ludwigshafen, his home town, at the age of 87.

Translate Wiki

to Spanish, French, Hindi, Portuguese

Article Title

- Helmut Kohl Biography

Author

- Editors, TheFamousPeople.com

Website

- TheFamousPeople.com

URL

-

https://www.thefamouspeople.com/profiles/helmut-kohl-3836.php

Last Updated

- June 18, 2017

---

---

---