Gordon Brown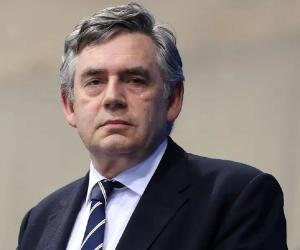 Quick Facts
Birthday: February 20, 1951
Nationality: British
Famous: Political Leaders British Men
Age: 68 Years, 68 Year Old Males
Sun Sign: Pisces
Also Known As: James Gordon Brown
Born in: Govan
Height: 1.8 m
political ideology: Labour
Family:
Spouse/Ex-: Sarah Brown
father: John Ebenezer Brown
mother: Jessie Elizabeth Brown
siblings: Andrew Brown, John Brown
children: James Fraser Brown, Jennifer Jane Brown, John Macaulay Brown
Ideology: Socialists
Diseases & Disabilities: Visual Impairment
More Facts
education: University of Edinburgh (1972), Kirkcaldy High School, Kirkcaldy West Primary School
Continue Reading Below
One of Britain's most influential politicians, Gordon Brown became the 52nd Prime Minister of the United Kingdom, succeeding Tony Blair. He studied at the University of Edinburgh and earned a doctorate in history. He rose through the ranks of the Labor Party and earned the reputation of a policy fabricator within the party. Apart from being a political leader, Brown has also authored a number of books and political biographies like 'Maxton', 'Courage' and 'John Smith: Life and Soul of the Party'. His tenure as Chancellor was marked by major monetary reforms in Britain. However, his term as Prime Minister led to the serious economic slump due to his controversial moves pertaining to personal income tax schemes and the advance corporation tax policy. His self-regulatory budgets were severely criticized by various parties in UK, which eventually led to the Labor Party's downfall. In the wake of an economic recession, his party suffered a heavy loss in general elections and consequently he was compelled to resign. Known to be of a reserved demeanor, Brown's life was a tumultuous one with its shares of highs and lows.
Recommended Lists:
Recommended Lists:
Continue Reading Below
Childhood & Early Life
He was born in Glasgow, Scotland to Elizabeth Brown and John Brown, who served as the minister of Church of Scotland for a brief period of time.

He attended Kirkcaldy West Primary School and won a scholarship to the University of Edinburgh, where he studied history and served as the Rector of the University of Edinburgh. He graduated from the university in 1972.

Continue Reading Below

Recommended Lists:

Recommended Lists:

Career

From 1976 to 1980, he was employed as a lecturer in politics at Glasgow College of Technology and later at the Open University.

He switched careers and became a current affairs journalist for Scottish TV in 1980. While working, he also obtained his doctorate in history from the University of Edinburgh in 1982. The title of his thesis was 'The Labour Party and Political Change in Scotland 1918–29'.

In 1983, he won a representative seat as a Member of Parliament for Dunfermline East and befriended Tony Blair around the same time.

He authored 'Maxton: A Biography' in 1986 and authored a number of other books such as 'Where There is Greed' and 'Beyond the Crash: Overcoming the First Crisis of Globalization'.

He was designated as shadow Chancellor of the Exchequer on July 24, 1992; a position he held till May 2, 1997.

He became the leader of the Labor Party in the parliament in 1994 after the sudden death of his predecessor, John Smith.

Brown became the Chancellor of Exchequer on May 2, 1997 and remained in this role till June 27, 2007. He was in-charge of the economic policies, interest rates and U.K.'s potential adoption of the Euro.

Continue Reading Below

The first few years of his term were rocky as he spent a large part of his tenure retaining public expenditure, which angered many of his contemporaries. His new spending plan was implemented in 1999 after much deliberation.

In 2003, when the U.S. declared war on Iraq, Britain's Labor Party supported the decision and despite the financial reforms under Brown it created negative publicity for the party around the world. This eventually led to the decline in his popularity.

He was appointed as Prime Minister of the United Kingdom, succeeding Tony Blair on June 27, 2007. He continued to work on public-sector reforms and pledged to fight poverty.

During the global financial crisis in 2008, the country began to spiral downwards and faced severe unemployment and fiscal deficit issues. Brown's public image began to dwindle during this period of time.

On May 11, 2010, he resigned as Prime Minister of the U.K. after losing the majority in the House of Commons.

Major Works

During his Labor leadership, Brown proposed a number of policy initiatives, titled the 'manifesto of change', which included a clampdown of corruption and and a code of conduct for ministers.

Continue Reading Below

He is also responsible for building a number of eco-towns around UK and worked for the improvement of the National Health Service schemes around the country.

Although he supported the Iraq War, he went to great lengths to support the family members who lost their loved ones in war in both Afghanistan and Iraq.

Apart from formulating policies, he has authored a number of books, which received mixed reviews like, 'Beyond the Crash: Overcoming the first Crisis of Globalization' and 'The Change we choose: Speeches'.

Awards & Achievements

In March 2009, he was titled 'World Statesman of the Year' by the Appeal of Conscience Foundation'. The award was presented to him by Rabbi Arthur Schneier.

Personal Life & Legacy

Brown got married to Sarah Macaulay on August 3, 2000. They have two children; John Macaulay and James Fraser.

Trivia

This famous personality became blind in one eye, following a sporting accident as a teenager. He would have lost his right eye as well, but was saved in the nick-of-time.

This former Prime Minister of UK was one of the leading voices in supporting Third World Debt causes.

Translate Wiki

to Spanish, French, Hindi, Portuguese

Article Title

- Gordon Brown Biography

Author

- Editors, TheFamousPeople.com

Website

- TheFamousPeople.com

URL

-

https://www.thefamouspeople.com/profiles/gordon-brown-3321.php

Last Updated

- September 29, 2017

---

---

---