Theresa May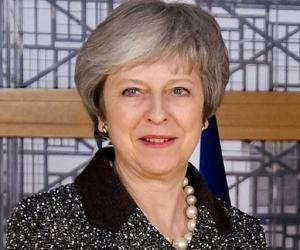 Quick Facts
Nationality: British
Famous: Prime Ministers British Women
Age: 62 Years, 62 Year Old Females
Sun Sign: Libra
Also Known As: Theresa Mary May, Theresa Mary Brasier
Born in: Eastbourne, United Kingdom
Famous as: Prime Minister of the United Kingdom
Height: 1.72 m
political ideology: Conservative Party
Family:
Spouse/Ex-: Philip John May (m. 1980)
father: Hubert Brasier
mother: Zaidee Mary
Personality: ESTJ
Net worth: $2.5 Million as of Jul 13, 2016
Continue Reading Below
Theresa May is the current Prime Minister of the United Kingdom, in office since July 2016. She is also the Leader of the Conservative Party and has been the Home Secretary since 2010. The country's second female Prime Minister after fellow Conservative Margaret Thatcher, May is a highly experienced politician who took over as UK's PM from David Cameron during a period of political uncertainty following Britain's withdrawal from the European Union. The daughter of a Church of England clergyman, May was ambitious from the very beginning. She went to a local grammar school before going to Oxford University to study geography at St Hugh's College. She embarked on a banking career and a few years hence she joined the Association for Payment Clearing Services. She entered the political arena in the 1980s and served as a councilor for the London Borough of Merton for around eight years. With her political aspirations on the rise, she made attempts to be elected to the House of Commons in 1992 and 1994, albeit unsuccessfully. After her successful election as the MP for Maidenhead in the 1997 general election, her career has been on the upswing. As a politician she has strong views on migration laws and is a supporter of same sex marriages.
Recommended Lists:
Recommended Lists:
Continue Reading Below
Childhood & Early Life
Theresa May was born on 1 October 1956, in Eastbourne, England, UK, as the only child of Zaidee Mary and Hubert Brasier. Her father was a Church of England clergyman who held the role of Vicar of Wheatley, and her grandfather had been a regimental sergeant major.

As a young girl she attended several schools including Heythrop Primary School, Oxfordshire, St. Juliana's Convent School for Girls, and the Wheatley Park Comprehensive School.

She then proceeded to the University of Oxford where she studied geography at St Hugh's College, graduating with a BA degree in 1977.

Recommended Lists:

Recommended Lists:

Career

Following her graduation she started working for the Bank of England, a job she held until 1983. She then worked as a financial consultant and senior advisor in International Affairs at the Association for Payment Clearing Services from 1985 to 1997.

Theresa May made her first foray into politics in 1986 when she became a councilor for the London Borough of Merton where she served as the Chairman of Education (1988–90) and Deputy Group Leader and Housing Spokesman (1992–94).

A successful career woman by now, she set her political aspirations high and stood for the seat of North West Durham in the 1992 general election. This attempt was unsuccessful, as was her attempt to win the1994 Barking by-election.

Ever the resilient soul, she again stood for the 1997 general elections in which she was successfully elected as the Conservative MP for Maidenhead. In 1998, she became a member of William Hague's front-bench Opposition team, as Shadow Spokesman for Schools, Disabled People and Women, a position she held until June 1999.

She was appointed Shadow Education and Employment Secretary in the Shadow Cabinet in 1999. Following the 2001 election, she was moved to the Transport portfolio by the new Conservative leader Iain Duncan Smith.

A much-respected politician by the beginning of the new millennium, she was appointed the first female Chairman of the Conservative Party in July 2002. The following year she was made the Shadow Secretary of State for Transport after Michael Howard's election as Conservative Party and Opposition Leader in November 2003.

The year 2004 saw her assume the portfolio of Shadow Secretary of State for Culture, Media and Sport. The following year, David Cameron made her Shadow Leader of the House of Commons.

Continue Reading Below

Her career flourished over the ensuing years and she was appointed Home Secretary and Minister for Women and Equality by Prime Minister David Cameron in 2010. As Home Secretary, Theresa May also became a member of the National Security Council.

As Home Secretary she overturned several of the previous Labour Government's measures on data collection and surveillance in England and Wales. Under her tenure the Identity Documents Act 2010 was passed through which she brought about the abolition of the Labour Government's National Identity Card and database scheme.

As someone with strong views on immigration, in 2010 she promised to bring the level of net migration down to less than 100,000. She also rejected the European Union's proposal of compulsory refugee quotas.

During her tenure as Home Secretary, she also simultaneously held the office of Minister for Women and Equality from 2010 to 2012.

In June 2016 Prime Minister David Cameron announced his resignation after the outcome of the European Union membership referendum in which UK voted to leave the European Union. In the wake of Cameron's resignation, Theresa May announced her candidacy for the leadership of the Conservative Party.

Theresa May received support from a number of Cabinet Ministers, such as Amber Rudd, Chris Grayling, Justine Greening, Jeremy Hunt, Michael Fallon and Patrick McLoughlin. She was declared Leader of the Conservative Party on 11 July 2016 following a positive outcome in the voting and the withdrawal of another potential candidate, Andrea Leadsom.

Theresa May assumed office as Prime Minister of the United Kingdom on 13 July 2016, becoming the nation's second female PM after Margaret Thatcher.

Recommended Lists:

Recommended Lists:

Major Works

Theresa May held the office of Minister for Women and Equality from 2010 to September 2012. In this position she supported the Anti-Discrimination Laws enshrined in the Equality Act 2010 which came into effect in England, Wales and Scotland on 1 October 2010.

Awards & Achievements

The Fawcett Society nominated Theresa May as one of the Society's Inspiring Women of 2006.

She is the recipient of the Freedom of the City of London award.

In February 2013, BBC Radio 4's 'Woman's Hour 'described her as Britain's second most powerful woman.

Personal Life & Legacy

She met Phillip May while she was a student and married him in 1980. The couple could not have any children due to medical reasons. Her husband is an investment banker currently employed by Capital International.

A staunch Christian, she is a member of the Church of England and regularly worships at church on Sunday.

Translate Wiki

to Spanish, French, Hindi, Portuguese

Article Title

- Theresa May Biography

Author

- Editors, TheFamousPeople.com

Website

- TheFamousPeople.com

URL

-

https://www.thefamouspeople.com/profiles/theresa-may-7717.php

Last Updated

- October 18, 2017

---

---

---