Elfriede Jelinek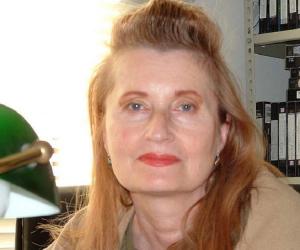 Quick Facts
Birthday: October 20, 1946
Nationality: Austrian
Famous: Nobel Laureates In Literature Novelists
Age: 72 Years, 72 Year Old Females
Sun Sign: Libra
Born in: Mürzzuschlag
Famous as: Novelist & Nobel Prize Winner in Literature
Height: 1.82 m
Family:
Spouse/Ex-: Gottfried Hüngsberg
father: Friedrich Jelinek
mother: Olga Ilona
religion: Judaism
Net worth: $32.7 Million as of January 25, 2017
More Facts
education: University of Vienna
awards: 2004 - Nobel Prize in Literature
2004 - Franz Kafka Prize
2002 - Heinrich Heine Prize
Continue Reading Below
Elfriede Jelinek is a Nobel Prize winning Austrian novelist and playwright. She is also one of the most controversial figures of this era. Brought up in Vienna, she made her literary debut with a book of poems. But soon she got involved with student movement and her writing changed direction. Her next work 'We Are Decoys Baby!' bears testimony to this transformation. Indeed, all through her life she has used pen to protest against the absurdities of life. She began by targeting the capitalist market, which tends to commodify man. Later on she became more vocal about oppression of women under the patriarchal system and female sexuality as well as sexual abuse became prominent topics in her works. She tried to show that power and aggression are often the main driving forces in any relationship. As a result many critics have dismissed her works as semi pornographic; but many more have been able to discover the truth behind them. She has received numerous awards for her novels and plays, including the 2004 Nobel Prize in Literature.
Recommended Lists:
Recommended Lists:
Continue Reading Below
Childhood & Early Years
Elfriede Jelinek was born on October 20, 1946, in Mürzzuschlag, Austria to a Czech Jewish father and a Roman Catholic Viennese mother. The family later shifted to Vienna and set up their home in the city.

She was mostly brought up by her mother, Olga Ilona née Buchner, a scion of a rich Viennese family. Olga worked as a personal manager in a large firm and had ambitious plans for her daughter.

Her father, Friedrich Jelinek, was a chemist with a middle class background. During the Second World War, he escaped persecution mainly because he worked in a strategically important production unit. However, many of their relatives died in the holocaust. Later, her father became psychologically unbalanced and Elfriede had to look after him.

In Vienna, Elfriede attended a Roman Catholic school and found the environment very restrictive. At the prodding of her mother, who wanted her to become a musician, she took lessons in organ, piano and recorder. Later, she also learned to play guitar, violin and viola.

After passing out from school in 1964, Elfriede took admission in Vienna Conservatory, now known as University of Music and Performing Arts. Simultaneously, she also enrolled at the University of Vienna to study art history and theatre.

It was a tough period for her because on one hand she was expected to meet her mother's high ambition and on the other, had to look after her mentally ill father. She soon developed anxiety disorder and for one year led a secluded life in her parent's home.

Consequently, she could not finish her courses in the University of Vienna. However, the period of seclusion was not at all wasted; she had started writing poetry at an early age and now she took up writing seriously and in 1967, published her first book of poems titled 'Lisas Schatten'.

Writing acted as a therapy for her and after one year she felt comfortable enough to venture out of home with her mother. In 1971, she passed out from Vienna Conservatory with an organist diploma

Recommended Lists:

Recommended Lists:

Career

Although Elfriede Jelinek made her literary debut with the publication of the poetry book titled 'Lisas Schatten' her writing soon took up a new direction. As she came in contact with student movements that swept through Europe during the 1970s, her writing became socially critical.

In 1970, Jelinek published her second work, a satirical novel titled 'wir sind lockvögel baby' (We Are Decoys Baby). Since then, she has penned twelve novels and more than thirty plays. In addition, she also has another book of poem published.

These works are deeply rooted in Austrian tradition and literature and at the same time, are centered on current issues. In all, they are a clear reflection of Jelinek's political as well as social views.

For example, her initial works targets the capitalist consumer society and its propensity to treat human beings as commodity. From the early 1980s, she is more vociferous about oppression of women in a patriarchal society. Then from the end of 1980s, she began to attack Austria's fascist past and anti Semitic present.

Apart from writing, Jelinek was also actively involved in politics. She was a member of the Communist Party of Austria from 1974 to 1991. Later she became a household name in Austria because of her strident opposition to Jörg Haider's Freedom Party.

When in 1999, coalition cabinet consisting of the Freedom Party and the Austrian People's Party was formed Jelinek became one of its vocal critics. Because of such protests, many foreign governments ostracized the government.

Austrian government construed such criticism as anti-national and Jelinek was among those who were accused of treason. Undeterred she went on with her protest and produced many socially relevant pieces.

Recommended Lists:

Recommended Lists:

Major Works

'Die Klavierspielerin' or the Piano Teacher, first published in 1983, is one of the major works of Elfriede Jelinek. It is also the first to be translated in English. It talks about a sexually and emotionally repressed piano teacher, who enters into a sadomasochistic relationship with her student. In 2001, the book was adapted for a French-Austrian film.

'Lust', first published in German in 1989 and translated in English in 1992, is another well-known book by the author. It talks about a woman who was sexually abused on daily basis first by her husband and then by an outsider. Ultimately, she drowns her son in a nearby stream.

Awards & Achievements

Jelinek received the Georg Büchner Prize in 1998. It is the most important literature prize for German language and is awarded annually to authors of German language whose writings help to shape German culture.

She has also received Mülheimer Dramatikerpreis four times'; first in 2002 and then in 2004, 2009 and 20011.

In 2004, she received the Nobel Prize in Literature "for her musical flow of voices and counter-voices in novels and plays that, with extraordinary linguistic zeal, reveal the absurdity of society's clichés and their subjugating power."

Personal Life & Legacy

Jelinek married Gottfried Hüngsberg on 12 June 1974. As Gottfried lives in Munich and she in Vienna, Jelinek has to travel between the two cities often enough. The couple does not have any children.

Trivia

It is said that the character of the mother in 'The Piano Teacher' is based on the character of her own mother.

Jelinek could not receive her Nobel Prize in person because she suffers from agoraphobia and social phobia, conditions which developed while she was in her early twenties.

Jelinek had revealed that these disorders have made it impossible for her to attend any ceremony, travel by air or go for a film show. She has also said that one of her wishes is to fly to New York and see the skyscrapers; a wish she knows will never be fulfilled.

Translate Wiki

to Spanish, French, Hindi, Portuguese

Article Title

- Elfriede Jelinek Biography

Author

- Editors, TheFamousPeople.com

Website

- TheFamousPeople.com

URL

-

https://www.thefamouspeople.com/profiles/elfriede-jelinek-7011.php

Last Updated

- November 02, 2017

---

---

---