Chief Seattle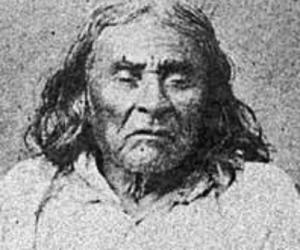 Quick Facts
Born: 1780
Nationality: American
Famous: Quotes By Chief Seattle Native Americans
Died At Age: 86
Born in: Blake Island
Family:
Spouse/Ex-: La-Dalia, Olahl
father: Shweabe
mother: Sholeetsa
children: Kikisoblu or Princess Angeline
Died on: June 7, 1866
place of death: Port Madison
Continue Reading Below
Chief Seattle was a famous 19th century American Indian chief of the Duwamish Tribe and the Suquamish Tribe. He is also known as Sealth, Seathle, Seathl, or See-ahth. He was a prominent leader of his times, much respected for his Native American wisdom and commitment towards maintaining the ecological balance of the ancestral lands that fell under his tribes' ownership. Much of his modern-day popularity stems from a widely publicized speech in favour of ecological responsibility of the Native Americans that has been attributed to him. However, the actual content of the speech is uncertain and much has been lost through translation and rewriting. The son of the chief of the Suquamish tribe, Seattle was groomed for leadership from an early age. He was a brave man and a courageous warrior known for defeating big armies of enemy tribal raiders. Upon becoming the Chief, it did not take him long to establish himself as a much feared and respected leader. However, he began to gradually lose his powers when the white settlers began invading the tribal lands. Knowing that it was not possible to defeat the more powerful Europeans, he chose to form friendly relations with the settlers, keeping in view the long-term safety of his tribes. The city of Seattle, in the state of Washington, has been named after him.
Recommended Lists:
Recommended Lists:
Continue Reading Below
Childhood & Early Life
Chief Seattle was born as Si'ahl or 'Sealth', to Shweabe. His father was from the Suquamish tribe and Sholeetsa (or Woodsholitsa), a native from the Duwamish tribe, around Blake Island, Washington.

He grew up speaking two different dialects of Lushootseed and was blessed with skill-sets from the two different tribes.

Once he was made the chief of the Duwamish tribe, it is believe that he sighted the ships from the Vancouver expedition, as they explored the region around the Salish Sea, which is now known as Puget Sound.

From a very young age, he earned the standing of an authoritative personality and was known for his leadership qualities.

Continue Reading Below

Recommended Lists:

Recommended Lists:

Later Life

He fought a number of invaders and tribes from the area belonging to the Olympic Peninsula, which helped augment his reputation as a leader. He ambushed a number of clans and eventually, gained control over six local tribes.

He earned the nickname 'Le Gros', which means 'The Big One' due to his height and towering presence.

In 1847, he led the Suquamish tribe in an attack near Port Townsend, which almost diminished the rival tribe to dust. During this battle, he lost one of his sons, which psychologically scarred him, after which, he decided to get baptized.

As he grew older, he started losing his stand to the even more powerful, Patkanim, of the Snohomish clan, who waged combat against the White Settlers when they tried to claim their plots.

When Sealth and his tribes were driven away from their homeland, he met and befriended a White Settler, David Swinson Maynard, who helped the chief in filing the primary plats for the town they resided in, which eventually came to be known as 'Seattle', in 1853. He also helped the chief establish peace with the neighboring tribes.

At the time, Seattle was a very distinctive establishment in the North American Plains, wherein, the Native Americans and the White occupants lived together in harmony.

From 1854 to 1855, he was made the spokesperson at a treaty council in Point Elliot, where he voiced his objections about conceding 2.5 million acres of land to the White Settlers.

Continue Reading Below

However, his efforts were in vain and he realized that the Whites were much larger in number and he signed the treaty. Problems arose, when the Duwamish were notified that they were not allotted a reservation, unlike the Suquamish, which made the former extremely bitter and resentful towards Sealth. This subsequently initiated the 'Yakima Indian War'.

During the Battle of Seattle in 1856, the chief refused to permit his tribe to participate in the war, because he believed that if they participated, there would be severe bloodshed between the Suquamish and the Duwamish tribes.

He maintained close ties with the White Settlers and even began amicable relationships with other settlers around his settlement. Around this time, his friend, Maynard, convinced the government to permit Sealth to do away with his father's longhouse at Agate Passage.

Towards the end of his life, he participated in resolving native disputes and frequented the new town that was named after him.

Personal Life & Legacy

Sealth had many wives from a village called 'Tola'ltu'. He had a daughter from his first wife, La-Dalia, who died during childbirth. He then had four daughters and three sons with his second wife, Olah.

He was christened as 'Noah' in a Roman Catholic Church in 1848, close to Olympia, Washington.

Continue Reading Below

He passed away at Port Madison, Washington and his remains were interred at the Suquamish Tribal Cemetery.

His grave was restored in 1976 and once again, in 2011, where a Native American sculpture was added to the gravesite.

There are certain days known as 'Chief Seattle Days', which are celebrated by the Suquamish people who exist even today.

The city of Seattle, one of the major seaports in North America, was named after this great leader.

In 2012, the 'Chief Sealth Trail' was named after Chief Seattle.

Trivia

Translate Wiki

to Spanish, French, Hindi, Portuguese

Article Title

- Chief Seattle Biography

Author

- Editors, TheFamousPeople.com

Website

- TheFamousPeople.com

URL

-

https://www.thefamouspeople.com/profiles/chief-seattle-1043.php

Last Updated

- June 04, 2017

---

---

---