Bernie Sanders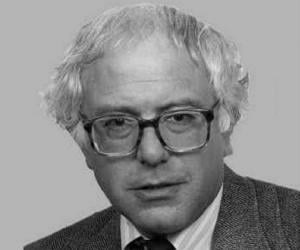 Quick Facts
Birthday: September 8, 1941
Nationality: American
Famous: Quotes By Bernie Sanders Political Leaders
Age: 77 Years, 77 Year Old Males
Sun Sign: Virgo
Born in: Brooklyn
Famous as: Politician
Height: 6'0" (183 cm), 6'0" Males
political ideology: (2015–2016) - Political party Democratic, (1979–2015) - Independent, (1971–1979) - Liberty Union - Other political - affiliations
Family:
Spouse/Ex-: Jane O'Meara Sanders
father: Eli Sanders
mother: Dorothy Sanders
siblings: Larry Sanders
children: Carina Sanders, David Sanders, Heather Sanders, Levi Sanders
Personality: ENTJ
City: New York City
U.S. State: New Yorkers
More Facts
education: 1964 - University of Chicago, Brooklyn College, James Madison High School
awards: Col. Arthur T. Marix Congressional Leadership Award
Continue Reading Below
Bernie Sanders is an American politician and a candidate for Democratic nomination for President of the United States in the 2016 U.S. presidential election. Presently, he is a senator from Vermont, and though a Democrat at the moment, he had been the longest-serving independent in U.S. congressional history. A politician with an illustrious career spanning several decades, he had previously served for two years as chair of the Senate Veterans' Affairs Committee and is a co-founder of the Congressional Progressive Caucus. Born in Brooklyn as the son of Jewish immigrants from Poland, he was raised in a middle-class family. Intelligent and ambitious from a young age, he went to the University of Chicago where he became involved in the civil rights movement and served as an organizer for the Student Nonviolent Coordinating Committee. His interest in politics further developed in the following years and he was elected mayor of Burlington, Vermont's most populous city, in 1981. He proved to be a popular politician and went on to win a seat in the U.S. House of Representatives. An independent, he entered into a caucus with the Democrats as his prominence in the national political arena grew. In 2015 he announced his plans to run for the Democratic presidential nomination.
Recommended Lists:
Recommended Lists:
Continue Reading Below
Childhood & Early Life
Bernie Sanders was born on September 8, 1941 in Brooklyn, to Dorothy and Eli Sanders, Jewish immigrants from Poland. His father worked as a paint salesman and the family was a middle-class one.

He grew up witnessing the horrors wrecked by the World War II and as a result became interested in politics. He was a good student and performed well in his school, the James Madison High School. His mother died shortly after his graduation and his father followed suit three years later.

Sanders studied at Brooklyn College for a year in 1959–60 before moving to the University of Chicago. He was involved in the civil rights movement and served as an organizer for the Student Nonviolent Coordinating Committee during his college days. He graduated with a Bachelor of Arts degree in political science in 1964.

Recommended Lists:

Recommended Lists:

Career

Bernie Sanders spent the next few years working in a succession of jobs including stints as a filmmaker and freelance writer. He also spent several months on an Israeli kibbutz. His interest in politics grew during the 1960s and he began his political career in 1971 as a member of the Liberty Union Party.

He started working as a writer and the director of the nonprofit American People's Historical Society (APHS) after leaving the Liberty Union. In 1981, he was elected mayor of Burlington, Vermont, by only 12 votes.

He implemented major reforms in progressive taxation, environmental protection, child care, women's rights, youth programs and the arts. As mayor, he proved to be a very popular one and was ultimately re-elected three times, defeating both Democratic and Republican candidates.

In 1990, he won a seat in the U.S. House of Representatives. An independent candidate, he now needed to find political allies to advance his issues. So he entered into a caucus with the Democrats and co-founded the Congressional Progressive Caucus. As outspoken man, he vocally criticized the Iraq War and was concerned about the social and financial impact it would cause. Sanders served in the House from 1991 until he became a senator.

In 2006 he ran for the Senate against Republican businessman Richard Tarrant. He won the election and assumed office as United States Senator from Vermont on January 3, 2007.

As senator, Sanders posted an open letter to Treasury Secretary Henry Paulson decrying the initial bank bailout proposal. in 2008, and received much media attention for his 8½-hour speech against the Tax Relief, Unemployment Insurance Reauthorization, and Job Creation Act of 2010.

Already a much beloved politician, he received even greater acclaim following the speech. The citizens, impressed by his outspoken stance on tax and insurance, signed online petitions urging Sanders to run for the 2012 presidential election. He even received encouragement from prominent personalities like Rabbi Michael Lerner and economist David Korten who supported his progressive views.

Continue Reading Below

As a senator he has served on several committees such as the Committee on Budget; the Committee on Health, Education, Labor and Pensions; the Committee on Veterans Affairs and the Joint Economic Committee. Sanders is also a member of the U.S. Senate Committee on Environment and Public Works and the Energy and Natural Resources Committee.

Bernie Sanders has always been critical of U.S. foreign policy and an outspoken opponent of the Iraq War. He supports LGBT and civil rights and opposes racial discrimination in the criminal justice system and mass surveillance policies. In 2015, he announced that he was seeking the presidential nomination for the Democratic Party in the 2016 U.S. presidential election.

Recommended Lists:

Recommended Lists:

Major Works

Bernie Sanders is very popular as an U.S. Senator. He delivered an 8½-hour speech against the Tax Relief, Unemployment Insurance Reauthorization, and Job Creation Act of 2010 which gained him many supporters. His speech was published in February 2011 by 'Nation Books' as 'The Speech: A Historic Filibuster on Corporate Greed and the Decline of Our Middle Class'.

Personal Life & Legacy

Bernie Sanders was once married to Deborah Shiling who he divorced, in 1966. Then he became involved with Susan Campbell Mott who gave birth to his son, in 1969.

Years later in 1988, he tied the knot again with Jane O'Meara Driscoll. He considers Jane's three children from a previous relationship as his own. He also has seven grandchildren.

Net Worth

Bernie Sanders has an estimated net worth of $700,000.

Translate Wiki

to Spanish, French, Hindi, Portuguese

Article Title

- Bernie Sanders Biography

Author

- Editors, TheFamousPeople.com

Website

- TheFamousPeople.com

URL

-

https://www.thefamouspeople.com/profiles/bernie-sanders-6968.php

Last Updated

- July 19, 2017

---

---

---