Siaka Stevens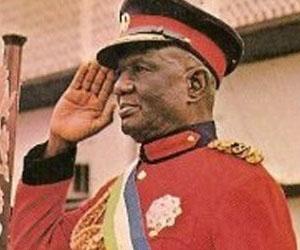 Quick Facts
Nationality: Sierra Leonean
Famous: Dictators Presidents
Died At Age: 82
Sun Sign: Virgo
Also Known As: Siaka Probyn Stevens
Born in: Moyamba
Famous as: 1st President of Sierra Leone
Family:
children: Jengo Stevens
place of death: Freetown
Founder/Co-Founder: All People's Congress
More Facts
education: Ruskin College, Fourah Bay College
Continue Reading Below
Siaka Probyn Stevens was the third Prime Minister of Sierra Leone who later became the first President of the country. After completing his secondary education, he started his career with the Sierra Leone Police Force and went on to serve as a mine worker before founding the United Mine Workers Union. Later he joined politics and represented the Sierra Leone People's Party (SLPP) in the Protectorate Assembly, becoming Minister of Lands, Mines, and Labour. But after a series of disagreements on leadership issues, he left SLPP and formed People's National Party, which also expelled him upon his disagreement regarding some political issues. Then he formed his own All People's Congress (APC) and became the opposition leader until the APC won the 1967 general elections. He was sworn in as the Prime Minister but was overthrown in a military coup only days after being sworn in, only to be recalled after some time. Later, with the introduction of republic constitution, he became the first President of Sierra Leone. During his tenure he faced criticism for his dictatorship though his later years in office saw the progressive lessening of cultural and regional tensions and the creation of a more homogeneous political community in the country. He survived in office despite attempted rebellions and almost continual charges of gross mismanagement and governmental corruption.
Recommended Lists:
Recommended Lists:
Childhood & Early Life
He was born on August 24, 1905 in Moyamba district of Sierra Leone, to a 'Limba' father and a 'Mende' mother. He spent most of his childhood in Freetown, a major city and capital of Sierra Leone.

He received his early education from primary schools in Freetown. Later, he attended the 'Albert Academy' in Freetown and completed his secondary education.

Recommended Lists:

Recommended Lists:

Career

Upon leaving school, he joined the Sierra Leone Police Force where he served from 1923 to 1930. During this time, he rose to the rank of First Class Sergeant and Musketry Instructor.

From 1931 to 1946, he worked on the construction of the Sierra Leone Development Company (DELCO) railway, linking the Port of Pepel with the iron ore mines at Marampa. In 1943, he co-founded the 'United Mine Workers Union'.

In 1946, he was elected to the Protectorate Assembly to represent worker interests. The following year, he took classes on 'Labour Relations' at Ruskin College.

In 1951, he co-founded the Sierra Leone People's Party (SLPP) and was elected to the Legislative Council. A year later, he represented SLPP in the Protectorate Assembly and became the 'Minister of Mines, Lands and Labour', a post he served until 1957.

In 1957, he was elected to the House of Representatives as a member for Port Loko constituency, but lost his seat as a result of an election petition the following year.

From 1958 to 1962, he served as the 'Member of Parliament of Sierra Leone' from Western Area Urban District.

After disagreements with the SLPP leadership, he left the party and co-founded the 'People's National Party' (PNP), of which he became the first Secretary-General and Deputy Leader. In 1959, when the United National Front (UNF) government was formed, he participated in the Independence Talks in London as the Deputy Leader of the PNP, which had then become part of the UNF.

Continue Reading Below

After the talks, he was the only delegate who refused to sign the Independence Agreement and was thus expelled from the PNP upon his return. Then he launched the 'Elections Before Independence Movement' (EBIM), which later became the 'All People's Congress' (APC) Party.

In the 1962 general elections, his party became the main opposition party, winning 16 seats, and he returned to parliament as member of Freetown West II. From 1962 to 1966, he served as the Mayor of the Freetown.

In the 1967 general elections, APC won by an extremely narrow margin, and he became the third Prime Minister of Sierra Leone. But within minutes of taking office, he was arrested during a military coup.After a brief period of military rule, he reassumed the post of Prime Minister in 1968.

In April 1971, a republican constitution was introduced and was ratified by the House of Representatives. On April 21, 1971, he became the first President of the Republic of Sierra Leone, with wide executive and legislative powers.

In 1973, the first general elections under the Republican Constitution were held which were marked by violence and political intimidation. As a result, the opposition party, SLPP, withdrew its nomination and gave the APC all the 85 seats in the House of Representatives.

In 1976, he was re-elected as the President without any opposition.In 1978, two years after being re-elected for a five-year term, he was sworn in for an additional term of seven years. The same year also marked the introduction of a one party constitution, and the end of opposition parties in Sierra Leone.

On November 28, 1985, he retired from office at the end of his term.

Personal Life & Legacy

He was married to Rebecca Stevens and the couple had 11 children together.

He died on May 29, 1988 in Freetown, Sierra Leone, at the age of 82.

Translate Wiki

to Spanish, French, Hindi, Portuguese

Article Title

- Siaka Stevens Biography

Author

- Editors, TheFamousPeople.com

Website

- TheFamousPeople.com

URL

-

https://www.thefamouspeople.com/profiles/siaka-stevens-5547.php

Last Updated

- November 02, 2017

---

---

---