Martin Lawrence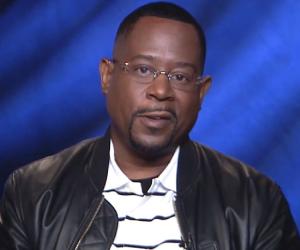 Quick Facts
Nationality: American
Famous: Black Comedians African American Actors
Age: 53 Years, 53 Year Old Males
Sun Sign: Aries
Also Known As: Martin Fitzgerald Lawrence
Born Country: Germany
Born in: Frankfurt
Famous as: Actor, Comedian
Height: 1.71 m
Family:
Spouse/Ex-: Patricia Southall (m. 1995–1996), Shamicka Gibbs (m. 2010–2012), Shamicka Lawrence (m. 2010)
children: Amara Trinity Lawrence, Iyanna Faith Lawrence, Jasmine Page Lawrence
Continue Reading Below
Martin Lawrence is an American actor, producer, stand-up comedian, and a writer. He was at the peak of his career in the 1990s, with lead roles in several successful films and TV series. He was born in West Germany, where his father was stationed as a member of the American military. As a teenager, he dreamt of being a boxer and was really good at it. However, an unfortunate injury made him rethink his career choices. Once out of university, he immediately landed in New York City to search for acting jobs and went to 'The Improv,' one of America's most well-known comedy clubs. His performance impressed a few senior executives from 'Columbia Pictures,' and he was immediately hired to be part of the show 'What's Happening Now!!,' which marked his first acting job. In 1989, he appeared in the film 'Do the Right Thing,' which turned out to be his major career breakthrough. In the 1990s, he appeared in films such as 'Bad Boys' and 'Big Momma's House' and established himself in the industry. Of late, Martin has been maintaining a low-key life, giving rise to a lot of speculations about his health and personal life.
Continue Reading Below
Childhood & Early Life
Martin Fitzgerald Lawrence was born on April 16, 1965, in Frankfurt, Germany. His parents served in the US military there. He was the fourth of the six children in the family and was christened after the famous civil rights activist Martin Luther King Jr. and President John Fitzgerald Kennedy. Once his parents' service in Germany ended, they came back to the US, where his father started working as a police officer.

His parents fought quite often, and this often made his mother sad. Martin once said that he had a rare ability to make anybody laugh in any situation and that he often made his mother laugh even in times of sadness. His parents divorced when Martin was 8 years old, and Martin stayed back with his mother. His mother had six children to look after as a single mother had to work many jobs to make ends meet.

In school, Martin was a bright student and was also proactive in a lot of activities. His teachers would sometimes ask him to make the class laugh. He was also interested in sports, especially in boxing.

He was so much in love with boxing that he seriously considered making a career out of it. His mother frequently moved from place to place due to her jobs, and as a result, Martin attended four different schools before completing his education. He also developed a keen interest in acting, but boxing remained his first love.

In his teenage years, he was at the peak of his boxing career. He was a 'Mid-Atlantic Golden Gloves' boxing contender. However, he once got his eye badly injured while boxing, which had him rethinking about his career choice. Soon, he decided to give comedy and acting a try and moved to New York.

Recommended Lists:

Recommended Lists:

Career

After looking around for auditions for a while, Martin went to 'The Improv,' the legendary American comedy club franchise, where he was immediately accepted. In the late 1980s comedy clubs had become a serious cultural phenomenon. Martin's excellence in comedy had him winning a performance spot on the TV show 'Star Search,' which had candidates competing in different genres of entertainment. Although he reached the finals, he could not win. However, this stint gave him a lot of exposure.

A few executives of one of the biggest American studios, 'Columbia Pictures,' saw his performance and asked him to audition for a role in 'What's Happening Now!!,' their latest comedy series. Martin was selected to play the role, and this turned out to be the first major breakthrough of his career. Martin remained a part of the sitcom for about a year, before it was canceled in 1987.

By then, Martin had done enough to get himself noticed by industry stalwarts and had started getting significant offers. He appeared in films such as 'House Party,' 'Do the Right Thing,' and 'Boomerang.' He also did a few guest roles in the TV series 'Private Times' and 'Hammer, Slammer, & Slade.' The 1992 Eddie Murphy-starrer 'Boomerang' was one of his most popular films and helped him get famous in Hollywood.

Soon, 'HBO' hired him to host their comedy show 'Def Comedy Jam,' which was known to give new comedians proper mainstream exposure. Following his successful stint as a host, Martin started appearing in 'Martin,' his own TV show on 'Fox.' The show was a mega hit and became the most popular show on the entire 'Fox' network and even helped the channel compete with 'NBC.'

In 1994, Martin hosted 'Saturday Night Live' but got a little carried away and made a few sexist and crude jokes. Although the offensive parts were removed from the reruns, following an uproar, Martin was banned from the show for life.

In 1995, he starred in 'Bad Boys,' a buddy-cop action–comedy film, which saw him appear alongside Will Smith. The film received accolades from both critics and audiences. Thus, Martin was at the peak of his career in the mid-1990s. In 1997, 'Martin' aired its last episode. Martin soon started doing more films. His impeccable comic timing had him earning significant comedy roles.

In the late 1990s and the early 2000s, Martin appeared in many successful films such as 'Life,' 'Nothing to Lose,' and 'Big Momma's House.' Despite the colossal failures of films such as 'National Security' and 'Black Knight,' his popularity increased with time. In the mid-2000s, he starred in two successful sequels, 'Big Momma's House 2' and 'Bad Boys 2.'

He also starred in a major role in the 2007 film 'Wild Hogs,' which also starred John Travolta. He lent his voice to the animated comedy film 'Open Season' in 2006 and appeared in the family comedy 'College Road Trip' in 2008. In 2011, he appeared in the third instalment of the 'Big Momma' series: Big Mommas: Like Father, Like Son.'

In 2014, he appeared in the sitcom 'Partners,' and in the same year, he announced that the script for 'Bad Boys 3' was ready. He has been away from the limelight for quite a few years now.

Recommended Lists:

Recommended Lists:

Personal Life

Martin Lawrence dated actor Lark Voorhies in the early 1990s and got engaged to her in 1993. However, the relationship ended soon. In 1995, he married former Miss Virginia USA, Patricia Southall. The couple had a daughter in 1996. However, they divorced the next year.

In 1997, Martin started dating Shamicka Gibbs, and eventually got married to her in 2010. Martin's close friends Eddie Murphy and Denzel Washington were among the guests at his wedding. The couple then had two daughters, Iyanna Faith and Amara Trinity. However, two years into the marriage, the couple started having issues, and in 2012, Martin filed for divorce.

In August 1999, Martin was rushed to hospital after collapsing during the shoot of 'Big Momma's House.' He had an extremely high fever due to heat exhaustion and he narrowly escaped death.

Recommended Lists:

Recommended Lists:

1. Do the Right Thing (1989)

(Drama, Comedy)

2. Bad Boys (1995)

(Thriller, Drama, Action, Comedy, Crime)

---

3. Nothing to Lose (1997)

(Comedy, Action, Adventure, Crime)

4. Life (1999)

(Crime, Comedy, Drama)

---

---

5. Bad Boys II (2003)

(Comedy, Action, Thriller, Crime)

6. House Party (1990)

(Romance, Comedy, Music)

---

---

---

7. Blue Streak (1999)

(Comedy, Thriller, Action, Crime)

8. Wild Hogs (2007)

(Adventure, Comedy, Action)

---

---

---

---

Translate Wiki

to Spanish, French, Hindi, Portuguese

Article Title

- Martin Lawrence Biography

Author

- Editors, TheFamousPeople.com

Website

- TheFamousPeople.com

URL

-

https://www.thefamouspeople.com/profiles/martin-lawrence-30201.php

Last Updated

- April 02, 2018

---

---

---