James K. Polk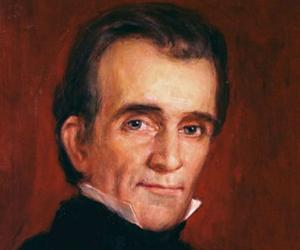 Quick Facts
Birthday: November 2, 1795
Nationality: American
Famous: Political Leaders American Men
Died At Age: 53
Sun Sign: Scorpio
Born in: Pineville
political ideology: Democratic
Family:
Spouse/Ex-: Sarah Childress
father: Samuel Polk
mother: Jane Polk
place of death: Nashville
More Facts
education: University of North Carolina at Chapel Hill
Continue Reading Below
James Knox Polk has the distinction of not only being the 11th President of the United States of America but for also being the youngest among all who had graced this prestigious post till that time. Today, he is remembered as a man of unblemished character, who as per his word retired after serving a single presidential term, whereas if he wished, he could have easily won the reelection as popular sentiment was with him. He was responsible for exponentially extending the territories of America, in fact he added around million square miles to it. The regions James K. Polk, brought under the union included, Arizona, Utah, Nevada, California, Oregon, Idaho, Washington, a large part of New Mexico, and areas of Wyoming, Montana, and Colorado. He was a firm believer in the in the concept of "Manifest Destiny," as per which, it was thought that it was the United States preordained right to establish its republican ideology and system across the continent of North America. James K. Polk managed to achieve all the aims and objectives that he had set for himself before taking up the presidency. Read his biography to know more about this extraordinary statesman and leader.
Recommended Lists:
Recommended Lists:
Continue Reading Below
Childhood & Early Life
His father, named Samuel Polk was a successful farmer and slaveholder of Scottish-Irish origin, whereas his mother, named Jane Polk was the descendent of "John Knox" a Scottish religious reformer.

As a child Polk suffered from various health issues and was home schooled. In 1812, he had to go under the knife in order to get his urinary stones removed.

He took admission at the Zion Church close to his home, in July 1813 and a year later transferred to Murfreesboro, where he shined brilliantly as a student.

Later in 1816, he once again changed institutes and migrated to the University of North Carolina, from where he graduated with honors in 1818.

After graduation, he did apprenticeship under Felix Grundy, who was a well-known Nashville trial attorney.

In 1820, he was accepted by the bar and had a successful practice, as debt related litigations had increased phenomenally after the Panic of 1819.

Continue Reading Below

Recommended Lists:

Recommended Lists:

Career

His career in politics began, when he became a member to the Tennessee legislature in 1823, where he came in close contact with Andrew Jackson.

In 1825, Polk successfully ran for the United States House of Representatives and served as the speaker of the House from 1835 till 1839.

He left the Congress in 1839, to take up the post of governor of Tennessee.

In the 1844 presidential elections, Polk was counted as the frontrunner for the post of Vice President on the Democratic ticket, whereas Martin Van Buren was being eyed as their presidential candidate.

During these elections, when both the presidential candidates from Democratic as well as from the Whig Party, did not pursue the expansionist agenda, Polk took the clear stand in its support.

This aggressive stand won Polk, Andrew Jackson's support and as result, he was able to secure the Democratic nomination for the presidency with a thin margin.

He won the popular vote by a huge margin and as far as the Electoral College was concerned, he won 170 votes, in comparison with 105 won by his Whig Party opponent Henry Clay of Kentucky.

Continue Reading Below

On March 4, 1845, at the age of 49, he became the youngest American President of that time.

As soon as he took over the presidency, he started working on his objectives; fist step in the direction was signing the bill, which restored the Independent Treasury System, which he did in 1846.

On August 3, 1846 he vetoed the Rivers and Harbors Bill that had been passed by the Congress.

He pressurized Great Britain, to resolve the ownership issue of the Oregon territory and was able to get the Oregon Treaty of 1846 signed. As per which the Oregon was divided along the 49th parallel between the two nations.

Amidst growing tensions with Mexico, Polk in his submission to Congress on May 11, 1846, asked for their support to invade Mexico, which he received from overwhelming majority of senators.

After several bloody battles in 1848, Mexico surrendered and signed the Treaty of Guadalupe Hidalgo, which was ratified by Polk.

In March, 1849, as one of his last presidential acts he created the Department of the Interior.

Continue Reading Below

His term as President of the United States ended on March 4, 1849 and as promised he did not run for the second term.

Personal Life & Legacy

He married Sarah Childress, who was a well-educated woman from Tennessee. At the time of marriage she was 20 years old and Polk was 28. They did not have any children.

He died at a young age of 53, at Polk Place, in Nashville, Tennessee, on June 15, 1849 just after three months of retirement from the presidency. It is believed that he had contracted cholera during his goodwill tour of the South.

The United States Postal Service, issued several stamps to honor Polk, the latest was released in 1995 on Polk's 200th birth anniversary.

His image was imprinted on Presidential $1 Coin Program coin, which was released on February 7, 2009.

As a much loved president several counties in various states across America have been named after Polk. Besides this the Polk City in Florida and another in Iowa are also his namesakes.

Various educational institutions have also been named after him like James K. Polk Elementary School in Virginia and Polk Place, in University of North Carolina.

Trivia

His body was interred at the grounds of Polk Place and his last dying words were for his wife, he said "I love you, Sarah. For all eternity, I love you."

His was the shortest retirement of all the Presidents of the U.S.A. It lasted just 103 days.

At his inaugural ball, the dancing and music were halted, due to his wife's religious conviction and only when the presidential couple left, the merriment began.

Translate Wiki

to Spanish, French, Hindi, Portuguese

Article Title

- James K. Polk Biography

Author

- Editors, TheFamousPeople.com

Website

- TheFamousPeople.com

URL

-

https://www.thefamouspeople.com/profiles/james-k-polk-3278.php

Last Updated

- September 25, 2017

---

---

---