Hu Jintao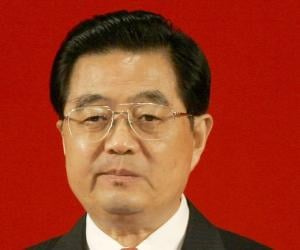 Quick Facts
Birthday: December 21, 1942
Nationality: Chinese
Famous: Presidents Political Leaders
Age: 76 Years, 76 Year Old Males
Sun Sign: Sagittarius
Also Known As: Hu Jintao
Born in: Taizhou
Famous as: Former General Secretary of the Communist Party of China
Height: 1.73 m
political ideology: Communist Party
Family:
Spouse/Ex-: Liu Yongqing
father: Hu Jingzhi
mother: Li Wenrui
siblings: Hu Jinlai, Hu Jinrong
children: Hu Haifeng, Hu Haiqing
Ideology: Communists
More Facts
education: Tsinghua University
Continue Reading Below
Popularly adjudged by the media as the second most powerful person in the world, Hu Jintao is a former leader of the Communist Party of China. He served as the General Secretary of the Communist Party of China from 2002 to 2012, Chairman of the CPC Central Military Commission from 2004 to 2012 and President of the People's Republic of China from 2003 to 2013. He took the reins of the country at a time when China was facing immense internal social, political and environmental problems. There was a wide economic gap amongst the people of the country that caused dissatisfaction and anger in the minds of the citizen. Furthermore, the level of corruption was remarkably high and spread to all the sectors, including civil, military, educational, judicial and medical systems. Jntao, with his will power and futuristic vision, worked relentlessly introducing newer reforms and greater control to transform the country to being a major world power. He brought forth consistent economic growth and development and sought to bridge the socio-economic gap and bring about equality. For the same he launched several programs, including the '8 Honours and 8 Shames' movement which aimed to promote a selfless and moral outlook in people. To know more about his life and contributions, browse further.
Recommended Lists:
Recommended Lists:
Continue Reading Below
Childhood & Early Life
Hun Jintao was born in a poor and underprivileged family in Taizhou, Jiangsu. His mother died when he was seven and was raised by an aunt. His father who owned a tea business was denounced during the Cultural Revolution, an incident that left a deep embedded effect on Hu.

Academically, he was extremely proficient in both regular studies and extracurricular activities. After attaining his early education, he enrolled at the Tsinghua University to study hydraulic engineering.

While at the university, he became the chairman of the Tsinghue Student Union and joined the Communist Party of China. He graduated from the university in 1965.

Continue Reading Below

Recommended Lists:

Recommended Lists:

Career

He rendered his services for the Gansu and worked for the construction of Liujiaxia Hydroelectric Station. Meanwhile, he managed party affairs as well under the branch of the Ministry of Water Resources and Electric Power.

From 1969 until 1974, he was employed as an engineer Sinohydro Engineering Bureau. He was promoted to the position of the Vice Senior Chief by 1974.

In 1980, he was discovered by Song Ping, the first secretary of CPC Gansu Committee as a young, knowledgeable, specialized and revolutionary communist leader. Song Ping served as his mentor and introduced him to CCP General Secretary Hu Yaobang.

Within a frame of time, he moved up the ranks and was promoted the position of Communist Youth League Gansu Branch Secretary in 1982. Furthermore, he held the chair of the Director of the All-China Youth Federation.

Same year, he moved to Beijing where after a brief period of study at the Central Party School, he was appointed as the secretary of the Communist Youth League Central Committee. After two years, he became First Secretary of CY Central.

Year 1985 saw the appointed of him as the provincial Committee Secretary of Communist Party of China. In his new capacity, he brought about several educational and economic reforms.

The forced resignation of Hu Yaobang in 1987 led to his appointment as the Party Regional Committee Secretary of the Tibetan Autonomous Region in 1988. Additionally, he also assumed the role of a Political commissar of the local People's Liberation Army.

Continue Reading Below

The years 1988 and 1989 were marked as a period of unrest and ethnic conflict in Tibet as anti-Han Chinese sentiments brewed amongst local well-placed Tibetans. The riot enhanced largely due to increasing clashes and Tibetan uprising. He finally declared martial law in 1989 in order to curb the revolution.

His actions earned him unmatched attention from the people in the upper ranks of party power. He was one of the first regional leaders to declare his support for the central authorities.

In 1990, due to high-altitude sickness, he made a comeback to Beijing. Two years later, on the recommendation of his mentor Song Ping, he became one of the seven members of the Politburo Standing Committee. He was the youngest PSC member ever.

As the Secretary of the Communist Party of China, he was responsible for the day-to-day operations of the Central Committee and the Central Party School. He was even liable for the ideological work of CPC. It was through this position that he established networks throughout the party.

In 1998, he became Vice President of China and the following year became Vice President of the CCP Central Military Commission. Same year, he raised his voice during the NATO bombing of the Chinese embassy in Belgrade.

By 2002, he succeeded Jiang as General Secretary of the CCP in the Sixteenth National Congress of the Communist Party of China. Following this, in 2003, he was elected as the President of China by the National People's Congress.

During his tenure as the General Secretary, he proposed several reforms for the betterment of the society. He initiated Socialist Harmonious Society which aimed at lessening inequality. For the same, he ventured to the poverty stricken areas of China for a better understanding of the situation.

Continue Reading Below

Another reform that he emphasized on was causing less environmental damage and using green and environment friendly domestic products. Under his leadership, the party changed from being a revolutionary party to a ruling party. He modernized the party invoking advancement and increasing transparency in the governance.

Essentially, he strived to establish a country which was marked by tremendous economic growth, a free market, cultural enlightenment and a humanistic approach to the diverse social issues.

During his term, he stopped a number of activities and traditions which had been continuing for long and which he thought did nothing to add towards progress except corruption. Some such events were lavish send-offs and welcome of Chinese leaders visiting foreign land, yearly meetings of the cadres at Beidaihe seaside retreat and so on.

However, his tenure was marked by several downfalls as well.

In 2006, he launched the '8 Honours and 8 Shames' movement to promote a more selfless and moral outlook amongst the population. Alternatively known as 'Eight Honors and Disgraces', it contained eight poetic lines which summarized what a good citizen should regard as an honor and what he/she should regard as a shame.

For his relentless focus and the futuristic thought, he was re-elected as General Secretary of the Central Committee and Chairman of the CPC Central Military Commission on October 22, 2007. Following year, he was re-elected as President and as Chairman of the PRC Central Military Commission.

In 2012, he stepped down as general secretary and also gave up his post of chairman of CMC. He was succeeded by Xi Jinping who took over both the offices.

Recommended Lists:

Recommended Lists:

Personal Life & Legacy

He tied the nuptial knot with Liu Yongqing. The couple has been blessed with two children, Hu Haifeng and Hu Haiqing.

Trivia

He is known as a Paramount leader of China, as he held three of the most important positions together, Communist Party General Secretary 2002-2012, President 2003-2013 and Commander in Chief 2004-2012.

Translate Wiki

to Spanish, French, Hindi, Portuguese

Article Title

- Hu Jintao Biography

Author

- Editors, TheFamousPeople.com

Website

- TheFamousPeople.com

URL

-

https://www.thefamouspeople.com/profiles/hu-jintao-3849.php

Last Updated

- October 05, 2017

---

---

---