Edwidge Danticat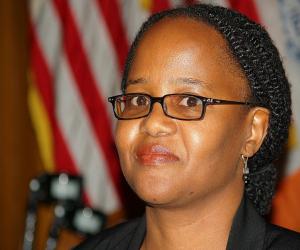 Quick Facts
Birthday: January 19, 1969
Nationality: Haitian
Famous: Novelists Short Story Writers
Age: 50 Years, 50 Year Old Females
Sun Sign: Capricorn
Born in: Port-au-Prince
Famous as: Author
Family:
Spouse/Ex-: Fedo Boyer
father: André Danticat
mother: Rose Danticat
siblings: André Danticat
children: Leila Boyer, Mira Boyer
City: Port-au-Prince, Haiti
More Facts
education: Brown University, Barnard College, Clara Barton High School
awards: 1994 - Fiction Award The Caribbean Writer
1995 - Woman of Achievement Award
Barnard College
Pushcart Short Story Prize for
Continue Reading Below
Edwidge Danticat is a Haitian-American author whose literary works emphasize on the lives of women and their relationships. Her own life experiences have provided background and inspiration for her writing. Her short stories and novels focus on recurring themes such as migration, sexuality, gender and history. Her parents immigrated to New York without her and she was raised by her uncle and aunt. It was during these early years that she was influenced by the Haitian practice of story-telling and developed interest in writing. At the age of twelve, she joined her parents in Brooklyn but felt uncomfortable adjusting to the new city and its culture, only to find peace in literary works. After receiving a BA in French literature from Barnard College, she earned her Master of Fine Arts degree where, as her thesis, she laid the foundation of her first novel 'Breath, Eyes, Memory'. She went on to achieve unparalleled success as a novelist and short-story writer through her numerous critically acclaimed works. Edwidge Danticat is also a strong supporter of issues affecting Haitians abroad and at home. Drawing on her experiences as a Haitian-American she writes about one of the most under-represented cultures in American literature, using a style which is both poetic and passionate. Her work has been translated into several languages including Korean, Italian, German, Spanish and Swedish. She is now widely considered to be one of the most talented authors in the United States.
Recommended Lists:
Recommended Lists:
Continue Reading Below
Childhood & Early Life
Edwidge Danticat was born on January 19, 1969 in in Port-au-Prince, Haiti, to André, and his wife, Rose. When she was a child, her parents immigrated to New York, initially her father, followed by her mother two years later.

As a result, she and her younger brother, André, were raised by her aunt and uncle. Although, she received her formal education in French, she used to speak Kreyòl language at home and began writing at the age of nine.

At the age of 12, she moved to United States to live with her parents in a heavily Haitian American neighborhood. As an immigrant teenager, she was unable to adjust in her new surroundings and thus turned to literature for comfort.

At the age of 14, she published her first writing in English titled 'A Haitian-American Christmas: Cremace and Creole Theatre' followed by 'A New World Full of Strangers' in a citywide magazine written by teenagers.

She graduated from Clara Barton High School in Brooklyn, New York, and was then enrolled at the Barnard College in New York City. She completed her BA in French literature and went on to obtain a Master of Fine Arts degree in Creative Writing from Brown University in 1993.

Continue Reading Below

Recommended Lists:

Recommended Lists:

Career

In 1994, Edwidge Danticat published her first novel 'Breath, Eyes, Memory' based on her post graduate thesis entitled "My turn in the fire – an abridged novel".

Her short stories have been published in over 25 periodicals and also anthologized several times. Her works have been translated into numerous other languages, including Japanese, French, Korean, German, Italian, Spanish, and Swedish.

Edwidge Danticat has been a teacher of creative writing at the New York University and the University of Miami. She has also worked on projects on Haitian art and documentaries about Haïti.

Some of her published works include: 'The Farming of Bones' (1998), 'Behind the Mountains' (2002), 'Brother, I'm Dying' (2007), 'Create Dangerously: The Immigrant Artist at Work' (2010), and 'Claire of the Sea Light' (2013).

She is also the author of popular short stories such as, 'The Book of the Dead' (1999), 'Ghosts' (2009), and the most recent one titled 'Quality Control' (2015).

Major Works

One of her most notable works is her first novel 'Breath, Eyes, Memory' published in 1994. The novel is written in a first person narrative format and deals with questions of racial, linguistic and gender identity in interconnected ways.

Continue Reading Below

Another one of Edwidge Danticat's acclaimed works is the 2004 book 'The Dew Breaker' which can be read either as a novel or collection of short stories. It is a series of interconnected stories about a Haitian immigrant who had tortured and murdered dissidents during the repressive rule of Franƈois Duvalier.

Awards & Achievements

In 1995, she received the 'Woman of Achievement Award' from Barnard College.

In 1996, she was conferred with the 'Best Young American Novelists' for her book 'Breath, Eyes, Memory' by Granta.

She has been awarded 'The International Flaiano Prize' for literature.

She also won the 'Super Flaiano Prize' and the 'American Book Award' for her 1998 novel 'The Farming of Bones'.

In 2005, she became a recipient of 'The Story Prize' and 'Anisfield-Wolf Book Award' for her work 'The Dew Breaker'.

In 2007, she has received 'The National Book Critics Circle Award' for her book 'Brother, I'm Dying'. The following year, she won the 'Dayton Literary Peace Prize' for it.

In 2011, she was awarded the 'Langston Hughes Medal' by City College of New York. Same year, she won the 'OCM Bocas Prize for Caribbean Literature' for her book 'Create Dangerously: The Immigrant Artist at Work'.

She has also received honorary degrees from several institutions including the 'Smith College' and 'Yale University'.

Personal Life & Legacy

Edwidge Danticat is married to Fedo Boyer. The couple has two daughters: Mira and Leila.

Translate Wiki

to Spanish, French, Hindi, Portuguese

Article Title

- Edwidge Danticat Biography

Author

- Editors, TheFamousPeople.com

Website

- TheFamousPeople.com

URL

-

https://www.thefamouspeople.com/profiles/edwidge-danticat-5866.php

Last Updated

- November 10, 2017

---

---

---