David Hume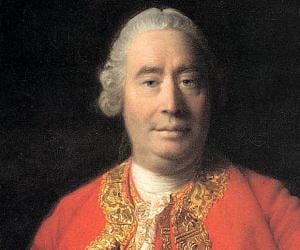 Quick Facts
Birthday: April 26, 1711
Nationality: Scottish
Famous: Historians Philosophers
Died At Age: 65
Sun Sign: Taurus
Born in: Edinburgh, Scotland, Great Britain
Famous as: Philosopher & Historian
Family:
father: Joseph Hume
mother: Katherine Falconer
Died on: August 25, 1776
place of death: Edinburgh, Scotland, Great Britain
City: Edinburgh, Scotland
Personality: ENTP
More Facts
education: University of Edinburgh
Continue Reading Below
David Hume was a Scottish philosopher, historian and essayist known for his radical philosophical scepticism and empiricism. It is because of this he is placed amongst the likes of John Locke, Francis Bacon, George Berkeley and Thomas Hobbes. Hume is remembered for his influential system of radical philosophical empiricism, scepticism and naturalism. Hume intently believed that passion rather than reason governed human behaviour and that human knowledge was solely based on human experience. Sadly, Hume gained fame much later in his life, his works having been appreciated and considered of immense value only posthumously. Hume began his literary journey with his masterpiece, 'A Treatise of Human Nature'. Though the book was widely discarded and written off by the critics then, it is today considered as one of the post important works on history of western philosophy. Hume found success only later in his life when he turned into an essayist. His job as a librarian in the University of Edinburgh helped him access a lot of research materials which provided him the guided information for his massive six volume masterpiece, 'The History of England'. The book earned favourable response and became a bestseller. It was considered as a standard history of England during its time. He is considered as a pivotal figure in the history of philosophical thought.
Recommended Lists:
Recommended Lists:
Continue Reading Below
Childhood & Early Life
David Hume was born on April 26, 1711 in Edinburgh, Scotland to Joseph Home and The Honorable Katherine Falconer. He was the second of the two sons born to the couple.

Young Home's father died when he was barely two years old. He was single-handedly raised by his mother. In 1734, Home changed his surname to Hume as Home was little known in England.

At the age of 12, Hume attended University of Edinburgh. This was unusual considering the standard age for admission during those days was 14. Hume considered a career in law but found his real calling in philosophy and general learning. As a result, he never graduated.

Continue Reading Below

Recommended Lists:

Recommended Lists:

Career

At the age of 18, Hume made a philosophical discovery that opened 'a new scene of thought' for him. Such was the influence of the thought over him that he gave up everything, to pursue it. Though no one actually knows what the new scene of thought was, many have interpreted their own variations.

Inspired by the new thought, Hume spent more than 10 years reading and writing on the subject. He reached a stage wherein he was on the verge of mental breakdown. Just as when he decided to come out of his shell and have an active social, Hume was afflicted with a ravenous appetite and palpitations of the heart. It took him some time to become sturdy and robust.

Despite having a noble background, Hume had very limited means for livelihood and no formal education as well. As such, he set forth to Bristol wherein he apprenticed as an assistant to a rich merchant.Hume's apprenticeship did not last long as he soon retired to La Fleche in Anjou, France

After about four years in France, Hume came up with his first work, 'A Treatise of Human Nature', subtitled 'Being an Attempt to Introduce the Experimental Method of Reasoning into Moral Subjects' in 1738. The treatise was Hume's attempt to formulate a full-fledged philosophical system.

The book, 'Treatise' was divided into three sub-parts while the book, 'Of the Understanding' discussed the origin of ideas of space, time, knowledge, probability, book II 'Of the Passions', described elaborate psychological machinery to explain the affective, or emotional order in humans. Book III, 'On Morals' characterized the moral goodness in terms of feelings of approval or disapproval that people have when they consider human behaviour in the light of agreeable or disagreeable consequences

'Treatise' was by large Hume's most ambitious work. He had great expectations from the book, which however turned otherwise with its failure, as it did not excite even a murmur. Although today considered one of the most important books on Western philosophy, 'Treatise' then was waived off as abstract and unintelligible by the critics.

Hume had exhausted his savings while writing the Treatise in France and had yet again become a man with limited means. However, he did not let his financial status or poor reception come in way of his future study and works. He soon studied with double the vigour and came up with a pamphlet, 'An Abstract of the Book'. It was a document that contained summary of the main doctrines of the Treatise.

Continue Reading Below

In 1744, Hume published, 'Essays Moral and Political'. The book was well received and a later edition of the book titled, 'Essays Moral Political and Literary' was also published. Following his book, Hume applied for the Chair of Pneumatics and Moral Philosophy at the University of Edinburgh. His application was however rejected as he was an atheist.

For the next few years, Hume wandered aimlessly. For a year, he served as a tutor to Marquis of Annandale. He spent few months as secretary to Gen. James St. Clair, wandered in London and at Ninewells for some time and later returned to spend a couple of months with General St. Clair on an embassy to the courts of Vienna and Turin.

While serving Gen. James St Clair, Hume penned 'Philosophical Essays Concerning Human Understanding' which was later published as 'An Enquiry Concerning Human Understanding'. Often called the 'First Enquiry', it was successful than his first book, 'Treatise'.

In 1751, failing to get a chair in philosophy at the University of Glasgow, Hume accepted the post of a librarian offered to him by the Faculty of Advocates. Though the job did not pay him well, it nevertheless gave Hume an exposure to a large library.

Simultaneously, while serving as a librarian, Hume continued his research on his ambitious project, 'The History of England'. Expanding to six volumes between 1754 and 1762, 'The History of England' was hugely successful. The volumes covered events right from the invasion of Julius Caesar to the Revolution of 1688. The book took him fifteen years to finish and ran more than a million words.

'The History of England' was a bestseller and brought Hume the fame that he so well deserved. It gave him financial independence and built his reputation as a gifted writer. Despite being suppressed by family and friends, Hume continued to write controversial work on religion. He came up with two substantially debatable works, 'The Dialogues Concerning Natural Religion' and 'The Natural History of Religion'. Though the 'Dialogues' wasn't published until 1779 (posthumously), 'The Natural History' appeared in 1757 along with his new essay, 'Four Dissertations'.

In 1763, Hume was invited to attend Lord Hertford in Paris. Consequently, he was offered a position as private secretary to the British Ambassador to France, which he readily accepted. During his three years of stay, Hume became a secretary to the Embassy, and later its chargé d'affaires. He became popular and gained company of famous European intellectuals.

Continue Reading Below

In 1767, Hume was appointed Under Secretary of State for the Northern Department. He served in the position for two years. In 1769, he returned to James' Court in Edinburgh, where he built a house in Edinburgh's New Town. He lived there from 1771 until his death in 1776. He spent considerable time revising his works for new editions of his Essays and Treatises, which contained his collected Essays, the two Enquiries, A Dissertation on the Passions, and The Natural History of Religion.

Amongst his last works, his autobiography takes up a prominent place. He composed a brief autobiography titled, 'My Own Life'. Having less than five pages, the book notably contains interesting judgements that was of interest to readers of Hume. Though the book lacked amusing anecdotes or startling revelations, but it did throw light on his love for literary life and his passion for writing. Before his death, Hume prepared for the posthumous publication of his book, 'The Dialogues Concerning Natural Religion'

Major Works

Given the fact that Hume was one of the most controversial writers of his age, his works were greatly scrutinized and inspected. He achieved literary success with his massive six-volume literary work, 'The History of England', which became a bestseller and remained the standard history of England in its time. Though he espoused his debut work, 'Treatise of Human Nature' as juvenile, today, the work is considered as Hume's most important literary piece. It records Hume's strongest and most important arguments, and most philosophically distinctive doctrines. It is regarded as one of the most important works in the history of Western Philosophy.

Personal Life & Legacy

Hume never married in his lifetime. He spent considerable time with his family in Ninewells, Berkwickshire.

In 1775, Hume was diagnosed with intestinal cancer. He breathed his last on August 25, 1776. As desired by him, his body was interred in a simple Roman tomb on the south-western slope of Calton Hill in the Old Calton Cemetery. He requested in his will that his tomb be inscribed only with his name and year of birth and death.

Translate Wiki

to Spanish, French, Hindi, Portuguese

Article Title

- David Hume Biography

Author

- Editors, TheFamousPeople.com

Website

- TheFamousPeople.com

URL

-

https://www.thefamouspeople.com/profiles/david-hume-118.php

Last Updated

- October 04, 2016

---

---

---