Chester Bennington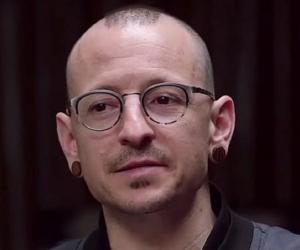 Quick Facts
Nationality: American
Famous: Quotes By Chester Bennington Died Young
Died At Age: 41
Sun Sign: Pisces
Also Known As: Chester Charles Bennington
Born in: Phoenix, Arizona, U.S
Height: 5'10" (178 cm), 5'10" Males
Family:
Spouse/Ex-: Samantha Olit (m. 1996; div. 2005) Talinda Bentley
children: Draven Sebastian Bennington, Isaiah, Jamie, Lila, Lily, Tyler Lee Bennington
place of death: Palos Verdes Estates, California, U.S.
U.S. State: Arizona
City: Phoenix, Arizona
Cause of Death: Suicide
Continue Reading Below
Chester Bennington was one of the lead singers of the legendary rock band, 'Linkin Park', best known for his trademark high pitched voice that mesmerized a countless number of Linkin Park fans. What made him particularly special was the fact that he had risen to glory after facing innumerable challenges and struggles in his early life. Bennington's childhood was far from rosy. His parents divorced when he was very young and he became a victim of sexual abuse. As a teenager, he took to the habit of drugs to deal with emotional distress and worked many jobs in order to pay for his drug habit. He was a lonely youngster and hardly had any friends. It was this loneliness that slowly started feeding his passion for music and he soon became a part of his first band, 'Sean Dowdell and His Friends?' He later joined the band, 'Grey Daze'. His career as a musician took off after he auditioned to be a part of the band 'Linkin Park'. The blockbuster reception of the band's debut album, 'Hybrid Theory' catapulted Bennington's position as a musician and gave him the much-needed and deserved recognition as one of the most iconic figures of music in the 21st century.
Recommended Lists:
Recommended Lists:
Continue Reading Below
Childhood & Early Life
Chester Bennington was born in Phoenix, Arizona, U.S. His father worked as a police detective, while his mother was a nurse. His parents separated when he was 11 years old.

He received his basic education from Ironwood High School. As a child, he took to drugs and started abusing marijuana, alcohol, opium, cocaine, methamphetamine and LSD.

When he turned seventeen, he started living with his mother. It was during this time that she caught him taking drugs, after which he was forbidden to go out of the house. To earn a living, he started working part time at a Burger King restaurant.

Continue Reading Below

Recommended Lists:

Recommended Lists:

Career

In 1993, he became a part of his first band, 'Sean Dowdell and His Friends?' which was a grunge rock band. That year they came out with a three track cassette.

Later in 1993, he joined the band, 'Grey Daze' and recorded the singles, 'Wake Me', 'Demo in' and 'No Sun Today'. However, he wasn't contented with the same as he was not given due credit. Unhappy about the same, he left the band in 1998.

He later joined 'Linkin Park' and in 2000 and the band released their debut album, 'Hybrid Theory', for which he gave the vocals. The album achieved much success and achieved a blockbuster status. It entered the US Billboard charts at number 16 and soon became the best-selling album of the year.

In 2003, he gave the vocals for the 'Linkin Park' album, 'Meteora', which was released under the Warner Bros. Records label. The album included the hit song, 'Numb'. The album earned instant worldwide recognition and catapulted to the number 1 position in the US and UK chart and number 2 in Australia immediately after release.

In 2005, he founded his own rock band named the 'Dead by Sunrise', which he claimed he founded because some of the songs that he had written were good but did not sync well with 'Linkin Park' style.

In 2006, he played the role of a pharmacy customer, adrenaline junkie in the American action film, 'Crank'. The film was directed by Mark Neveldine and Brian Taylor.

His third album 'Minutes to Midnight' was released in 2007. With over 600,000 copies in its first week and gaining the top spot on the Billboard Charts, it became one of the most successful albums.

Continue Reading Below

On October 13, 2009, as a part of the band 'Dead by Sunrise', he came out with the band's debut album, 'Out of Ashes'. The album was moderately successful.

In 2010, he gave the vocals for the Linkin Park' fourth album, 'A Thousand Suns', which was a muti-concept album that highlighted the concept of nuclear warfare. The album received positive reviews.

In October 2010, he appeared in a minor role in the 3D horror film, 'Saw 3D', which was directed by Kevin Greutert. The film was not well received by critics but it was a success at the box office.

In 2012, he featured as the lead singer for the Linkin Park' album, 'Living Things', which was one among the band's bestselling albums. The album also featured the lead single, 'Burn It Down'.

Recommended Lists:

Recommended Lists:

Major Works

His contribution to the band 'Linkin Park' is noteworthy. Right from the band's debut album, 'Hybrid Theory' until its last released album till date, 'Living Things', he was a regular contributor. All the albums peaked to the top spot position at the Billboard list and became bestsellers.

He gave vocals for Linkin Park's debut album 'Hybrid Theory', which peaked at the number two position on the Billboard 200. The album was included in the Rock and Roll Hall of Fame. Furthermore, he gave the vocals for the four times platinum certified album, 'Meteora', which sold 16 million copies across the world.

Personal Life & Legacy

He was in a relationship with Elka Brand with whom he has a child Jamie. Later, he adopted her son, Isaiah

In 1996, he tied the knot with Samantha Marie Olit. The couple was blessed with a child, Draven Sebastian Bennington. The two divorced in 2005.

After he divorced his first wife, he married former Playboy model, Talinda Ann Bentley. The couple had three children.

On July 20, 2017, his lifeless body was found in his home. He had apparently committed suicide by hanging. It is reported that he had been very upset following the suicide death of his friend Chris Cornell in May 2017. Bennington's suicide occurred on what would have been Cornell's 53rd birthday

Trivia

This American musician was the lead vocalist and songwriter of the rock band Linkin Park. However, he founded his own rock band, 'Dead by Sunrise', which released its debut album 'Out of Ashes' on October 13, 2009.

Translate Wiki

to Spanish, French, Hindi, Portuguese

Article Title

- Chester Bennington Biography

Author

- Editors, TheFamousPeople.com

Website

- TheFamousPeople.com

URL

-

https://www.thefamouspeople.com/profiles/chester-bennington-4698.php

Last Updated

- July 20, 2017

---

---

---