Brenton Thwaites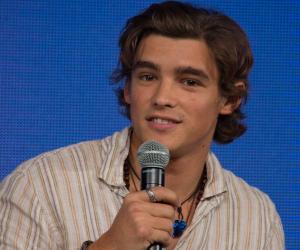 Quick Facts
Nationality: Australian
Famous: Actors Australian Men
Age: 29 Years, 29 Year Old Males
Sun Sign: Leo
Born in: Cairns, Australia
Famous as: Film Actor
Height: 1.87
Family:
father: Peter
mother: Fiona Thwaites
siblings: Stacey Thwaites
City: Cairns, Australia
Notable Alumni: University Of Technology
More Facts
education: Queensland University of Technology
Continue Reading Below
Brenton Thwaites is an Australian actor who shot to a worldwide fame after playing the role of Luke in the popular Fox8 teen drama 'Slide'. More recently, he was seen in 'Pirates of the Caribbean: Dead Men tell no Tales', his biggest acting stint until now. His tryst with acting started back in Australia, during college, where he studied acting and in 2010, he made his debut with the independent film 'Charge over You'. It gained him the much needed momentum and confidence and he made a move to Sydney to give his acting career a professional turn. After years of appearing in TV shows and independent films, came 'Oculus', a horror flick, which got him all the necessary credibility he required in Hollywood. His role was appreciated, and later he got cast alongside Angelina Jolie and Jeff Bridges in big budget studio films like 'Maleficent' and 'The Giver', and just like that, his career in Hollywood found the right track. Over the course of his career, he has been nominated for many awards and won quite a few. Although there is no major award to his credit yet, but GQ Men of the Year honour doesn't come easy for anyone either.
Recommended Lists:
Recommended Lists:
Continue Reading Below
Childhood & Early Life
Brenton Thwaites was born on 10th August 1989 in Queensland, Australia to Fiona and Peter Thwaites. He finished his early schooling from Cairns State High School, graduated in 2006 and during all this time, he was never much interested in becoming an actor. However, he liked the idea of being on the screen someday, but becoming a policeman or a fire fighter was on the top of his priority list. Films on the life of fire fighters dominated his collection of movies.

However, being the adventurous kind, he always wanted to try different things with his career, and at the age of 16, he played Romeo in a stage rendition of 'Romeo and Juliet'. Just like that, the acting bug caught him and he got enrolled in the Queensland University of Technology and studied acting, before graduating in 2010. Being an Australian, he admired Chris Hemsworth and Heath Ledger, fellow Australians who went on to make a big name for themselves in the most sparkling film industry in the world, Hollywood.

Recommended Lists:

Recommended Lists:

Career

Like many others, Brenton Thwaites started small, with soap operas and low budget independent films in Sydney. Before graduating from the college, he had already worked in a low budget independent film titled 'Charge Over You', which came out in 2010. After graduating, he turned his attention towards television shows and auditioned for several of them, ultimately grabbing a meaty role in 'Sea Patrol' and a short film by the title 'Headsmen' also came out in his initial struggling days.

Towards the end of 2010, he appeared in an Australian teen drama about five teenage boys in the series 'Slide', and this coming of age drama series became sort of rage among the Australian youth. The series became a mega success, making Brenton one of the fresh faces to look out for in future. The series was, however, short lived and wasn't renewed for a second season. But Brenton achieved what he needed, the exposure of highest kinds, and carved himself a role in 'Home and Away'.

'Home and Away' was one of the longest running TV series' in Australian TV history and in 2011, Brenton was cast to play a role in the 24th season of the show, where he portrayed the recurring role of Stu, a rough young man. His performance received mixed reviews from the critics, with most criticism directed towards the fact that he was a miscast and that he was 'too pretty to play the role of a roughneck'. Just around that time in mid 2011, Brenton planned to move to Los Angeles. But before leaving, he starred in a TV film 'Blue Lagoon', where his performance was appreciated by many and trashed by a few.

The move to America proved to be quite lucky for him and his first film in Hollywood titled 'Oculus' got released in 2013 to positive reviews. The film had its premiere in the Toronto Film Festival and upon its wide theatrical release; the film was received well by the audiences and critics alike. He started gaining attractive opportunities in Hollywood but for a few weeks in between, he went back to Australia to film a thriller 'Son of a Gun', and the film released in Australia in 2014 to acclaim. American reviewers also kept an eye on him and praised Brenton's performance.

Upon getting back to America, he received several big roles; one of them was in Disney's big screen rendition of 'Maleficent', alongside Angelina Jolie, and with that, Brenton made a roaring entry into the big leagues of American franchise films. His other project was film 'The Signal' which got him an entry into the Sundance Film Festival, one of the most prestigious among all American film festivals.

One other important milestone in his career was in the form of a role alongside Hollywood legends such as Jeff Bridges and Meryl Streep in the film 'The Giver'. The film released to mixed reviews and some critics reviewed the film more negatively, but Brenton's performance, once again, got widespread acclaim from the film buffs and critics. The film was shot in South Africa and Brenton still maintains that this was the one of the most challenging roles of his career until then, and also the most fulfilling.

He starred in the 2016 historical fantasy film titled 'Gods of Egypt' with Gerard Butler, and played a human thief. The film was shot in Sydney, and got some very bad reviews, and Brenton's performance too received a lot of flak. In 2017 came the biggest film of his career, which also happened to be one of the biggest films of the year, the fifth instalment of the madly successful franchise 'Pirates of the Caribbean' titled 'Pirates of the Caribbean: Dead Men Tell no Tales' and he starred alongside the likes of Johnny Depp, Geoffrey Rush and Javier Bardem. The film was a mega hit and became the highest grossing film of his career. In mid 2017, he was signed on to play the lead role in film 'The Interview with God'.

Personal Life

Brenton Thwaites started dating Chloe Pacey in 2015, while he was shooting for 'Pirates of the Caribbean' in Australia. The two has been in a long term relationship since then and Chloe gave birth to his daughter in 2016.

Prior to Pacey, his relationship with singer Taylor Swift garnered a lot of media attention as the two were seen hanging out in Los Angeles clubs quite a lot of times.

Brenton has claimed openly that he is a bisexual and has dated a few men back in the day. He also sparked a lot of gossip by saying that upon his arrival in Los Angeles the first time, he looked for work in gay bars as a bartender.

1. Pirates of the Caribbean: Dead Men Tell No Tales (2017)

(Action, Fantasy, Adventure)

2. Maleficent (2014)

(Fantasy, Action, Family, Adventure, Romance)

---

3. The Giver (2014)

(Romance, Sci-Fi, Drama)

4. Son of a Gun (2014)

(Crime, Action, Drama, Thriller)

---

---

5. Oculus (2013)

(Mystery, Horror)

6. Office Uprising (2018)

(Adventure, Horror, Action, Comedy)

---

---

---

7. The Signal (2014)

(Sci-Fi, Thriller)

8. Ride (2014)

(Drama, Comedy)

---

---

---

---

Translate Wiki

to Spanish, French, Hindi, Portuguese

Article Title

- Brenton Thwaites Biography

Author

- Editors, TheFamousPeople.com

Website

- TheFamousPeople.com

URL

-

https://www.thefamouspeople.com/profiles/brenton-thwaites-15863.php

Last Updated

- July 25, 2017

---

---

---