Albert Camus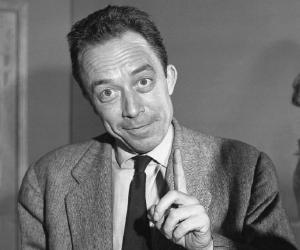 Quick Facts
Birthday: November 7, 1913
Famous: Nobel Laureates In Literature Writers
Died At Age: 46
Sun Sign: Scorpio
Born Country: Algeria
Born in: Dréan
Famous as: Philosopher
Height: 5'9" (175 cm), 5'9" Males
Family:
Spouse/Ex-: Francine Faure (m. 1940), Simone Hi (m. 1934-1936)
father: Lucien Auguste Camus
mother: Catherine Hélène Sintés
children: Catherine Camus, Jean Camus
place of death: Villeblevin
Personality: INFP
Cause of Death: Car Accident
Ideology: Communists
More Facts
education: University of Algiers
awards: 1957 - Nobel Prize for Literature
Continue Reading Below
Albert Camus was a French philosopher, author and journalist born in French Algeria who played a seminal role in the rise of philosophy known as 'absurdism'. Born just before the onset of the First World War to semi-proletariat parents, he lost his father at infancy, and grew up in the house of his maternal grandmother in the working class suburbs of Algiers. At the local Ecole Communale, where he started his education, he was spotted by one of his teachers, who not only convinced his grandmother to allow him to study, but also made sure he got a scholarship. Thus he was able to get admission at the Lycée Bugeaud, where he was mentored by another teacher. Soon he decided to become a teacher and a writer. Unfortunately, it was his recurring tuberculosis, which prevented him from fulfilling the first aim; but he accomplished his second wish early in life and by his mid-twenties, he was able to establish himself as an emerging author, journalist, and theatre professional. However, it took a few more years to become internationally known. He was one of the youngest recipients of the Nobel Prize for Literature, winning it at the age of 44. However, he did not live long after that and died in a road accident at the age of 46.
Recommended Lists:
Recommended Lists:
Continue Reading Below
Childhood & Early Life
Albert Camus was born on 7 November 1913 in Mondovi (now known as Dréan) in French Algeria. His father, Lucien Camus, was of Alsatian descent. He worked as an agricultural laborer until he was drafted in the army at the wake of the First World War.

His mother, Catherine Camus, was of Spanish descent and worked as a cleaning woman. She was illiterate and also hard of hearing. He had an elder brother, also called Lucien.

On 11 October 1914, when Camus was barely 11 months old, his father died from injuries sustained at the battle field. Thereafter, Catherine moved to Algiers with her children, where she put up with her dominating mother in the working class suburb of Belcourt.

In 1918, Camus began his studies at the local Ecole Communale. Very soon he caught the attention of his teacher Louis Germain, who advised him to seek a scholarship so that he could attend secondary school. He also convinced his grandmother to allow him to complete his education.

In 1923, Camus was enrolled at the Lycée Bugeaud, where boys from different backgrounds came to study. While filling the form, he was initially embarrassed to write his mother's occupation as 'domestic,' but soon became angry with himself. After that he was never ashamed of his poverty.

At school Camus excelled in both studies and sport. He was especially fond of playing football and swimming. More than that, he started enjoying the intellectual challenge the school provided and especially loved reading the works of Gide and Malraux.

In 1930, he was inflicted with tuberculosis. Because of fear of infecting others, he was sent to live with his relatives, Gustave and Antoinette Acault, who owned a butcher's shop. They were not only relatively well-off, but also had literary inclination and owned many books written by established writers.

Gustave also professed anarchist politics and there was a lot of political as well as literary discussions at home, something which Camus began enjoying. Moreover, hoping that he would one day take over his business, Gustave began to buy him good clothes and gave him handsome pocket money.

Therefore, when Camus returned to school, he was more confident of himself. One of his favorite teachers during this period was Jean Grenier, who taught philosophy. Encouraged by him, Camus now began to write and started publishing them in a literary magazine called 'Sud.'

This was also the time when he began to nurture a serious ambition of becoming a writer. Concurrently, remembering Louis Germain, he also wanted to be a teacher.

In 1932 he received his Baccalauréat degree. The following year, he entered the University of Algiers specializing in philosophy. By now, his old mentor Jean Grenier had joined the philosophy department of the university and therefore, he continued receiving his guidance. Camus also gained certificates in sociology and psychology.

Around this time, he had a conflict with Gustave over Simone Hié, whom he shortly married. Consequently, he left his uncle's home and began to live on his own, sustaining himself by doing odd jobs.

Continue Reading Below

Recommended Lists:

Recommended Lists:

Career

In 1935 he cofounded Théâtre du Travail (Worker's Theatre) and started writing plays. By now, he had joined the French Communist Party and many of his works carried leftist messages.

Concurrently, he worked on his thesis, titled 'Christian Metaphysics and Neoplatonism: Plotinus and Augustine'. He submitted it on 8 May 1936 and on 25 May he was granted his diplome d'études supérieures. At this point, he suffered another attack of tuberculosis.

To regain his health, Camus traveled to the French Alps and then returned to Algiers via Florence, Pisa, and Genoa. His doctor now gave him a fit certificate; yet he was rejected on medical grounds and thus his ambition of becoming a teacher failed to materialize.

He now concentrated on writing and in 1937 joined a socialist paper called 'Alger-Républicain' as a journalist. In the same year, he was expelled from the Communist Party. Disillusioned with the system, he renamed Théâtre du Travail as Théâtre de l'Equipe (Theatre of the Team).

Slowly, he established himself as an emerging author, journalist, and theatre professional. He had by now published his first two works, 'Betwixt and Between' (L'envers et l'endroit, 1937), and 'Nuptials' (Noes, 1938).

In 1939, Camus was fired from his job because of a report he made on the poor conditions of peasants in Kabylie. He then joined another socialist paper called 'Soir-Republica' as a reporter and reviewer. Here his assignments covered everything from contemporary European literature to local political trials.

In 1940, he gave up the job, intending to serve in the Second World War, but was rejected by the French army because of his tuberculosis. So he left for Paris in March 1940 and began working as an editorial secretary on 'Paris-Soir.' However, he did not like Paris.

Continue Reading Below

Moreover, because of the war, their office had to be evacuated. Therefore, he first went to Clermont with the paper, then to Lyon and finally returned to Algeria. To make ends meet, he took up temporary jobs, but concentrated on writing.

In 1942, Camus published his first novel, 'L'Étranger' (The Stranger) and another essay work called 'Le Mythe de Sisyphe'. Both of them received favorable critical response. In the same year, he returned to France, which was still under German occupation.

In 1943, Camus began working for a clandestine newspaper called 'Combat'; it was the journalistic arm and voice of the French Resistance movement. He also joined Gallimard Publishing as an editor and held the post until his death.

During this period, Camus suffered from recurrent bouts of tuberculosis. Yet he kept on writing; 'Le Malentendu' (The Misunderstanding), written in 1943, is a well-known work of this period.

After France was liberated in 1945, Camus continued as editor of 'Combat.' Following the Sétif and Guelma massacre in French Algeria, he not only visited the colony, but also wrote a series of articles on the condition of the people and advocated reforms and concessions suitable for the local people.

In 1951, he published his book-length essay, 'L'Homme révolté' (The Rebel). In it, he explicitly condemned Marxism-Leninism and denounced its unrestrained violence as a means of human liberation. While the European communists branded him as reactionary, many more hailed him as an outspoken champion of individual freedom.

In 1956, Camus published 'La Chute' (The Fall); it is a short confessional novel and also his last major work published during his lifetime. He was still afflicted by tuberculosis and also was very much affected by the happenings in his homeland, Algeria.

Continue Reading Below

He now began another novel; but could not finish it. Instead, he published many short stories and essays. He also wrote, directed and produced number of plays. 'Les Possédés' (The Possessed, 1959), adapted from Fyodor Dostoyevsky's novel 'Demons', was probably his last published work while alive.

Recommended Lists:

Recommended Lists:

Major Works

Camus is best remembered for promoting Absurdism, which refers to the conflict between the human tendency to seek the inherent meaning as well as value of life and their inability to find the same. He had introduced this philosophy in his 1942 essay 'The Myth of Sisyphus'. However, many critics cite his first novel 'L'Étranger' to be its best example.

His two other major works are 'La Peste' and 'La Chute'. While 'La Chute' is a philosophical novel which attempts to explain how a human being is capable of doing evil deeds, 'La Peste' tells the story of a plague sweeping the French Algerian city of Oran.

Recommended Lists:

Recommended Lists:

Awards & Achievements

In 1957, Camus was awarded the Nobel Prize in Literature "for his important literary production, which with clear-sighted earnestness illuminates the problems of the human conscience in our times".

Personal Life & Legacy

On June 16, 1934 Camus married Simone Hié, who was earlier engaged to Camus' friend Max-Pol Fouchet. However, the marriage did not last long and they separated by July 1936 and the divorce was finalized in September 1940.

On 3 December 1940, Camus married Francine Faure, a pianist and mathematician, whom he had met in 1937. Although he loved his wife, he did not believe in the institution of marriage and had many extra martial affairs. In spite of that, the couple had twin daughters Catherine and Jean, born on 5 September 1945.

Camus died in a car accident near Sens, in Le Grand Fossard in the small town of Villeblevin on 4 January 1960, at the age of 46. Although many suggested that the accident was orchestrated by the Soviets, there is no proof of that. Camus was survived by his wife and daughters.

Two of his works were published posthumously. Among them, 'A Happy Death', published in 1971, was actually written in late 1930s. The other was 'The First Man' (1995), which Camus was writing at the time of his death. His works carry his legacy till today.

Translate Wiki

to Spanish, French, Hindi, Portuguese

Article Title

- Albert Camus Biography

Author

- Editors, TheFamousPeople.com

Website

- TheFamousPeople.com

URL

-

https://www.thefamouspeople.com/profiles/albert-camus-114.php

Last Updated

- November 03, 2016

---

---

---