Witney Carson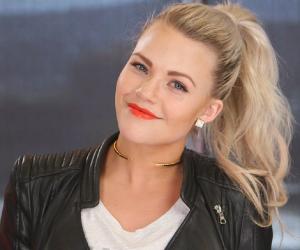 Quick Facts
Birthday: October 17, 1993
Nationality: American
Famous: Choreographers American Women
Age: 25 Years, 25 Year Old Females
Sun Sign: Libra
Also Known As: Witney Capri Carson McAllister, Witney Capri Carson
Born in: American Fork, Utah
Famous as: Dancer. Choreographer
Height: 1.60 m
Family:
Spouse/Ex-: Carson McAllister (m. 2016)
father: Tyler Carson
mother: Jill Johnson-Carson
siblings: Cade Carson, Camry Carson, Jaxon Carson
U.S. State: Utah
Continue Reading Below
Witney Carson is an American professional choreographer, ballroom and Latin dancer, and actor. Born and raised in Utah, Witney started attending dance classes at the age of 3. She was a natural dancer and did not take much time to become a graceful professional dancer. She gained prominence for the first time at the age of 18, when she finished as the second runner-up among the ladies in the ninth season of 'So You Think You Can Dance.' She was included as a troupe dancer in the sixteenth and seventeenth seasons of 'Dancing with the Stars,' and in the next season, she became a professional partner to the celebrities appearing on the show to compete as dancers. Along with her partner, Alfonso Ribeiro, she was named the winner of the nineteenth season of 'Dancing with the Stars.' Her performance and excellent choreography earned her an 'Emmy' nomination. Over the years, Witney has established herself as a well-trained professional dancer through many stage shows. She has worked with notable celebrities such as Tyce Diorio, Mia Michaels, and Travis Wall.
Recommended Lists:
Recommended Lists:
Continue Reading Below
Childhood & Early Life
Witney Carson was born in Utah, on October 17, 1993, to parents Tyler and Jill Johnson–Carson. She grew up in American Fork, Utah. She was the eldest of the four children in the family. Noticing her interest in dance, her mother enrolled her into dance classes when Witney was just 3 years old. Starting early gave her enough time to gain expertise in different forms of dance even before she entered her teenage years.

Utah was a region that was popular for its jazz and ballet dancers, but Witney's mother made sure her daughter was trained in all the contemporary and folk dance forms. This led Witney to learn several different dance forms as a kid.

Initially, she was not too interested in ballroom dance. However, she later mastered this form of dance. She was intrigued by couples performing ballroom dance, and this led her to finally attend ballroom dance classes. She was trained by Rick Robinson, one of the biggest names in the ballroom dance arena.

At one time, she was practicing for six to eight hours a day. At the same time, she also managed a workout routine to keep her fitness intact. She graduated from the 'American Fork High School.' While in high school, she performed around the world and won several awards. At the age of 18, fresh out of the high school, she auditioned for the ninth season of 'So You Think You Can Dance' and her life changed forever.

Recommended Lists:

Recommended Lists:

Career

When Witney was 18 years old, the hit 'Fox' show 'So You Think You Can Dance' came to her hometown for auditions. She auditioned and was selected as one of the participants for the season. She quickly made her way among the top 20 finalists. In the final stage, she was paired with talented dancer Chehon Wespi–Tschopp.

Along with her partner, she made it among the top 10 finalists. At that stage, the finalists were required to change partners each week. She reached the top 6, teaming up with a new partner every week. However, in the episode that was aired on September 5, 2012, she was eliminated and ended the show as the second runner-up among the ladies.

Although she could not win the show, by the time she show ended, she had already become a moderately popular celebrity. Several other dance shows were on air at that time. This provided her enough avenues to maintain her fame intact in the coming years.

In 2013, she joined another popular dance reality show, 'Dancing with the Stars,' as a troupe dancer for the show's sixteenth season. She also performed as a choreographer. As she became proficient in choreography, she was hired to do the same job for the show's next season.

However, in the eighteenth season, she was promoted as a professional dancer and choreographer and was to be paired with a celebrity. Singer Cody Simpson became her partner for the entire season, but in April 2014, they were eliminated. They ended up at the ninth spot by the end of the season, which was a great performance for a debutante.

In the nineteenth season of 'Dancing with the Stars,' Witney was paired with the actor Alfonso Ribeiro. The couple performed brilliantly till the end of the season, and in November 2014, they were declared the season's winners. Hence, Witney won in her second stint as a professional dancer on the show.

Witney was paired up with reality TV personality Chris Soules for the twentieth season of the show. The couple ended the show at the fifth spot and was the eighth couple to be eliminated.

Continue Reading Below

The twenty-first season was somewhat better for Witney and her new partner, singer and actor Carlos PenaVega. The couple made their way to the finals, where they were eliminated on Night 1 and eventually ended up at the fourth place.

Over the next few seasons, Witney's performance suffered immensely. In the twenty-second season, she was paired with 'National Football League' star Von Miller. The couple struggled to reach the seventh week and got eliminated. They were placed at the eighth spot in the final rankings.

The twenty-third season was the worst for Witney. She was paired with rapper Vanilla Ice. They became victims of a double elimination in the fourth week of the season. They eventually ended up at the tenth spot in the final rankings.

In the next season, she was paired with comedian Chris Kattan, and they were the first pair to be eliminated in that season. However, the twenty-fifth season redeemed Witney's reputation to a certain extent. She made her way through the final stage along with her partner, actor Frankie Muniz, and finished at the third place.

Apart from appearing on reality shows, Witney has appeared in the dance-based film 'Dancin': It's On!' in 2015. The movie saw her playing 'Jennifer Gabriella August,' who falls in love with a boy who works at her father's hotel. The film was critically acclaimed and won the awards for the 'Best Director,' the 'Best Editing,' and the 'Best Music Score' at the 2015 'Widescreen Film & Music Video Festival.'

Witney also received a nomination for 'Outstanding Choreography' at the 2015 'Primetime Emmy Awards,' for her performance in 'Dancing with the Stars.' She was nominated for the honor of the 'Favorite Dance Idol' at the 2016 'Industry Dance Awards.'

Personal Life

Witney Carson was in a relationship with Carson McAllister for a long time. She announced her engagement with him in October 2015. On January 1, 2016, she tied the knot with him. Many of her friends and former partners from her popular reality shows attended the wedding ceremony that took place in Salt Lake City.

Witney runs a blog through which she interacts with her fans. She shares information about her personal life, her diet, and her makeup and lifestyle routine.

Translate Wiki

to Spanish, French, Hindi, Portuguese

Article Title

- Witney Carson Biography

Author

- Editors, TheFamousPeople.com

Website

- TheFamousPeople.com

URL

-

https://www.thefamouspeople.com/profiles/witney-carson-38018.php

Last Updated

- April 17, 2018

---

---

---