Sam Rayburn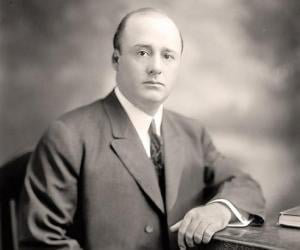 Quick Facts
Nationality: American
Famous: Political Leaders American Men
Died At Age: 79
Sun Sign: Capricorn
Also Known As: Samuel Taliaferro Rayburn, Samuel T. Rayburn, Mr. Sam
Born in: Kingston
Famous as: Speaker of the U.S. House of Representatives
Family:
Spouse/Ex-: Metze Jones
Died on: November 16, 1961
place of death: Bonham
U.S. State: Tennessee
Ideology: Democrats
More Facts
education: University of Texas at Austin, Texas A&M University–Commerce, University of Texas School of Law
Continue Reading Below
Sam Rayburn was an American lawmaker who served as the Speaker of the U.S. House of Representatives for 17 years, the longest tenure in U.S. history. He was also the only Democrat to serve more than one non-consecutive term, and one of the only two individuals to serve three different terms as Speaker, the other one being Henry Clay. First elected to the U.S. House of Representatives from Texas's 4th district in 1912, he went on to serve continuously for almost five decades until his death in 1961—a record at the time of his death. Born into a large family in Tennessee, he grew up on a 40-acre farm in Texas where he actively engaged in farm work as a young boy. He developed an early interest in law and politics, and was just eight years old when he decided to pursue a career in these fields. A very hard working young man, he worked his way through college and became involved in politics while still a student. Eventually he qualified as a lawyer and intensified his participation in political activities. Over the years he became a prominent politician and was elected the Democratic leader of the House of Representatives in 1937 and was made the speaker of the House shortly after. A much respected politician, he was regarded as an extraordinarily able legislator.
Recommended Lists:
Recommended Lists:
Continue Reading Below
Childhood & Early Life
Samuel Taliaferro Rayburn was born on January 6, 1882, in Tennessee. He moved along with his family to a 40-acre cotton farm in Flag Springs, Texas. He had ten siblings, and everyone in the family worked on the farm to make it profitable.

Young Sam became interested in politics as a little boy and would often dream of giving political speeches as he worked in the family farm. He decided to pursue a career in law and politics when he was just eight and never looked back.

He enrolled at the East Texas Normal College (now Texas A&M University–Commerce) after completing his schooling and received his bachelor's degree in 1903.

Continue Reading Below

Recommended Lists:

Recommended Lists:

Career

He taught at school for some time and joined the Texas House of Representatives in 1907. During this time he also attended classes at the University of Texas at Austin and in 1908 passed the Texas bar examination.

He was re-elected for two more terms in the Texas House of Representatives and was elected the Speaker of the House in 1912 during his third term. That same year, he was also elected to serve as a Democratic Representative to the United States House of Representatives, marking the beginning of a long and productive career of continuous service in Washington, D. C for over 48 years.

In 1931 he was elected the chairman of the powerful House Committee on Interstate and Foreign Commerce, a position he held until 1937. As the holder of such a powerful political position, he played a major role in the New Deal and supported the majority of New Deal legislation proposed by the Roosevelt administration.

He was instrumental in the passage of the Truth in Securities Act, which established the Securities and Exchange Commission, and participated in the creation of the Federal Communications Commission, as well as the passage of the Public Utilities Holding Company Act, and the Emergency Railroad Transportation Act. He also worked with Senator George W. Norris in sponsoring the Rural Electrification Act (REA) which was designed to provide electricity to rural areas.

In 1940, while Rayburn was serving as Majority Leader of the United States House of Representatives, the Speaker of the House William Bankhead died suddenly. Rayburn succeeded him as the speaker, and was the leader of the House Democrats for the next 21 years.

As the Speaker of the House, he developed close relations with several prominent politicians including Lyndon B. Johnson who he also mentored in his political career. Also he forged friendships and partnerships with legislatures of emerging independent countries and democracies on the continent of Africa.

Sam Rayburn was a highly respected political leader known for his adherence to moral values and high ethical standards. An ardent patriot, he served as a trusted advisor to Presidents Franklin D. Roosevelt, Harry Truman, Dwight D. Eisenhower, and John F. Kennedy.

Continue Reading Below

During his later career, he oversaw several significant achievements in the American government. In 1957, Congress voted on the passage of the Civil Rights Act and another Civil Rights Act was passed in 1960. The late 1950s also saw the passage of the Hospital Survey and Construction Act, the first legislation which provided federal grants for construction of hospitals and healthcare facilities.

Recommended Lists:

Recommended Lists:

Major Works

Sam Rayburn served as the Speaker of the U.S. House of Representatives for 17 years, the longest tenure in U.S. history. A proud Democrat, he was one of the only six people to serve more than one non-consecutive term. As the Speaker he served as a trusted advisor to several presidents and was known for his high moral standards.

Awards & Achievements

'Collier's Magazine' recognized Rayburn for his outstanding congressional service to the country, and honored him with a $10,000 award in 1948.

In 1960, he was honored with the Cordell Hull Award in recognition of his "long vigilance over foreign trade and support of liberal policy" and also received the "Award for Outstanding Republican Public Service".

He was posthumously awarded the Congressional Gold Medal.

Personal Life & Legacy

Sam Rayburn was once married to Metze Jones, sister of Texas Congressman Marvin Jones and Rayburn's colleague. The marriage was however very short lived and soon ended in divorce. He never married again nor had children. Not having a son was one of the biggest regrets in his life.

He suffered from cancer during his later years and died on November 16, 1961, aged 79.

Translate Wiki

to Spanish, French, Hindi, Portuguese

Article Title

- Sam Rayburn Biography

Author

- Editors, TheFamousPeople.com

Website

- TheFamousPeople.com

URL

-

https://www.thefamouspeople.com/profiles/sam-rayburn-6691.php

Last Updated

- November 09, 2017

---

---

---