Nancy Pelosi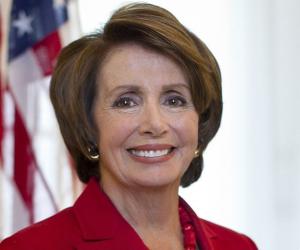 Quick Facts
Nationality: American
Famous: Political Leaders American Women
Age: 78 Years, 78 Year Old Females
Sun Sign: Aries
Also Known As: Nancy Patricia D'Alesandro Pelosi
Born in: Baltimore
Famous as: Politician
Height: 1.64 m
political ideology: Democratic
Family:
Spouse/Ex-: Paul Pelosi (m. 1963)
mother: Anunciata
children: Alexandra Pelosi, Christine Pelosi, Jacqueline Pelosi, Jr., Nancy Corinne Pelosi, Paul Pelosi
religion: Roman Catholic Church
City: Baltimore, Maryland
Ideology: Democrats
Personality: ENTJ
U.S. State: Maryland
More Facts
education: Trinity Washington University (1962), Institute of Notre Dame
awards: Knight Grand Cross of the Order of Merit of the Italian Republic
National Women's Hall of Fame
Continue Reading Below
Nancy Pelosi is an influential American politician and the first woman to serve as the Speaker of the US House of Representatives. She was born in the 1940s into a politically active Italian-American family. Born and brought up in the Little Italian region of Baltimore, she was naturally inclined towards politics early in her life, learning the ropes from her father Thomas D'Alesandro Jr. He was an important Democrat leader from the city. However, she did not directly participate in politics in Baltimore. It was when she moved to San Francisco with her husband and children that she became a volunteer organizer for the Democratic Party, very soon earning a reputation as an effective fundraiser. Over the time, she rose through the ranks to become the Chairperson of California Democratic Party, also serving on the Democratic National Committee, before she was elected to the House of Representatives at the age of 47. She continues to hold her seat until now. In course of her tenure, she first became the House Minority Whip, then the House Minority Leader and finally, the Speaker of the House - all the while voting for issues like gun control and abortion rights. As the Speaker, she worked with Obama to pass the Health Care bill. Currently, she is serving as the House Minority Leader.
Recommended Lists:
Recommended Lists:
Continue Reading Below
Childhood & Early Years
Nancy Pelosi was born as Nancy D'Alesandro on March 26, 1940, in Baltimore, Maryland. Her father Thomas Ludwig John D'Alesandro Jr was a second-generation immigrant from South Italy. Born in Baltimore, he was the U.S. Representative from Maryland from 1939 to 1947, and then Mayor of Baltimore until 1959.

Her mother Annunciata M. "Nancy" D'Alesandro née Lombardi was a first-generation immigrant from Campobasso, South Italy. A student of law, she dropped out of the law school to marry Thomas Ludwig John D'Alesandro Jr. She later became a leader at the local Democratic Women's Club.

Nancy was born youngest of her parents' six children. She has five older brothers named, Thomas D'Alesandro III, Franklin D. Roosevelt D'Alesandro, Hector D'Alesandro, Nicholas D'Alesandro and Joseph D'Alesandro. Thomas D'Alesandro III served as Baltimore's mayor from 1967 to 1971.

Nancy was raised on Albemarle Street in Little Italy, a largely Roman Catholic working-class neighborhood in Baltimore, which was loyal to the Democratic Party. Growing up there had a great impact on her, shaping the future course of her life.

In those days, it was considered an honor for the family to have a daughter or a son enter the church and her mother wanted her to be the one. However, Nancy was not interested in becoming a nun, preferring priesthood because she had noticed that priests had the real power.

In 1947, when she was seven years old, her father was elected the Mayor of Baltimore, serving three consecutive terms. She soon became known as the 'Mayor's daughter' and often took part in campaigns, learning the nitty-gritty of politics from him. At 12, she attended her first Democratic National Convention.

Born to Democratic parents, she was once offered a toy elephant from a Republican poll worker. Although she was still very young, she refused to take it. Later, she was put in charge of the book, in which her father kept records of favors he had done or owed

For her formal education, Nancy was sent to the Institute of Notre Dame, a private Catholic all-girls high school in Baltimore, from where she graduated in 1958. Thereafter, she moved to Washington DC, enrolling in the all-women Trinity College, run by the Sisters of Notre Dame de Namur.

Washington DC was entirely a new world for Nancy. In an interview with J. D. Heyman, she later compared the move to "going to Australia with a backpack." Nonetheless, she soon found her way. In 1960, she attended President John F. Kennedy's inaugural ball and was pictured with him.

In 1962, she graduated from Trinity College, earning her B.A. degree in political science. For a short while, she served as congressional intern for Senator Daniel Brewster from Maryland. Concurrently, she also toyed with the idea of studying law.

Nancy never studied law; instead, she got married to Paul Pelosi in September 1963 and by 1970, she was the mother five boisterous children. Therefore, she put her political ambition on the back-burner, devoting all her time and energy to raising children.

Continue Reading Below

Recommended Lists:

Recommended Lists:

In San Francisco

In 1969, the Pelosi family moved to San Francisco, where Nancy Pelosi continued to concentrate on raising her children. Concurrently, she also became active in politics, hosting parties at home and volunteering for the Democratic Party during election campaigns. She also became friendly with important leaders like Philip Burton.

In 1976, as California's popular governor Jerry Brown stood for Presidential election, Pelosi began to work for him and organized a successful "Brown for President" campaign in her home state, Maryland. It helped Brown win an unexpected victory there.

Although Jerry Brown eventually lost to Jimmy Carter, the campaign enhanced Pelosi's reputation as a successful organizer and an effective fund raiser. In 1976, she was elected to the Democratic National Committee, where she represented California until 1996.

On January 30, 1977, she was appointed the Chairwoman for the Northern section of the Democratic Party of California, serving successfully in that position for four years. Thereafter in 1981, she was elected Chairwoman for the entire Democratic Party of California, serving in that capacity till 1983.

Recommended Lists:

Recommended Lists:

Entering Congress

Until 1986, Nancy Pelosi remained behind the scene, choosing candidates and getting them elected. She never thought of contesting herself. However, all of this changed when her close friend and Representative from California Sala Burton became terminally ill. She requested Pelosi to succeed her.

After Sala Burton's death on February 1, 1987, Pelosi contested the special election held on April 7, 1987, and narrowly won it. The final election took place on June 2, 1987, in which she easily defeated Republican candidate Harriet Ross. A week later, she took the office and holds the seat ever since.

Continue Reading Below

Very soon, Pelosi created an iconic image for herself as a hardworking, but family-oriented woman. Since San Francisco had a disproportionately large number of people diagnosed with HIV-positive, she argued for increased government funding for AIDS research, winning it in the end.

She protested against a new foreign policy that was trying to strengthen economic ties with China. In 1991, on a visit to China, she held up a protest sign at the Tiananmen Square where the Chinese Army had gunned down at least 700 demonstrators in 1989.

During 1990s, she served on the United States House Committee on Appropriations and also on United States House Permanent Select Committee on Intelligence. Sometime after 1997, she also became a member of House Baltic Caucus, a position she holds until now.

First Woman Speaker

In 2001, Nancy Pelosi became the first woman to be elected as the House Minority Whip. In this position, she was the second-in-command to Minority Leader Dick Gephardt. In 2002, as Gephardt resigned from his position, she was elected Minority Leader, the first woman to hold this post.

On November 16, 2006, Pelosi was unanimously chosen as the Democratic candidate for the post of the Speaker. As the Democrats had taken control of the House of Representatives after the 2006 midterm poll, she became the Speaker elect because the post traditionally goes the majority party.

On January 4, 2007, Pelosi was officially elected the Speaker of the House after she defeated Republican John Boehner of Ohio. This made her the first woman, first Italian-American and first Californian to hold this post. In her speech, she described her election as a historic moment for the American women.

After becoming the Speaker of the House, she resigned from all the House Committees. During her tenure, she did not normally take part in any debate and rarely voted on the floor although as the Leader of the House Democrats and a full member, she was allowed to do so.

Continue Reading Below

Although she generally refrained from voting, she continued to vote in favor of abortion rights and gun control. When President Bush tried to reform Social Security, Pelosi not only opposed it vehemently, she also imposed a whip on her party members, resulting in the defeat of the proposal.

She was equally vocal against the Iraq War, vehemently criticizing President Bush for it. However, she was also against his impeachment and after taking office in 2007, she remained firm in her conviction.

During the November 2008 election, her unwillingness to impeach President Bush was used by Cindy Sheehan, her opponent and an anti-war activist. Nonetheless, she was reelected to the post of Speaker, taking office in 2009.

When on January 20, 2009, Barack Hussein Obama II took office as the 44th President of the United States, Pelosi became a vocal supporter of many of his policies. In February, she helped the new President to pass a $787 billion stimulus package.

She also played an important role in passing Obama's Health Care bill, laboring more than a year on it. The bill passed the House with a 219–212 vote. Enacted in March 2010, the law extended health cover to 30 million previously uninsured citizens.

Post Speaker Career

In the midterm election held on November 2, 2010, Democrats lost majority in the House of Representatives and with that, Nancy Pelosi lost her position as the Speaker of the House. Although she had to endure criticism for her party's failure, she was eventually elected Minority Leader for the 112th Congress.

She faced her first challenge in November 2016 when Ohio Congressman Tim Ryan tried to replace her as Minority Leader. She met the challenge by agreeing to provide more leadership opportunities to the younger generation. The strategy helped her defeat Ryan by 134–63.

Continue Reading Below

By 2017, Democrats lost four consecutive special elections in the House of Representatives and with that Pelosi's leadership was once again put to test. While many important Democrats wanted her to resign from her post, she continues to lead the Democratic caucus in the House of Representative to this day.

Honors & Achievements

On June 2, 2007, Nancy Pelosi was awarded with Knight Grand Cross of the Order of Merit of the Italian Republic. In the same year, she received the Special Achievement Award for Public Advocacy from National Italian American Foundation (NIAF).

On April 29, 2015, she was awarded with the Grand Cordon of the Order of the Rising Sun by the government of Japan.

On May 20, 2018, she was granted an honorary Doctorate of Law degree by Mount Holyoke College.

Family & Personal Life

On September 7, 1963, Nancy D'Alesandro married Paul Francis Pelosi at the Cathedral of Mary Our Queen, Baltimore. They initially settled down in the New York City area where Paul was employed as a banker, remaining there until 1969. Thereafter, they moved to San Francisco where they reside until now.

The couple has five children; Nancy Corinne, Christine, Jacqueline, Paul Jr. and Alexandra, all of them born within the first six years of their married life. Among them, Christine followed her mother's footsteps, becoming Democratic Party's political strategist from California while Alexandra grew up to be a journalist, documentary filmmaker and writer.

Pelosi has often been listed on Forbes list of 100 most powerful women of the world. In 2014, she ranked 26th on the list.

Net Worth

In 2014, Center for Responsive Politics, a nonpartisan organization, reported that Nancy Pelosi had an average net worth of $101,273,023, and she ranked 8th out of 25 wealthiest members of Congress. However, according to Roll Call's Wealth of Congress Index, she had a net worth of $29.35 million during the same period.

Trivia

According to Republican National Committee Chairman Ken Mehlman, Nancy Pelosi is neither an old nor new Democrat, she was a "prehistoric Democrat."

Pelosi loves chocolate and chocolate ice cream, and her office is always stocked with Ghirardelli chocolates. She also loves to solve crossword puzzles, and one of her favorite hobbies is to complete New York Times crossword puzzles.

Translate Wiki

to Spanish, French, Hindi, Portuguese

Article Title

- Nancy Pelosi Biography

Author

- Editors, TheFamousPeople.com

Website

- TheFamousPeople.com

URL

-

https://www.thefamouspeople.com/profiles/nancy-pelosi-5011.php

Last Updated

- February 04, 2019

---

---

---