Ronald Reagan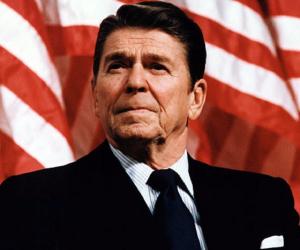 Quick Facts
Birthday: February 6, 1911
Nationality: American
Famous: Quotes By Ronald Reagan Presidents
Died At Age: 93
Sun Sign: Aquarius
Also Known As: Ronald Wilson Reagan
Born in: Tampico
Famous as: 40th President of the United States
political ideology: Democratic (1962), Republican (1962–2004)
Family:
Spouse/Ex-: Jane Wyman (1940–1949), Nancy Davis (1952–2004)
father: Jack Reagan
mother: Nelle (Wilson) Reagan
siblings: Neil (1908–1996)
children: Christine Reagan, Maureen Reagan, Michael Reagan (adopted), Patti Davis, Ron Reagan
place of death: Bel-Air
U.S. State: Illinois
Ideology: Republicans
More Facts
education: Eureka College (1932), Dixon High School
Continue Reading Below
Turn the pages of history in the American politics and you are sure to find a name that changed the political and economic condition of the country for a glorious future. Ronald Reagan served as the 33rd Governor of California, an office which he served for two consecutive terms before being appointed as the 40th President of the United States of America in 1980, a position he held until January 1989. However, a peep into the life of this iconic personality leaves one perplexed watching the stark opposition between his early and later life. It is interesting to note that before taking a plunge into politics and pursuing a substantial career in the same, Reagan was in the field of entertainment and served as the radio sports announcer and later on as an actor. He even took to playing the host for several television series and held the chair of the President for Screen Actors Guild.
Recommended Lists:
Recommended Lists:
Continue Reading Below
Childhood & Early Life
Ronald Reagan was born to John Edward 'Jack' Reagan and Nellie Wilson Reagan in Tampico, Illinois. He had an elder brother Neil. Fondly called 'Dutch', thanks to his Dutchman-like appearance and haircut, the nickname stayed with him throughout youth.

He completed his preliminary education from Dixon High School post which he got a scholarship at Eureka College to study Economics and Sociology. While he was academically proficient, his performance as an athlete, swimmer and actor, won him the chair of the President of the student body.

Upon completing his graduation, he worked as a radio sports announcer in Iowa, after which he was hired by WHO radio. In 1937, a screen test with the Warner Brothers led to his signing a contract with the company.

In his three decades long Hollywood career, he acted in several movies. While initially he found himself roles in 'B-films', soon his performance was appreciated by audience and critics alike. His most iconic movies were 'Knute Rockne, All American' and 'Kings Row'.

Meanwhile, he enlisted himself at the Army Enlisted Reserve in 1937 and was called for duty in 1942. Due to his near-sightedness, he was eligible for limited service in AAF. He soon was promoted to the position of First Lieutenant and later Captain. In 1945, he was called off active duty.

From 1947 until 1952 and in 1959, he served as the President of Screen Actors Guild. With small film offers, he took to television and served as the host for the show, General Electric Theatre. His final outing as a professional actor was as a host for the show, Death Valleys Days.

Continue Reading Below

Recommended Lists:

Recommended Lists:

Career

It was during his years as a television host that his ideology shifted from that of a liberal to a conservative. He entered into the political limelight in 1964 with his speech favouring Republican candidate Barry Goldwater.

In 1966, he ran for the first time for a government office, for the post of the Governor of California and eventually ended up winning the same by almost 1 million votes. He was re-elected for a second term in 1970, which he served until 1974.

Establishing himself as a Republican Party conservative candidate, he contested the 1980 presidential election. The result of the election was spell-binding, as he convincingly defeated Democratic President Jimmy Carter, gaining 51% of the popular votes.

He was sworn in as the President of the USA on January 20, 1981. In his inaugural speech, he called for a renewal of the nation and the government which he designated to be 'the problem' instead of being the 'problem-solver'.

He narrowly escaped attempt to assassination on the 69th day of office, while he was moving out of the Washington Hilton Hotel.

During his term, he brought about numerous social, economic, domestic and international policies. He enhanced the military budget, reduced spending in certain social programs such as Medicaid, food stamps and federal education programs and de-regulated businesses. He brought an end to the price controls on domestic oils which led to an unhindered supply of energy in the 1980s, much unlike the 1970s.

With an aim to revive the American economy, he proposed lowering of the marginal tax rates which eventually led to increased investment, increased economic growth, higher employment and wages. His economic policies led to a revival of the nation's economy in 1983 and the start of the seven glorious years of economic prosperity.

Continue Reading Below

As for foreign policy, Cold War was the most pressing issue during his first term as the President. To protect the country from the Soviet Empire, he ordered for a build-up of weapons and troops. Additionally, he introduced the 'Reagan Doctrine', which provided aid to anti-communist movements in Africa, Asia and Latin America. Furthermore, he announced to develop space-based weapons to protect America from attacks by Soviet nuclear missiles

His aim to maintain peace in Lebanon was futile as US Marine barracks at Beirut were attacked by suicide bombers which led to the death of 241 Americans. To answer back, he ordered invasion of theCaribbean island of Granada.

In the 1984 Presidential election, he again won against the Democratic candidate, Walter Mondale in a landslide victory, gaining 525 of 538 electoral votes. It was the largest number of votes ever won by an American Presidential candidate.

In his second term at the President office, he openly citied taking strong measures to fight against drugs and promised for drug-free schools and workplaces. Additionally, he introduced strong law enforcement against drugs and greater public awareness.

Much of his second term was tarnished by the Iran-Contra affair, a convoluted "arms-for-hostages" deal with Iran to funnel money toward anti-communist insurgencies in Central America.

It was in 1987 under his second term that Americans and Soviets signed a historic agreement to eliminate intermediate-range nuclear missiles. He was also instrumental in pulling down of the Berlin Wall

After serving as the President for two continuous terms, he evacuated the White House in January 1989, to move to his home in Los Angeles, California. In 1991, the Ronald Reagan Presidential Library and Museum opened in Simi Valley, California.

Recommended Lists:

Recommended Lists:

Awards & Achievements

Over the years, he was honoured with numerous prestigious awards worldwide, including American Presidential Medal of Freedom, Republican Senatorial Medal of Freedom, Congressional Gold Medal, Honorary Knight Grand Cross of the Order of the Bath- one of the highest British order, Japan's Grand Cordon of the Order of the Chrysanthemum,

Several schools, institutions, buildings, roads and airports inside and outside America bear his name and stand as the testament to honor the great work by this prolific 40th US President. Additionally, numerous statues of him have been unveiled across the globe.

Posthumously, the United States Postal Services issued commemorative postage stamp bearing his image in 2005. He was even bestowed with the highest Polish distinction - Order of the White Eagle. Additionally, he was enlisted in theTIME's list of 100 Most Important People of the 20th century.

Personal Life & Legacy

He married actress Jane Wayne in 1940, with whom he had three children, out of which one was adopted and one died as an infant. The couple divorced in 1949.

He remarried Nancy Davis in 1952. Together, they had two children, Patti and Ron.

Diagnosed with Alzheimer's disease in 1984, he finally succumbed to death on June 5, 2004 after suffering from pneumonia, which was complicated by Alzheimer's disease.

He was interred at the Ronald Reagan Presidential Library in California. A state funeral was held and then President George Bush declared June 11 as National Day of Mourning.

Trivia

Before serving as the 33rd Governor of California and the 40th President of the United States, this iconic politician was a radio sports announcer and an actor.

Translate Wiki

to Spanish, French, Hindi, Portuguese

Article Title

- Ronald Reagan Biography

Author

- Editors, TheFamousPeople.com

Website

- TheFamousPeople.com

URL

-

https://www.thefamouspeople.com/profiles/ronald-reagan-69.php

Last Updated

- July 20, 2017

---

---

---