Park-Chung-hee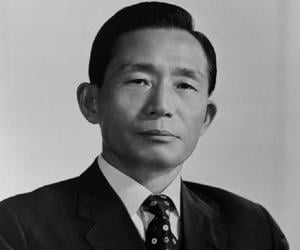 Quick Facts
Birthday: November 14, 1917
Nationality: South Korean
Famous: Presidents Political Leaders
Died At Age: 61
Sun Sign: Scorpio
Born in: Gumi, South Korea
Famous as: Former President of South Korea
Family:
Spouse/Ex-: Kim Ho Nam (m. 1936–1950), Yuk Young-soo (m. 1950–1974)
siblings: Park Dong-hee, Park Gwi-hee, Park Jae-hee, Park Moo-hee, Park Sang-hee
children: Park Jae-ok Park Geun-hye Park Geun-ryoung Park Ji-man
Died on: October 26, 1979
Continue Reading Below
Park Chung-hee was a South Korean general, who assumed the presidency in a coup and served as the President of South Korea for 16 years before he was assassinated. He is considered to be one of the most successful leaders of South Korea who steered the nation towards becoming an economic superpower. His reign ushered in a period of sweeping nationwide economic development but at the expense of political freedom and civil liberties. He came from a poor family and started his work as a teacher. Later on, he joined the Manchukuo Imperial Army and served in the final stages of World War II. After South Korea became a free country, Park assumed charge as the brigadier general of the South Korean army during the war between North Korea and South Korea that lasted for three years. On becoming the general, he engineered a coup leading to the toppling of the Second Republic. After temporarily governing South Korea as a junta leader, he was elected as the first president of the Third Republic. Kim Jae Kyu, chief of Korean Central Intelligence Agency and Park Chung-hee's close companion, assassinated him, following years of authoritarian rule by the Park Chung-hee.
Recommended Lists:
Recommended Lists:
Continue Reading Below
Childhood & Early Life
Park Chung-hee was born on 14 November 1917, to Bek Nam-eui and Park Sung-bin, in the industrial city of Gumi in Korea, which was then ruled by the Japanese. He had two sisters and five brothers, all of whom were elder to him.

Chung Hee was a student of average intelligence, and after completing his graduation, landed the job of a schoolteacher in a primary school in Mungyeong-eup. Colonel Arikawa of the Japanese Imperial Army, a drill coach in the same school where Park taught helped him join the Manchukuo Imperial Army's Changchun Military Academy.

The 2nd Sino-Japanese War had broken out when Park joined the Changchun Military Academy. He completed his military training effectively, finishing at the top in his class and impressing the Japanese instructors who sent him to Japan in 1942 for advanced training in the Imperial Japanese Army Academy.

Park joined the Manchukuo Imperial Army as a lieutenant after graduating from the Imperial Japanese Army Academy, finishing third. He served as aide-de-camp to a regimental commander during WWII, working as an espionage agent and gathering information about Korean militia operating in the Manchurian region.

Recommended Lists:

Recommended Lists:

Early Career

Following the end of World War II, Park Chung-hee returned to Korea and joined the Korean Military Academy. After graduating in 1946, he was appointed as an officer in the law enforcement division of the US Military Government in South Korea.

The South Korean government led by Syngman Rhee, arrested Park, accusing him of leading a communist movement, a charge which was never corroborated. A death sentence awarded to him was later on reduced to simple imprisonment at the behest of some senior military officials. However, he was expelled from the army.

Following the onset of the Korean War, Chung Hee was reinstated as major in South Korean Army. Within a couple of years, he was promoted to the rank of colonel, serving in the Army Headquarters Intelligence Bureau as its deputy director. The 'Korean Armistice Agreement' in 1953 signaled the end of the war.

After the war between North and South Korea came to an end in 1953, Park left for the US to complete a military training at Fort Sill, Oklahoma. Upon his return to South Korea, he was made the chief of the Artillery School. In 1958, he was promoted to the position of major general following which he became the Chief of Staff of the First Republic's army. Gradually, he went to assume charge as deputy commander of the army under the Second Republic.

The Military Coup and Ascendance to Power

The first president of independent South Korea, Syngman Rhee, was ousted from office and sent into exile on 25 April 1960, owing to his repressive rule. However, a hurriedly constituted democratic government that assumed office three months later completely failed to restore even a semblance of normalcy in South Korea.

A rag-tag and tenuous coalition government led by the Democratic Party was unable to maintain law and order and eventually lost the confidence of the electorate. Park Chung-hee who was the major general, created the 'Military Revolutionary Committee' in order to orchestrate a coup in 1961.

The military coup of 1961 led by major general Park culminated in the deposing of President Yun's democratic government thus bringing the curtains down on the Second Republic. A reformist council 'Supreme Council for National Reconstruction' constituting of military officers who had backed the coup d'état, elected Park as its chairman.

As President of South Korea

Following President Yun's resignation in 1962, Park took charge as interim president. The presidential elections held in 15th October 1963 witnessed Park becoming the president of the Third Republic as the leader of the newly constituted Democratic Republic Party.

Ex-President Yun who contested the elections under the banner of Civil Rule Party, lost by a very slim margin of just 1.5%. Park Chung-hee was reelected President for a second term in 1967, trouncing contestant Yun, by a far greater margin this time.

Park Chung-hee attempted to mend diplomatic relations with Japan which resulted in the latter making greater investments in South Korea. He also sought to normalize relations with the US, signing a treaty with the country that would nullify risks of onslaughts from North Korea.

When the Vietnam War broke out in 1965, Chung Hee deployed ground troops to that country. The South Korean government received aids in the form of subsidies, loans, technology transfers, and grants from the US in lieu of sending 3,20,000 troops to Vietnam to fight as its ally.

Park Chung-hee endeavored to even out and smooth strained relations with North Korea. But North Korea did not reciprocate in a similar manner as it stepped up its infiltration drive into its Southern neighbour. Starting from 1966 till 1969, there were multiple armed conflicts between the two Koreas.

An assassination attempt on Park by commandoes of the North Korean People's Army in 1968 on 21st January had almost succeeded. In retaliation, Chung Hee formed 'Unit 684' that was deputed with the mission of assassinating the North Korean leader, Kim II-Sung. However, 'Unit 684' was demobilized two years later.

Both South and North Korea tried to negotiate a reunification, the hostilities notwithstanding. A notification spelling out the terms and conditions of reunification was released in 1972. Both countries took a resolve to achieve union without interference from outside powers or applying military force.

Continue Reading Below

Chung Hee is undisputedly regarded as the architect of modern South Korea, putting the nation on the road to rapid economic development and making it one of the four tiger economies of Asia. He focused on developing the basic infrastructure of the national economy by encouraging establishment of heavy industries via public-private partnerships.

Park's economic policies lay stress on the development of an industrialized economy with a high orientation towards exports. Within a short period of time, South Korea not only rivaled its northern neighbor in terms of economic progress and military might but gradually surged ahead.

Chung Hee's strong commitment to promulgate across-the-board economic reformation policies led to comprehensive development of the nation. He had a key role to play in the phenomenal transformation of numerous smalltime, domestic firms and businesses into-'chaebols'-the Korean term for 'conglomerates'-two of the most notable being 'Samsung' and 'LG'.

However, some of Park's domestic policies were scathingly criticized not only by the public but also by the opposition and even by some members of his Democratic Republican Party. One such policy was to bring about an amendment in the original Constitution that empowered the serving president to contest 3 elections consecutively.

The Final Years Leading to Assassination

The vehicle of economic growth pioneered by Park that was instrumental in all round development of the nation and which also sustained his presidency for one-and-a-half decade began decelerating in the 1970s. His administration which was democratic initially eventually careened towards authoritarianism as both freedom of the press and speech were stultified.

While Park was addressing the audience at National Theater in Seoul to commemorate the 29th year of independence on 15 August 1974, he was shot at by a man. The manqué assassin, a North Korean supporter, narrowly missed the President but one of his bullets fatally wounded Yuk Young-Soo, his wife.

Park's wife, Yuk Young-Soo died on 15 August 1974 after being hit mortally by a bullet. Park was deeply crestfallen by his wife's unexpected demise registering his grief and personal loss in a journal he maintained.

There was a countrywide call for revoking the Yushin Constitution which was Park's brainchild, legitimizing his autocratic rule. The demonstrations and protests gradually turned violent, compelling Park to impose martial law that ultimately led to workers and students ransacking ruling party offices and police stations.

Korean Central Intelligence Agency's (KCIA) director, Kim Jae-Gyu shot dead Park Chung-hee, following a banquet in Seoul on 26 October 1979. Park Chung-hee was accorded a state funeral on 3 November 1979 and was buried at the Seoul National Cemetery.

Personal Life & Legacy

Park Chung-hee married Kim-Ho-nam but separated from her later on. He married Yuk Young-Soo, the daughter of a landlord. Yuk Young-Soo died in 1974, in an assassination attempt on Park Chung-hee. Park had one daughter from his first wife, and one son and two daughters from his second wife.

Park continues to be one of the most controversial presidents of South Korea, commended for his groundbreaking economic policies on one hand, and lambasted for his domestic policies and dictatorship on the other.

Translate Wiki

to Spanish, French, Hindi, Portuguese

Article Title

- Park-Chung-hee Biography

Author

- Editors, TheFamousPeople.com

Website

- TheFamousPeople.com

URL

-

https://www.thefamouspeople.com/profiles/park-chung-hee-33731.php

Last Updated

- September 05, 2017

---

---

---