Nelson Rockefeller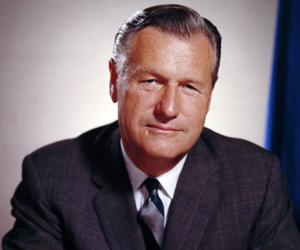 Quick Facts
Nationality: American
Famous: Quotes By Nelson Rockefeller Political Leaders
Died At Age: 70
Sun Sign: Cancer
Born in: Bar Harbor, Maine, United States
Famous as: 41st Vice President of the U.S.A
political ideology: Political party - Republican
Family:
Spouse/Ex-: Happy Rockefeller, Mary Rockefeller
father: John D. Rockefeller Jr.
mother: Abby Aldrich Rockefeller
siblings: David Rockefeller, John D. Rockefeller III, Laurance Rockefeller, Winthrop Rockefeller
children: Ann Rockefeller, Jr., Mark Rockefeller, Michael Rockefeller, Nelson Rockefeller, Rodman Rockefeller, Steven Clark Rockefeller
Died on: January 26, 1979
place of death: New York City
U.S. State: Maine
Ideology: Republicans
Founder/Co-Founder: State University of New York at Purchase, Empire State Development Corporation, Metropolitan Transportation Authority
More Facts
education: Dartmouth College
Continue Reading Below
Nelson Rockefeller was an American businessman and politician who served as the 41st U.S. Vice President of the United States, from 1974 to 1977, in the administration of Gerald Ford. Born into the famous American Rockefeller family, Nelson was an heir to Standard Oil Co. Inc., the largest oil refiner in the world of its time. Despite his family's great wealth, Nelson's father tried to inculcate the values of modesty and restraint in the young Nelson. After attending the Lincoln School, Nelson went to the Dartmouth College where he majored in economics, and sporadically worked to earn money. Upon completing his graduation, Nelson worked in a number of family businesses. Simultaneously, he entered into politics and served as the member of the Westchester County Board of Health. In the later years, Nelson moved in and out of government acquiring secretarial roles in the administrations of both, Harry Truman and the Dwight Eisenhower. Then, he ran for governor of the state of New York and was elected four times successively to the post, serving from 1959 to 1973. In the meantime, he made several bids for the presidency but failed in his attempts. In addition to being a remarkable statesman, Nelson was also a leading philanthropist and an outspoken supporter of the civil rights movement. Driven by a desire to serve his country, he founded his own non-profit organization to support development and also advocated civil rights using his position. Later, he served as the 41st Vice President of the United States in the Republican administration of Gerald Ford, and then retired to private life.
Recommended Lists:
Recommended Lists:
Continue Reading Below
Childhood & Early Life
Nelson Aldrich Rockefeller was born on July 8, 1908, in Bar Harbor, Maine, U.S., to John B. Rockefeller Jr., and his first wife, Abby Greene Aldrich. He was the grandson of John D. Rockefeller Sr., founder of the Standard Oil Company and was the third of six children born into one of the wealthiest families in the country.

After completing his elementary education from the Lincoln School in 1926, Nelson attended the Dartmouth College and earned a Bachelor of Arts degree in economics in 1930.

Subsequently, he worked at the London and Paris branches of Chase National Bank, and later skillfully supervised the construction of Rockefeller Center in New York, a project initiated by his father in the late 1920s.

Continue Reading Below

Recommended Lists:

Recommended Lists:

Career

During his time in New York, Rockefeller developed an interest in government workings and gravitated towards politics. In 1933, he was appointed a member of the Westchester County Board of Health.

In 1940, he entered in national politics and accepted his first major governmental position as the Coordinator of Inter-American Affairs, in the administration of President Franklin D. Roosevelt.

Although he was a Republican in the Democratic administration of Roosevelt, Nelson rose in the cabinet and was appointed the 1st Assistant Secretary of State for American Republic Affairs, in 1944.

In 1945, he resigned from his post and subsequently founded a private nonprofit group to support developing nations in Latin America. Five years later, in 1950, he returned to public career when he was appointed the head of the International Development Advisory Board, in the administration of President Harry S. Truman.

In 1953, President Dwight D. Eisenhower appointed Nelson as 1st Undersecretary of the newly created Department of Health, Education, and Welfare, which he retained until 1955.

In 1958, Nelson ran for the governorship of New York State and was successful in his campaign, becoming the 49th Governor of New York. During his term, he earned much praise for his work and was elected to the post four consecutive times, serving until 1973.

During this time, Nelson made several attempts for Republican presidential nomination, in 1960, 1964 and 1968, but was unsuccessful. Although, he was re-elected as the Governor of New York in 1973 but Nelson resigned from his post.

Continue Reading Below

Subsequently, Nelson was nominated for the U.S. vice presidency by President Gerald Ford, who had moved upon Nixon's resignation amidst the Watergate scandal. From December 1974 to January 1977, Nelson Rockefeller served as the 41st Vice President of the United States.

Upon completing his term as the vice president, Rockefeller took retirement from public life and started focusing on arts. Subsequently, he amassed a wide collection of modern paintings, sculpture, and all types of primitive art.

Nelson was also a writer and published books such as 'The Future of Federalism' (1962), 'Unity, Freedom and Peace' (1968), and 'Our Environment Can Be Saved' (1970).

Major Works

While serving as the Governor of New York for four successive terms, Nelson oversaw substantial changes in New York's fiscal, cultural, and educational policies and facilities. A liberal Republican, he focused on areas such as education, housing, welfare, health care, transportation, arts, and state construction projects.

Nelson was a leading philanthropist and served as a keen advocate of civil rights movement, receiving much appreciation from Martin Luther King. He financed the reconstruction of several bombed churches in the South and made efforts to support a higher standard of living in underdeveloped parts of the world.

Awards & Achievements

An enthusiastic art collector and investor, a wing of New York's Metropolitan Museum of Art is named in Nelson Rockefeller's honor.

Personal Life & Legacy

In 1930, upon graduation, Nelson married Mary Todhunter Clark, a Philadelphia socialite. They had five children together but the couple divorced in 1962.

In 1963, he tied the knot with Margaretta Large Fitler, and the couple had two sons together. They remained married until his death.

Nelson Rockefeller died of a heart attack on January 26, 1979, in New York City, U.S. His remains were cremated at Ferncliff Cemetery, near Hartsdale, while his ashes were interred in a private Rockefeller family cemetery in Sleepy Hollow, New York.

Translate Wiki

to Spanish, French, Hindi, Portuguese

Article Title

- Nelson Rockefeller Biography

Author

- Editors, TheFamousPeople.com

Website

- TheFamousPeople.com

URL

-

https://www.thefamouspeople.com/profiles/nelson-rockefeller-6588.php

Last Updated

- October 06, 2017

---

---

---