Neil Armstrong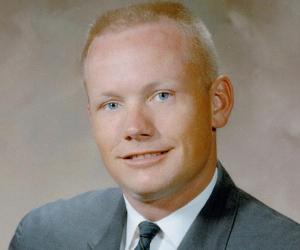 Quick Facts
Nationality: American
Famous: Quotes By Neil Armstrong Left Handed
Died At Age: 82
Sun Sign: Leo
Also Known As: Neil Alden Armstrong
Born in: Wapakoneta
Famous as: American astronaut
Family:
Spouse/Ex-: Carol Held Knight, Janet Shearon
father: Stephen Armstrong
mother: Viola Armstrong
siblings: Dean Armstrong, June Armstrong
children: Eric Armstrong, Karen Armstrong, Mark Armstrong
place of death: Cincinnati
U.S. State: Ohio
City: Wapakoneta, Ohio
More Facts
education: University of Southern California, (1970), Purdue University, (1947 – 1955), Blume High School, (1947)
awards: 1978 - Presidential Medal of Freedom
2009 - Congressional Gold Medal
- Collier Trophy

1971 - Sylvanus Thayer Award
1978 - Congressional Space Medal of Honor
1999 - Langley Gold Medal

Continue Reading Below
History was created when Armstrong put his left foot on the surface of Moon, thus becoming the first ever man to place his foot on someplace other than the Earth. He was and for centuries to come, will be regarded as the greatest American hero who created a landmark moment in human history. Trained as an aeronautical engineer, he soon took to being a test pilot and served as the same for a number of years before being selected as an astronaut. Interestingly, all his accomplishments would not have happened in the first place had his friend, Dick Day not placed his application for astronaut with the ones that arrived on time; Armstrong's application had arrived about a week after the deadline. Armstrong's first mission into the space was as command pilot of Gemini 8 in 1966. With this, he became the first civilian to fly in space. His second and last space flight occurred three years later in 1969 when he joined Aldrin and Collins aboard Apollo 11 for NASA's first manned mission to moon. Armstrong spent about two hours walking on the moon surface, collecting samples and conducting experiments. His fiery determination coupled with his heroic demeanour and unwavering team spirit made him a man of virtue and honor. To know in details about his life and profile, scroll further.
Recommended Lists:
Recommended Lists:
Continue Reading Below
Childhood & Early Life
Neil Armstrong was the eldest of the three children born to Stephen Koenig Armstrong and Viola Louise Engel. Since his father was employed as an auditor for the government, much of his early life was spent travelling from one city to the other.

At the age of five, he experienced his first ever airplane flight. This left an indelible mark on the young lad and set the tone for his life.

Academically, he attained his formal education from Blume High School. Alongside, he took flying lessons and earned his student light certificate at the age of 16. He was an active member of the Boy Scouts and soon went up the rank to become Eagle Scout.

A year later in 1947, he enrolled himself at Purdue University to study aeronautical engineering. He was sponsored by the Holloway Plan, under which it was customary for him to serve three years of service in the U.S. Navy,

He was called for the service in 1949, wherein he was asked to report to Naval Air Station Pensacola for flight training. After about 18 months of rigorous training, he finally was qualified as a Naval Aviator on August 1950.

After undertaking a few routine assignments, he saw first action in the Korean War in August 1951, when he flew as an escort for a photo reconnaissance plane over Songjin.

In his three years of Navy career, he flew 78 missions over Korea for a total of 121 hours in the air. He left the Navy on August 23, 1952, and became a Lieutenant, Junior Grade, in the U.S. Naval Reserve, where he served for eight years before resigning in 1960.

Re-joining university, he finally attained his graduation degree in 1955. Further in 1970, he attained a Master of Science degree in Aerospace Engineering from the University of Southern California.

Continue Reading Below

Recommended Lists:

Recommended Lists:

Career

In 1955, with an aim to become an experimental research test pilot, he applied for National Advisory Committee for Aeronautics (NACA). However, due to no open positions, his application was forwarded to the Lewis Flight Propulsion Laboratory in Cleveland, where he began working.

He moved back to NACA after a couple of months. His first assignment was to pilot chase planes during releases of experimental aircraft from modified bombers.

During his seventeen years of service for National Aeronautics and Space Administration NASA (formerly known as NACA), he served in various capacities including as an engineer, test pilot, astronaut and administrator.

As a research pilot, he tested numerous high-speed aircraft, including the X-15, which could reach a top speed of 4,000 miles per hour. Overall, he flew about 200 different models of aircrafts, including jets, rockets, helicopter and gliders.

Year 1958, marked his selection in the U.S. Air Force's Man In Space Soonest program. Two years later, he was chosen as part of the pilot consultant group for the X-20 Dyna-Soar. In 1962, he finally made it in the top seven pilot engineers who would fly space plane.

He became the first American civilian to travel in space. His first mission with the Gemini VII was as Command Pilot, which launched on March 16, 1966. Originally planned to last for 75 hours and 55 orbits, the spacecraft returned 11 hours after its start due to technical problems.

His last assignment for the Gemini program was for Gemini 11, wherein he worked as a back-up Command Pilot. The launch was scheduled for September 12, 1966 with Armstrong as a CAPCOM.

Continue Reading Below

On December 23, 1968, he was appointed to the post of the commander for Apollo 11. Buzz Aldrin was lunar module pilot while Michael Collins served as command module pilot.

The trio landed on the moon on July 20, 1969, a few seconds after 20:17:40 UTC. Armstrong became the first to land on the Moon. His first words were, 'That's one small step for a man, one giant leap for mankind'.

After a brief walk on the Moon which lasted for about two hours, he re-entered the spacecraft and journeyed back to Earth. They landed in the Pacific Ocean and were picked up by USS Hornet.

After spending 18 days in quarantine, he along with the crew moved around the world as part of a 45-day 'Giant Leap' tour. Post his Apollo 11 flight, he announced his plan of not flying in space again.

In 1970, he was appointed as the Deputy Associate Administrator for aeronautics for the Office of Advanced Research and Technology, Advanced Research Projects Agency (ARPA), but served the same for a year, resigning from it and NASA.

He took up a teaching position at the University of Cincinnati in the Department of Aerospace Engineering. He remained in the position for about eight years, resigning in 1979.

Meanwhile, he acted as a spokesperson for several US businesses including General Time Corporation and the Bankers Association of America. Additionally, he was a member of the board of directors of several companies such as Marathon Oil, Learjet, Cinergy, Taft Broadcasting, United Airlines, Eaton Corporation, AIL Systems and Thiokol.

Major Works

With his appointment as an astronaut, he became NASA's first civilian to fly in space. However, the most spectacular achievement of his life was undertaking the Apollo 11 mission, which was the first manned mission to Moon. He became the first man ever to walk on the Moon surface, which lasted for a little over two hours.

Awards & Achievements

He was conferred with many prestigious awards including Presidential Medal of Freedom, Congressional Space Medal of Honor, Robert H. Goddard Memorial Trophy, Sylvanus Thayer Award and Collier Trophy from the National Aeronautics Association.

Furthermore, he received the Congressional Gold Medal, NASA Distinguished Service Medal, Langley Gold Medal, American Astronautical Society Flight Achievement Award and the John J. Montgomery Award

He was inducted in the Aerospace Walk of Honor and the United States Astronaut Hall of Fame.

An asteroid in space and a lunar crater has been named after him. Furthermore, several schools, institutions, streets, buildings, airports and public squares across the globe have been named after him.

He received the 2013 General James E. Hill Lifetime Space Achievement Award from the Space Foundation.

Personal Life & Legacy

He walked down the aisle with Janet Elizabeth Shearon on January 28, 1956, at the Congregational Church in Wilmette, Illinois. The couple was blessed with three children.

He underwent a bypass surgery to relieve blocked coronary arteries on August 7, 2012. A few days later, on August 25, he breathed his last.

Trivia

He is the first man ever to walk on the surface of the Moon.

Translate Wiki

to Spanish, French, Hindi, Portuguese

Article Title

- Neil Armstrong Biography

Author

- Editors, TheFamousPeople.com

Website

- TheFamousPeople.com

URL

-

https://www.thefamouspeople.com/profiles/neil-alden-armstrong-2430.php

Last Updated

- July 21, 2017

---

---

---