Dieter Dengler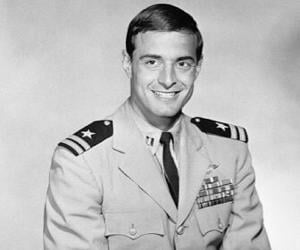 Quick Facts
Nationality: American
Famous: Aviators American Men
Died At Age: 62
Sun Sign: Gemini
Born in: Wildberg, Baden-Württemberg, Germany
Famous as: Aviator
Family:
Spouse/Ex-: Irene Lam (m. 1980–1984), Marina Adamich (m. 1966–1970), Yukiko Dengler (m. 1998–2001)
father: Reinhold Dengler
mother: Maria Dengler
children: Alexander Dengler, Rolf Dengler
Died on: February 7, 2001
place of death: Mill Valley
More Facts
education: College of San Mateo
awards: Distinguished Flying Cross
Purple Heart
Air Medal
Navy Cross
Continue Reading Below
Dieter Dengler was a German-born United States Navy aviator who was the first captured U.S. pilot who escaped enemy captivity during the Vietnam war. He had escaped from the Pathet Lao prison camp in Laos after six months of torture and was rescued by American forces after surviving in the jungle for 23 days. His childhood hardship, as well as his training in escaping and survival at the navy SERE survival school, during which he had successfully escaped twice and was the only student to gain weight, helped him survive as a prisoner and make escape plans despite intolerable torture. He was also inspired by his maternal grandfather, Hermann Schnuerle, who was subjected to public humiliation and was sentenced to work in the rock mine for a year for refusing to vote for Adolf Hitler. After his recovery, he resumed service in the navy and later served as a private aircraft test pilot and a commercial airline pilot. He has been the subject of many documentaries, books and films, including the Christian Bale starrer, 'Rescue Dawn'.
Recommended Lists:
Recommended Lists:
Continue Reading Below
Childhood & Early Life
Dieter Dengler was born on May 22, 1938 in Wildberg, in the Black Forest region of Baden-Württemberg, Germany and was raised by his mother alongside his brothers. He did not know his father, who was forced to join the German army when he was an infant and was killed during World War II on the Eastern Front during the winter of 1943-44.

Growing up in extreme poverty, he and his brothers used to collect wallpapers from bombed-out buildings to extract the little nutrients left in the paste and also scavenged the nearby Moroccan camp for leftover food. He also scavenged for scraps and had built a bicycle for himself, becoming the first in the town to own one.

At the age of 14, he started working as an apprentice to a blacksmith, working six days a week building giant clocks and clock faces to repair German cathedrals. Despite the fact that he was regularly beaten by the other boys and the blacksmith was harsh and strict, he thanked him later for teaching him to be "tough enough to survive".

As a boy, he had determined to become a pilot after witnessing an Allied fighter plane firing its guns and flying very close to the window he was watching from in his hometown. After he saw an advertisement for pilots in an American magazine, he started salvaging scrap metals to sell, and completing his apprenticeship at 18, hitchhiked to Hamburg to set sail for New York City.