Nathan Bedford Forrest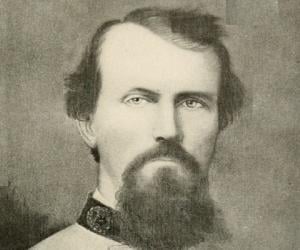 Quick Facts
Nick Name: Old Bed, Devil Forrest, Wizard of the Saddle
Nationality: American
Famous: Military Leaders American Men
Died At Age: 56
Sun Sign: Cancer
Born in: Chapel Hill
Famous as: Military commander
Family:
father: William Forrest
mother: Miriam Beck
siblings: Colonel Jesse Forrest, John Cimprich
Died on: October 29, 1877
place of death: Memphis
U.S. State: Tennessee
Continue Reading Below
One of the most imposing and intimidating Confederate Generals during the Civil War, Nathan Bedford Forrest was a name to reckon with. He started off as a private soldier and rose to the rank of a lieutenant general serving as a cavalry officer at numerous battles including the ones at Shiloh, Chickamauga, Brice's Crossroads and Second Franklin. Despite having no military training, he reigned at the battles due to his sheer tactics and fierce swordsmanship. All throughout the war, he successfully conducted various raiding operations on federal supplies and communication lines. While he successfully led quite a many battles, it was the Battle of Fort Pillow in April 1864 that stained his illustrious career as he was known to have caused the murder of 200 Union unarmed troops, mostly blacks. Post war, he worked as a planter and railroad president, and served as the first grand wizard of the Ku Klux Klan.
Recommended Lists:
Recommended Lists:
Childhood & Early Life
Nathan Bedford Forrest was born to William Forrest and Miriam Beck in Bedford County, Tennessee. He along with his twin sister, Fanny was the eldest of the twelve children born to the couple.

The death of his father led young Nathan to become the head of the family. In 1841, he followed his uncle to start up a business in Hernando, Mississippi. However, the death of his uncle in 1845 forced him to move further.

Recommended Lists:

Recommended Lists:

Career

He started up as a planter of cotton plantation in the Delta region of West Tennessee, a business which brought him rich fortune. Additionally, he also functioned as a slave owner and trader.

The thriving business and success raised the financial status of the family all through the 1850s. By 1858, he was chosen as a Memphis alderman. In the next two years, he established himself as one of the richest men in Tennessee.

With the initiation of the Civil War, he drafted himself at the Confederate States Army and by 1861, started out as a private soldier at Tennessee Mounted Rifles.

His status and position as a planter earned him the position of Lieutenant Colonel. His position involved recruiting and training a battalion of Confederate Mounted Rangers.

By October 1861, he was commanding a regiment. Despite having no military training or experience, his proficiency, tactical approach and leadership prowess earned him a respectable status.

In 1862, he, along with his troops, was stationed at the Fort Donelson. Though his company was cornered by Major General Ulysses Grant, instead of surrendering to their demand, he successfully and safely led his troop across the river.

He led the cavalry to escape past Niashville, where he coordinated evacuation effort. Within a month, he trained himself and his troops for the Battle of Shiloh. He commanded rear-guard action during the Confederate retreat into Mississippi.

During the battle, he sustained a gun shot at the back. However, despite this, he led a cavalry charge against union skirmishers and single-handedly controlled the troops.

During the summer, he commanded a new brigade of green cavalry regiments and by July, he led them successfully into the First Battle of Murfreesboro. He was promoted to the rank of Brigadier General and given command of Confederate cavalry brigade.

Continue Reading Below

He next participated in the cavalry operations near Mississippi River, wherein Grant was under control. The troop frustrated Grant's forces by cutting communication lines and raiding stores of supplies. He then employed guerrilla tactics to frustrate and exhaust his pursuers.

Throughout 1863, he engaged himself at the Battle of Thompson near Fort Donelson. Interestingly, he fooled and successfully cornered Colonel Abel Streight's commanded Union cavalry by leading his troop around the same hilltop a multiple times to give an impression of a large force.

During the Battle of Chickamauga held in September 1863, he played a vital role by fighting alongside infantrymen and pursuing the retreating Union army. However, combat with General Bragg led him to serve as the independent commander in Mississippi.

By December 1863, he was promoted to the rank of a Major General. In the new found position, he commanded several small engagements before taking up charge at the Battle of Okolona and defeating a large force.

His most controversial role came in the Battle of Fort Pillow wherein he served as the field commander. Despite winning the battle, his troops went on to kill over 200 unarmed Union soldiers, mostly black. The entire incident was later recognized as the Fort Pillow Massacre.

Notwithstanding the charge sheet against him at the Battle of Fort Pillow, he went on to lead his men at the Battle of Brice's Crossroads where he not only destroyed the Union force, but claimed valuable supplies and arms as well.

The year 1864 brought mixed results for his army. While he lost the Battle of Tupelo and the Third Battle of Murfreesboro, he came up with a resounding victory at the Second Battle of Franklin

In 1865, he was promoted to the rank of Lieutenant General but was defeated at the Battle of Selma during General Wilson's raid into Deep South

Post Civil War, he returned to Tennessee and entered private business. However, with the abolishment of slavery, he suffered a major financial setback as he was a slave trader.

Meanwhile, he began to associate himself with the newly formed Ku Klux Klan a secret society that disrupted the reconstruction effort and terrorized blacks. He served as the first mastermind of the Klan ever since its formation in 1866.

He then found employment at the Selma-based Marion & Memphis Railroad, eventually serving as the company President. However, with the failure of the business, he went bankrupt.

Due to major financial losses incurred, he was forced to sell most of his assets. He spent the latter half of his days running a prison labor camp on President's Island in the Mississippi River.

Personal Life & Legacy

He tied the nuptial knot with Mary Ann Montgomery, daughter of a Presbyterian minister in 1845. The couple was blessed with two children, William Montgomery Bedford Forrest and Fanny

His health deteriorated greatly during the latter half of his life. He breathed his last in October 1877 in Memphis of acute complications of diabetes. He was cremated at the Elmwood Cemetery. Later in 1904, his remains were disinterred from Elmwood and moved to a Memphis City Park.

Posthumously, a number of memorials, statues, monuments, schools, institutions were constructed and named in his honor.

Trivia

He was the greatest cavalryman during the American Civil War who also served as the first Grand Dragon of Ku Klux Klan.

Translate Wiki

to Spanish, French, Hindi, Portuguese

Article Title

- Nathan Bedford Forrest Biography

Author

- Editors, TheFamousPeople.com

Website

- TheFamousPeople.com

URL

-

https://www.thefamouspeople.com/profiles/nathan-bedford-forrest-5015.php

Last Updated

- October 18, 2017

---

---

---