Paul Pelosi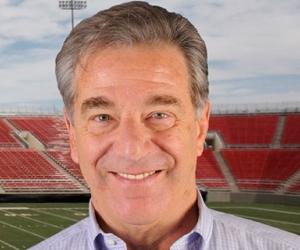 Quick Facts
Nationality: American
Famous: Real Estate Entrepreneurs American Men
Age: 78 Years, 78 Year Old Males
Sun Sign: Aries
Also Known As: Paul Francis Pelosi Sr.
Born in: San Francisco, California
Famous as: Businessman
Family:
Spouse/Ex-: Nancy Pelosi (m. 1963)
siblings: Ron Pelosi
children: Georgetown University (1962), Harvard Business School, Harvard University, New York University
U.S. State: California
City: San Francisco, California
Hobbies: https://www.imdb.com/name/nm5340830/
Continue Reading Below
Paul Francis Pelosi Sr. is an American businessman and the husband of American politician Nancy Pelosi, who is the incumbent Speaker of the United States House of Representatives, since January 2019. Pelosi forayed into business decades ago and developed into a successful businessman. He is the owner of real estate and venture capital investment and consulting firm 'Financial Leasing Services, Inc.' He invested in the erstwhile professional American football team 'Oakland Invaders' of the United States Football League. He also purchased the California Redwoods (later Sacramento Mountain Lions), a franchise in the United Football League, which eventually folded in 2012. He was the chair of the Foreign Service Board at Georgetown. He is part of several philanthropic and corporate boards. He is married to Nancy Pelosi (née D'Alesandro) for over five decades and together they have five children and nine grandchildren.
Recommended Lists:
Recommended Lists:
Continue Reading Below
Childhood & Early Life
Paul Francis Pelosi Sr. was born on April 15, 1940, in San Francisco, California, US. Not much is known about his family background, parents, and early life. He has a brother Ronald Pelosi who is also a businessman in San Francisco.

Pelosi studied at the Georgetown University from where he obtained his Bachelor of Science degree in Foreign Service. He also studied at the Stern School of Business at New York University and the prestigious Harvard Business School (HBS) of Harvard University in Boston, Massachusetts.

Recommended Lists:

Recommended Lists:

Career

Pelosi has over the years evolved as a successful businessman. His entrepreneurial endeavours include owning and operating the San Francisco-based real estate and venture capital investment and consulting firm, 'Financial Leasing Services, Inc.'

He invested in the professional American football team the 'Oakland Invaders' of the United States Football League (USFL), but it folded in 1985.

He shelled out $12 million to purchase the 'California Redwoods,' a franchise in the United Football League (UFL), in 2009. The team began to play from October 2009 and later moved to Sacramento. The league declared on April 6, 2010, that the franchise would henceforth be called the 'Sacramento Mountain Lions.' The team, however, became defunct in 2012 after the UFL suddenly ceased operations in the middle of that season due to financial shortfalls. According to sources, Pelosi faced a loss of around $5 million in the deal.

Meanwhile in 2009, Pelosi was the chair of the Foreign Service Board at Georgetown. He is also part of several philanthropic and corporate boards.

He has made heavy investments in several stocks, including Walt Disney, Shutterfly, Apple, Facebook and Comcast. He is also known to have invested in Russell Ranch LLC, a real estate company in California, which reportedly increased his wealth by about $4 million.

Family & Personal Life

Pelosi crossed path with Nancy Patricia D'Alesandro during her college days. On September 7, 1963, the two got married in Baltimore, Maryland, at the Cathedral of Mary Our Queen. They relocated to New York after their marriage and in 1969 they relocated to in San Francisco. At that time Ronald was a member of Board of Supervisors of the City and County of San Francisco. Ronald is associated with the Pacific Corporate Group as Chairman of the board of trustees.

Pelosi and Nancy have four daughters namely Nancy Corinne, Christine, Alexandra and Jacqueline and a son, Paul. They have nine grandchildren.

Continue Reading Below

Alexandra is a journalist, documentary filmmaker, and writer. She covered the 2000 Republican presidential campaigns and made a documentary film, 'Journeys with George,' which follows George W. Bush on the latter's campaign trail during the 2000 United States Presidential Election.

Christine is a Democratic Party political strategist from California. She has authored the book 'Campaign Boot Camp: Basic Training for Future Leaders' (2007).

Pelosi is affiliated to the Democratic Party and is noted for his support for former US President Barack Obama.

Although he mostly remains hooked to his business, he has continuously supported his wife in her political ambitions and has helped Nancy in her political career.

Starting from helping Nancy raise money during her 1986 campaign, Pelosi has stood by her side through all thick and thin in her political career. During the 1986 campaign Pelosi often accompanied Nancy in the campaign ground and meetings and even spoke on her behalf several times, when she could not be present physically. This lead Nancy's then campaign consultant Clint Reilly to describe Pelosi as a perfect surrogate for his wife.

Nancy got elected for the first time to the Congress in 1987 and has emerged as the highest-ranking elected woman in the history of the US. She has held positions like the House Minority Leader, House Minority Whip and the Chair of the California Democratic Party. She assumed office as the 52nd Speaker of the United States House of Representatives on January 3, 2019. She is the only woman to serve as Speaker. She comes after the vice president in the US presidential line of succession.

Paul shuttles between San Francisco and Washington as Nancy spends considerable time in Washington due to her political pursuits.

American soccer player Marc Pelosi is a distant relative of the business magnet, but they have never met each other till present.

Translate Wiki

to Spanish, French, Hindi, Portuguese

Article Title

- Paul Pelosi Biography

Author

- Editors, TheFamousPeople.com

Website

- TheFamousPeople.com

URL

-

https://www.thefamouspeople.com/profiles/paul-pelosi-43668.php

Last Updated

- February 08, 2019

---

---

---