Michel Debré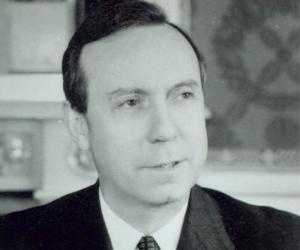 Quick Facts
Birthday: January 15, 1912
Nationality: French
Famous: Prime Ministers Political Leaders
Died At Age: 84
Sun Sign: Capricorn
Also Known As: Michel Debre
Born in: Paris
Famous as: 149th Prime Minister of France
Family:
father: Robert Debré
children: Bernard Debré, Jean-Louis Debré
place of death: Montlouis-sur-Loire
City: Paris
More Facts
education: Lycée Louis-le-Grand, University of Paris
Continue Reading Below
Michel Jean-Pierre Debre was a French political leader who became the first Prime Minister of the French Fifth Republic. He drafted the constitution for the country in 1958 and served under President Charles de Gaulle as its first premier. He was a staunch supporter of de Gaulle but differed with him on the issue of Algeria's independence in 1962. He was unhappy to be excluded from the secret negotiations that were held in May 1968 with the anti-government movement held by the students. He suggested that de Gaulle should not hold a referendum in 1969 as it would go against the president. In spite of this de Gaulle held a referendum in April 1969 which he lost and had to resign. Debre also served as the minister of economic affairs and finance, foreign minister and defense minister under different governments in France. He was a conservative politician who stoutly defended the nuclear deterrent capability that France built to keep enemies at bay. After 1973 he left active politics and dedicated himself to writing about political affairs prevailing in France. In his memoirs he disclosed his disagreements with de Gaulle but insisted that he had been always loyal to him.
Recommended Lists:
Recommended Lists:
Childhood & Early Life
Michel Debre was born in Paris on January 15, 1912. His parents were physicians.

Debre initially attended the 'Lycee Montaigne' and then studied in 'Lycee Louis-le-Grand' high school.

He did his diploma in law from 'Ecole Libre des Sciences Politiques'.

He got his PhD in law from the University of Paris.

Recommended Lists:

Recommended Lists:

Career

Michel Debre started his career by joining the University of Paris as a Professor of Law after completing his PhD. He joined the 'School for Reserve Cavalry Officers' at the same time.

He became a member of the 'Conseil d'Etat' in 1934 after passing the entrance examination at the age of twenty-two.

In 1938 he joined the staff in the 'Ministry of Economical Affairs' under Paul Reynaud.

Debre enlisted in the French Army as a cavalry officer when the Second World War broke out in 1939.

He was captured by the Germans in June 1940 during the invasion of France but managed to escape in September 1940.

He rejoined the Conseil d'Etat under the Vichy regime at that time headed by Marshall Philippe Petain.

He fled the country when German forces invaded the Free zone in November 1942.

In 1943 he joined the French Resistance in Morocco and returned to German-occupied France to fight with the underground.

After the liberation of France, de Gaulle made him the 'Commissaire de la Republique' for Angers in August 1944.

Continue Reading Below

In 1945 he founded the 'Ecole Nationale d'Administration' for the French Civil Service.

Though he supported the 'Democratic and Socialist Union of the Resistance' during the rule of the Fourth Republic at first, he defected to the 'Radical-Socialist Party' on the insistence of de Gaulle.

He was given the Austrian and German desks of the Foreign Ministry in 1947.

He was elected to the post of senator for 'Indre-et-Loire' after he joined the 'Rally of the French People' party led by de Gaulle. He held this post from 1948 to 1958.

He founded a newspaper called the 'Le Courier de la colerie' in 1957 which was fiercely against the idea of giving independence to Algeria.

Debre became the Minister of Justice in de Gaulle's cabinet on June 1, 1958 and was mainly responsible for drafting the Constitution.

He was elected the first Prime Minister of France on January 8, 1959 and held the post till 1962.

The Evian Accords referendum in 1962 brought an end to the Algerian War and Algeria became independent. Since he had been opposing this move from the start, Debre was replaced by de Gaulle with Georges Pompidou.

The National Assembly was dissolved and elections were held in November 1962 in which Debre tried unsuccessfully to be elected as the 'Depute for Indre-et-Loire'.

Continue Reading Below

In 1963 he decided to visit the island of Reunion which was also a French colony. He was against the 'Communist Party of Reunion' founded by Paul Verges which was asking for the independence of the island from France. He wanted to run for the post of mayor of Saint-Denis. He was elected as the 'Depute for Saint-Denis' on May 6, 1963

He joined the French government again in 1966 as the economy & finance minister.

After the Civil unrest of 1968 came to an end, Debre was made the foreign minister.

In 1969 he became the defense minister under President Georges Pompidou and remained in the position till1973.

After Valery Giscard d'Estaing became President in the 1974 elections, Debre was marginalized for his virulent attack on Giscard's foreign policies.

He 1976 he became the leader of the 'Rassemblement pour la Republique' or RPR and took part in the rallies conducted by it in 1979.

He ran for president in the 1981 presidential elections as a dissident orthodox Gaullist candidate against Chirac but lost getting only 1.6 percent of the votes.

Recommended Lists:

Recommended Lists:

Major Works

Michel Debre published the book 'The Death of the Republican State' in 1947 criticizing the weaknesses of the Fourth Republic.

He also published his memoirs in three volumes during the period 1961 to 1969.

Awards and achievements

He received many awards such as the 'Commander of the Legion of Honor', 'Croix de guerre', 'The French Resistance Medal' and the 'Commemorative Medal for Voluntary Services in Free France'.

Personal Life & Legacy

He got married to Anne-Marie Lemaresquier, the daughter of a famous architect, in 1936.

He had four sons from the marriage - Vincent, Francois, and the twins Jean-Louis and Bernard.

Michel Debre died on August 3, 1996 of Parkinson's disease at his home in Montlouis-sur-Loire, 150 miles south of Paris.

Translate Wiki

to Spanish, French, Hindi, Portuguese

Article Title

- Michel Debré Biography

Author

- Editors, TheFamousPeople.com

Website

- TheFamousPeople.com

URL

-

https://www.thefamouspeople.com/profiles/michel-debr-7215.php

Last Updated

- November 01, 2017

---

---

---