Jill Vertes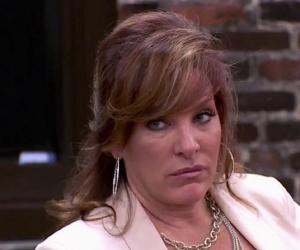 Quick Facts
Nick Name: Jill Colavita Vertes
Nationality: American
Age: 54 Years, 54 Year Old Females
Sun Sign: Leo
Born in: Pennsylvania, USA
Famous as: Reality Star
Height: 5'5" (165 cm), 5'5" Females
Family:
siblings: Sister – Lisa and Brother - Frank
U.S. State: Pennsylvania
More Facts
education: Bachelor of Arts from University of Pittsburgh
Continue Reading Below
Jill Colavita Vertes is an American reality star and actress. Jill became famous when she appeared on the famous reality show 'Dance Moms' with her daughter, Kendall. While her daughter excelled in dancing, Jill made her name for all the wrong things initially. She often lost her cool and became known for her foot in mouth disease on the show. She was good friends with Melissa, who was of quite the opposite nature as a mother on the same show. As the series progressed, Jill mended her ways and became more acceptable to others.

In real life, Jill is quite a different person and a lot of her reactions on the show may be attributed to the heat of the moment and requirement of the producers. However, all is fair in show business. The fans loved to watch her and the production company made all the profit. Jill has always been an extrovert and has been an active member of her college council and cheerleader group during her youth. Besides 'Dance Moms', she has appeared in a few music videos and has a substantial following on social media to be called a star. More than anything else, Jill is a contemporary mother, with a celebrity child. Her real life story is an inspiration for others to emulate.
Recommended Lists:
Recommended Lists:
Continue Reading Below
The Rise To Stardom
Jill Vertes became a known name after participating in season two of the famous reality show 'Dance Moms', with her daughter, Kendall Vertes. In her very first appearance, Kendall won the auditions for an open spot at the Abby Lee Dance Company that is dedicated to training young dancers.

Recommended Lists:

Recommended Lists:

Jill was not too happy with the way Kendall was treated as a dancer initially and left Abby Lee to join Cathy and Candy Apple's Dance Centre. However, after a while she found the situation even worse at Cathy and Candy and she returned to Abby Lee. Some say the whole episode was stage managed for effect. She was initially quite abrasive in her behaviour on the show and was known to use foul language and even hurled shoe at one instance. This made her very unpopular amongst the other Moms on the show. It is said that she bribed Abby as well as her own daughter in order to gain points and was ever ready to dance in public.

Somehow, she got along with Melissa on the show and became good friends, despite being poles apart in their behaviour. However, she mellowed down as the show progressed and became more acceptable to other mothers on the show. As per Jill, some of her actions were prompted by the show and would not have been her reaction under normal circumstances. At the end of the day her daughter went on to become a professional dancer.

Jill has also done her share of dancing and acting in show business. In May 2013, she won the first place while competing in the dance competition called 'Dancing with the Celebrities of Pittsburgh'.

Besides 'Dance Moms', she has appeared in the Jo Jo Siwa's music video 'Boomerang' and Todrick Hall's music videos 'Freaks Like Me' and 'Ease on Down the Boulevard'.

Today, in addition to her status as a reality star, she is also an actress who has appeared in a number of TV serials. Her work got recognition in the form of 'Teen Choice Award' in 2012 and 2013.

Today, she has a large following on social media and has a net worth estimated at over $ 2 million.

While Kendall is an established dancer, Jill's other daughter, Ryleigh, is also making appearances in various events. If Jill's dreams are to come true, we may see the trio on stage some day.

Continue Reading Below

Behind The Curtains

Jill Vertes was born on August 15, 1965 in Pennsylvania, USA, to Italian-American parents. She was interested in dance and gymnastics as a child and participated in competitive cheerleading in high school. She had also been a member of the cheer group and student council while in the University of Pittsburgh, from where she graduated with a Bachelor of Arts degree.

As a child, she loved to dress, use makeup, sing and dance. She participated in her senior school play 'Oklahoma' and was a member of the dramatics club. She also loved animals and horse riding.

After graduation, she worked as a pharmaceutical sales representative for 10 years. She married tennis player Erno Valer Vertes and has three daughters Kendall, Ryleigh and Charlotte. While Kendall and Ryleigh took up dancing at Abby Lee Dance Company, Charlotte followed her father's footsteps and learnt tennis.

Jill's greatest regret is not having one more child, when she could have done so.

She loves reading, taking long walks and gets over her frustration by venting to her husband and chewing gum.

She has a cat and a dog, which are her other stress busters.

Jill and Melissa Ziegler are good friends from 'Dance Moms' and have been each other's support during the show.

Last Updated : May 16, 2017

Translate Wiki

to Spanish, French, Hindi, Portuguese

---

---

---

Jill Vertes Fans Also Viewed