Nicole Richie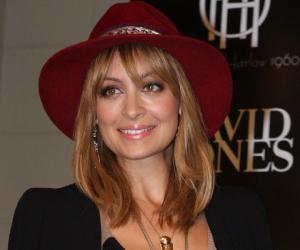 Continue Reading Below
Nicole Richie is an American socialite, fashion designer, reality TV star and author. She was born in into a poor family and because because of their poor financial condition, her parents sent her to live with singer Lionel Richie when she was just three years old. Six years later, her foster parents legally adopted her, giving her the surname, Richie. Her childhood was spent in opulence and her parents gave her everything she wished for. Eventually, she started taking drugs and did not finish her college education. However, she straightened up after a short time in rehab center and began her career with 'The Simple Life', a reality television series, at the age of 22. At around 26, she launched her jewelry line, later expanding it to clothes and accessories. Concurrently, she also continued appearing on television and authored two books. A mother of two children, she is also the cofounder of a foundation that works for the betterment of children in the USA and abroad.
Recommended Lists:
Recommended Lists:
Continue Reading Below
Childhood & Early Life
Nicole Camille Richie-Madden was born as Nicole Camille Escovedo on September 21, 1981 in Berkeley, California into a musical family of mixed descent. Her biological father Peter Michael Escovedo III, who is a noted percussionist and musical director, is of Mexican descent from his father's side and Creole African-American from his mother's.

Her biological mother Karen Moss is of English descent. Moss was a backstage assistant for her sister-in-law and noted percussionist and singer, Sheila Cecelia Escovedo (better known as Sheila E) who successfully collaborated with Prince Rogers Nelson.

When Nicole was a child, her biological parents struggled financially and she often accompanied them to shows. Possibly in 1984, when she was three years old, Lionel Richie spotted her playing the tambourine in one of Prince's concerts. Amazed, he went backstage to meet her parents.

Peter had toured with Richie on various occasions and Karen had assisted him on his 1980 World Tour, and therefore he knew them well. When he heard about their difficulties, he offered to take Nicole home just to take care of her. Initially, there was no plan to adopt her.

Nicole's parents trusted Richie and realized it was best to take the offer. Eventually, she moved in with Richie and his first wife Brenda Harvey, being raised in their home in Los Angeles. During this period, the Richies were just her legal guardian; nothing more.

Soon after bringing her home, the Richies began to love her as their own. In 1986, they enrolled Nicole at the prestigious Buckley School where she became a close friend of Paris Hilton. As a child, she also studied the guitar, cello, violin and piano and became passionate about figure skating.

In 1990, when she was nine years old, the Richies decided to adopt her, giving her their surname. At that time, Lionel used to go away on tours for days and even months. Also by then, he had begun a relationship with Diane Alexander, spending a lot of time with her.

Lionel would assure Nicole, explaining to her that although his work took him away from her, he would always return to her and would never abandon her. True to his words, he took care of Nicole even after his affair became public, causing a bitter spilt with his wife.

Lionel's affair, the ensuing scandal and the highly publicized divorce made her parents feel guilty and to make up for it, they began to lavish gifts on her. They started meeting her every whim. Later, Nicole said in an interview that a little girl should not have that much freedom.

In her teens, she started partying hard and began experimenting with drugs and alcohol. However, she continued her studies. Meanwhile in 1995, Lionel married Diane Alexander and from this union, Nicole has two half-siblings, Miles Brockman, born in 1994 and Sofia Richie, born in 1998.

After leaving Buckley School, she entered Montclair College Preparatory School, graduating from there in 1999. Thereafter, she joined University of Arizona in Tucson, studying arts and media for two years. Thereafter, she abandoned her studies and returned home to Los Angeles.

Back home, she continued partying hard, regularly taking drugs and alcohol. In October 2002, she was arrested after a brawl in a New York City nightclub, but the charges were dropped.

In February 2003, Nicole was arrested in Malibu for carrying heroin in her Mercedes-Benz. Eventually, she was sentenced to probation and ordered to attend Sierra Tucson drug rehab center in Arizona.

In the rehab centers, she had her parents accompanying her at every step, giving her the support she required. It helped her to come out of the rehab centre within a short period.

Recommended Lists:

Recommended Lists:

Early Career

In 2003, Nicole Richie began her career by appearing in a reality television series called, 'The Simple Life', with Paris Hilton. The series, which ran for five seasons, showed the duo struggling to do low paying manual jobs, such as cleaning rooms, serving meals in a fast food joint and farm work.

The series, which opened on Fox on December 2, 2003, became an instant hit. For the first season, they spent one month in Altus, Arkansas, without their cell phones and credit cards, working on the farm, making a mess of everything, and getting fired from every job they took up.

As the show progressed, it started attracting more and more viewers. For the second season, subtitled 'Road Trip', they traveled around in a pickup truck, working as maids in nudist camp, catching crayfish and making sausages. It was premiered on June 16, 2004.

While she was filming for 'The Simple Life' in 2014, Richie appeared in several television series, such as 'Six Feet Under', 'Eve' 'Rock Me Baby' and 'American Dreams'. In the same year, Richie also joined the rock band, 'Darling,' releasing the single, 'Dandelion'.

In the third season of 'The Simple Life', premiered on January 26, 2005, Richie and Hilton worked as interns in various companies in East Coast, including a funeral home, goofing up in every job they took. Thereafter, Fox cancelled the show due to some differences between Hilton and Richie.

In 2005, Richie appeared as Ashley in the TV show, '8 Simple Rules'. Concurrently, she started writing a semi-autobiographical book and tried her hand at acting. In February 2005, she made a live appearance, playing piano on ABC's 'The View'.

On October 21, 2005, Richie had her first film 'Kids in America' released, appearing in it as Kelly Stepford. However, the film was a box office bomb. On November 1, she published her first book, a semi-autobiographical work called, 'The Truth About Diamond'.

Continue Reading Below

In November 28, 2005, it was announced that E! Entertainment Television had picked up 'The Simple Life'. Shooting for the new season titled, 'Till Death Do Us Apart', began on February 27, 2006. Premiered on June 4, it drew 13 million viewers.

In December 2006, Richie was once again arrested by the California Highway Patrol after she was found driving wrong way on a freeway. She pleaded guilty and admitted of taking marijuana and the prescription painkiller, Vicodin. As it was her second DUI conviction, she was let off.

'The Simple Life Goes to Camp', the fifth and final season of her reality show was premiered on May 28 2007. In this session, Richie and Paris Hilton worked as counselors at Camp Shawnee.

In 2008, Richie appeared in the recurring role of Heather Chandler in in an action-comedy/spy-drama television series called, 'Chuck'. In July 2008, it was announced that her 2005 novel 'The Truth About Diamonds' would be turned into a television series, but nothing has materialized so far.

Recommended Lists:

Recommended Lists:

Entrepreneur

In the early 2000s, Nicole Richie began modeling and quickly became the face of Bongo Jeans and Jimmy Choo clothing. In April 2007, she announced that she was going to start a line that would sell jewelry, accessories, perfume and sunglasses. She also revealed her plans to publish style books.

In October 2008, she debuted with her jewelry line called, the 'House of Harlow 1960'. In the following year, she joined maternity store 'A Pea' to create a new collection of maternity clothes called, 'Nicole'.

In February 2010, she extended 'House of Harlow 1960' to include apparel and shoes, opening a women's line called, 'Winter Kate'. On September 28, she released her second book. Titled 'Priceless', the book depicts the story of a girl who realizes what is important in life only after losing everything.

Continue Reading Below

Around July 2011, 'House of Harlow 1960' unveiled a 14-piece handbag collection. Next year, she launched her first fragrance, 'Nicole'. Around the same time, she launched another collection for Macy's Impulse Beauty line. Concurrently, she also continued to appear on televisions.

In 2012-2013, she became a judge and mentor in NBC's reality show called 'Fashion Star', which ran for 11 episodes. Additionally, she appeared as herself in one episode of the NBC sitcom 'The New Normal' (2012), and in the 2013 documentary called, 'Scatter My Ashes at Bergdorf's'.

In 2014-2015, she starred in 'Candidly Nicole', a reality television show that ran for two seasons on VH1, each season having eight episodes. Same year, she appeared as herself in one episode of 'Empire' and one episode of 'Barely Famous'.

In 2016, she became a guest judge in a reality competition television series called, 'RuPaul's Drag Race'. In 2017, she appeared as herself in one episode of the reality musical series, 'Drop the Mic'.

In 2017-2018, she appeared as Portia Scott-Griffith in the NBC sitcom, 'Great News'. It was her first regular series. Premiered on April 25, 2017, the first season ended on May 23 after 10 episodes. The second season, consisting of 13 episodes, ran between September 28, 2017 and January 25, 2018.

Major Works

While Richie is now more well-known as a fashion designer, she first became famous for her performance in the reality TV show, 'The Simple Life'. Appearing with her childhood friend, Paris Hilton, she underwent a series of rural misadventures while trying to lead a simple life and struggling with low paying jobs.

The series, first aired on Fox and then on E!, was not only popular among home viewers, but also overseas. Eventually Fox World produced its international versions to be telecast in countries like UK, Canada, Brazil, Germany, Belgium, and Italy. In Japan, 'The Simple Life' was aired with subtitles.

Awards & Achievements

In 2010, Richie won the 'Entrepreneur of the Year' award for her brand, 'House of Harlow 1960,' at the Glamour Women of the Year Awards. In the same year, 'House of Harlow 1960' was nominated in the Celebrity Fashion Line category at the 2010 Teen Choice Awards.

Family & Personal Life

On December 11, 2010, Richie married singer Joel Madden. They had been dating since December 2006 and have two children; a daughter named Harlow Winter Kate Richie-Madden, born in 2008 and a son named Sparrow James Midnight Madden, born in 2009.

Richie is known for her philanthropic work. In 2007, she founded The Richie Madden Children's Foundation with Joel Madden for bettering the life of children. In 2008, she worked to raise funds for cyclone-hit Malaysia. She is also a board member of Environment Media Association.