James Farmer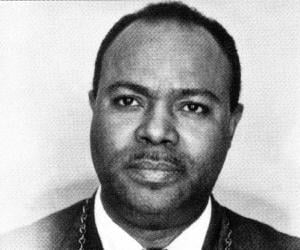 Quick Facts
Birthday: January 12, 1920
Nationality: American
Famous: Civil Rights Activists American Men
Died At Age: 79
Sun Sign: Capricorn
Also Known As: James Leonard Farmer Jr.
Born in: Marshall, Texas, United States
Famous as: Civil Rights Activist
Height: 1.71 m
Family:
Spouse/Ex-: Lula Peterson (m. 1949–1977), Winnie Christie (m. 1945–1946)
children: Abbey Farmer, Tami Lynn Farmer
U.S. State: Texas
Continue Reading Below
James Farmer was a civil rights activist and one of the leaders of the Civil Rights Movement. He is best remembered for staging nonviolent protests against racial discrimination in America. He worked alongside Martin Luther King Jr. and was one of the 'Big Six' of the Civil Rights Movement who helped organize the March on Washington for Jobs and Freedom. He worked for the pacifist group Fellowship of Reconciliation (FOR) and was the co-founder of the Congress of Racial Equality (CORE). He initially served as the national chairman of CORE and was later elected the national director of the organization. He organized and led the Freedom Ride, which immensely contributed to the desegregation of interstate transportation in the United States. He briefly served as the Assistant Secretary of the Department of Health, Education, and Welfare under Republican President Richard Nixon, but later left politics to become a teacher. He wrote the autobiography Lay Bare the Heart and inspired the feature films 'The Great Debaters' and 'Mississippi Burning'. He was awarded the Presidential Medal of Freedom by President Bill Clinton.
Recommended Lists:
Recommended Lists:
Continue Reading Below
Childhood & Early Life
James Leonard Farmer Jr. was born on January 12, 1920 in Marshall, Texas, to James L. Farmer Sr. and Pearl Houston. His mother was a homemaker and former teacher, while his father was a professor at Wiley College, a historically black college, and a Methodist minister.

He was exposed to racial discrimination early on in his life when, at the age of three or four, he learnt that he cannot buy Coke at certain stores for being a person of color. At 10, he witnessed his minister father lie to the station manager to secure a train reservation for his Uncle Fred and his family who had come down to visit from New York.

A child prodigy, he became a freshman at Wiley College in 1934 at the age of 14. He initially wanted to pursue a career in medicine and earned his Bachelor of Science degree in 1938. However, he later decided to follow his father in ministerial work and also earned a Bachelor of Divinity from Howard University School of Religion in 1941.

At Wiley College, he was selected as part of the debate team and was mentored by Melvin B. Tolson, a professor of English. During this time, he became anguished over segregation and racism, and had official status as a conscientious objector during World War II.

Recommended Lists:

Recommended Lists:

Career as an Activist

At Howard University, James Farmer was inspired by theology professor Howard Thurman to learn about the life and teachings of Mahatma Gandhi, which were also adopted by Martin Luther King Jr. later. After college, he decided against working in a segregated church and took job with the New York-based pacifist group, Fellowship of Reconciliation, which assigned him to Chicago.

While serving as the race relations secretary of FOR (1941-1945), he began to write his 'Provisional Plan for Brotherhood Mobilization', envisioning a movement based on Gandhi's nonviolent principles. He made proposals to FOR leaders suggesting the formation of a committee dedicated to racial equality, which was initially called Committee of Racial Equality and later renamed the Congress of Racial Equality.

He served as the national chairman of CORE from 1942 to 1944, and again in 1950. He also worked as a labor union organizer between 1945 and 1959, and for the next two years, worked as a program director for the National Association for the Advancement of Colored People (NAACP).

In February 1961, he was called back to CORE, being elected the national director of the organization, and was entrusted with the responsibility of leading the 'freedom ride'. CORE was inspired to sponsor the freedom rides following several rulings by the Supreme Court declaring segregation unconstitutional in interstate buses and terminals.

Despite the court rulings, southern states continued to use segregated seating and facilities for blacks. In 1961, 13 CORE freedom riders decided to embark on a nonviolent historic trip from Washington, D.C. to New Orleans.

During their journey on May 4, 1961 after the bus reached the state of Alabama, the riders were attacked and beaten, while the bus was burned down by hostile whites. Farmer, one of the riders, narrowly escaped the near-death experience as he had to return home because his father died.

The ride was continued by Student Non-Violent Coordinating Committee (SNCC) members who volunteered to act as replacements for the original 13 CORE riders. James Farmer rejoined the group in Montgomery, Alabama, following which the riders met with severe violence which attracted worldwide media attention.

Continue Reading Below

He became recognized as a national civil rights leader, and despite hundreds of supporters being imprisoned, the movement became popular, especially after the Montgomery bus boycott led by Martin Luther King, Jr. As the leader of CORE, James Farmer was particularly targeted by protesters, but law enforcement prevented violence by imprisoning him in Jackson, Mississippi, while three of his associates were murdered in 1964.

He published his book 'Freedom – When?' in 1965, resigned from leadership the following year and briefly taught at Lincoln University. His attempt to run for Congress on the Republican ticket against Democrat Shirley Chisolm failed in 1968.

In 1969, he was appointed the Assistant Secretary of the Department of Health, Education, and Welfare by newly elected Republican President Richard Nixon. However, he resigned the next year due to frustration with the bureaucracy and later co-founded 'Fund for an Open Society'.

Major Works

James Farmer co-founded CORE in 1942 and was the initiator and organizer of the 1961 Freedom Ride. By the time he resigned as the director of CORE in 1966, Congress had already passed the Civil Rights Act of 1964 and the Voting Rights Act of 1965.

Awards & Achievements

James Farmer was recognized as one of the 'Big Six' of the Civil Rights Movement who helped organize the March on Washington for Jobs and Freedom in 1963.

In 1998, he was awarded the Presidential Medal of Freedom by then-president Bill Clinton.

Personal Life & Legacy

In 1945, James Farmer got married to Winnie Christie, who became pregnant with their child soon after marriage. However, after she found a note from a girl in his coat pocket, their relationship went on a downward spiral and eventually ended in divorce in 1946, soon after her miscarriage.

His second marriage was in 1949 to Lula A. Peterson who, after being diagnosed with Hodgkins disease, was told not to have children as at that time doctors thought pregnancy would aggravate cancer. They sought a second opinion a few years later and despite a miscarriage, were able to give birth to two daughters, Tami Lynn Farmer (1959) and Abbey Farmer (1962).

In 1984, he began teaching at Mary Washington College in Fredericksburg, Virginia, and published his autobiography 'Lay Bare the Heart' in 1985. He retired in 1988.

He died of complications from diabetes on July 9, 1999, at Fredericksburg, Virginia.

Trivia

When James Farmer was 21, he went to the White House to talk with President Franklin D. Roosevelt on the invitation of Eleanor Roosevelt. He developed a rapport with her during the discussion before the talk with the president and when the president tried to tactfully avoid his question about colonial policies in Africa, she called him out.

Translate Wiki

to Spanish, French, Hindi, Portuguese

Article Title

- James Farmer Biography

Author

- Editors, TheFamousPeople.com

Website

- TheFamousPeople.com

URL

-

https://www.thefamouspeople.com/profiles/james-farmer-32366.php

Last Updated

- December 08, 2017

---

---

---